Scant Improvement in Living Conditions At San Quentin
Overcrowding continues to be a problem at California prison worst hit by the coronavirus crisis.
Find more of our Covid-19 coverage.
Since the ill-fated transfer of coronavirus to San Quentin State Prison in California's Marin County, reports show the prison remains over capacity and despite some improvements in meal provision, the living conditions have not improved for most of the men incarcerated there.
The outbreak first occurred in late May, after the state transferred 121 inmates from another prison in Chino where the virus had infected hundreds already. State corrections officials failed to test the inmates before the transfer to San Quentin, causing the outbreak of Covid-19, which rapidly spread in the old, poorly ventilated prison.
Currently, 68 San Quentin inmates have active cases of Covid-19. Since the end of May when the prisoner transfer occurred, the virus has infected more than 2,200 prisoners and 270 staff members. So far, 25 inmates and one corrections officer have died from the virus. More than 2,000 have recovered, however, there concerns remain over recurring symptoms due to the unhealthy prison conditions.
"It's overcrowded," says inmate Juan Haines, editor of the award-winning San Quentin News."It's the perfect environment for the virus and it's the perfect environment for people to die in." The prison currently holds more than 3,200 people, way over than its official capacity of 3,082.
It's not just San Quentin that has been impacted; the virus is still sweeping through the state's prison system. As of yesterday, 10,683 people incarcerated in California have contracted the virus, and 59 have died. (Three San Quentin prisoners who were moved to California Correctional Center in rural Lassen County in June likely sparked an outbreak in that facility as well, which currently is reporting a total of 659 cases so far.)
According to a recent Verge report, "from March through the beginning of June, the number of COVID-19 cases in US prisons grew at a rate of around 8 percent per day, compared to 3 percent in the general population."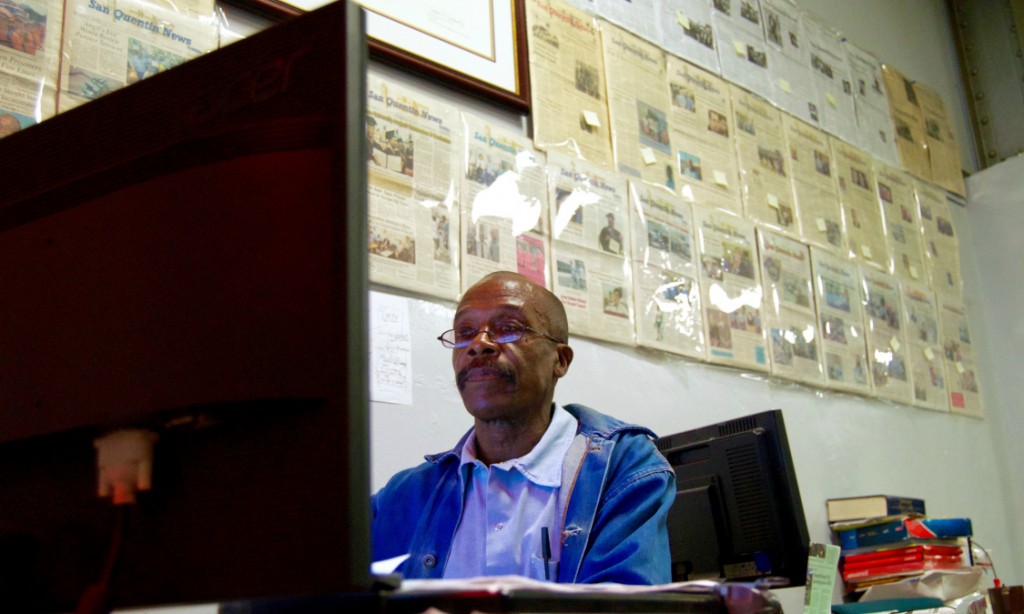 Haines himself tested positive for the virus in July and was moved to a solitary confinement block that the prison has been using to house sick persons. He is now recovering and has been transferred to a decrepit section of the prison that is normally used for reception and transfer of men to other state prisons.
Solitary Watch, a prison watchdog group, reported recently, that on July 9, Ron Broomfield, acting warden of San Quentin and Clarence Cryer, CEO of the prison's healthcare services issued a joint memorandum to prisoners that said that since the wave of illnesses at the prions has led to "a staffing crisis" had resulted in "restricted movement for the entire population and a disruption in services you all deserve and expect." The memo goes on to say the department is "working on additional remedies that should benefit the population during this pandemic."
But Haines says "what prisoners 'deserve and expect' is justice and fairness about a crisis that's existed for scores and decades."
"California prisons are so cruel and inhumane that in 2011 the US Supreme Court said that a poor healthcare delivery system [at these prisons] causes unnecessary deaths of prisoners. Federal judge, Thelton Henderson, told prison officials that CDCR [California Department of Corrections and Rehabilitation] can't build its way out of the problem — partly due to staffing shortages. Henderson advised CDCR on various ways to reduce the prison population to humane levels.
"Yet, in the midst of this deadly pandemic, what are prison officials doing?" Haines asks. "They've built 220 beds in a prison workshop and put tents on the prison yard. They say it'll 'improve our capacity to provide onsite medical care for those impacted by the virus.'"
Haines is also a member of Green Life, an organization I direct that runs an environmental education program at San Quentin. We have been calling for early release or commutation of sentences of the elderly, medically vulnerable, and those nearing eligibility for parole.
Formerly incarcerated Green Life members have shared that they are concerned for the men they left behind who are still facing a death sentence from Covid-19. Recently released Green Life member, Jonathan Chiu is organizing and sharing his story of survivors guilt on "The Voices of San Quentin" Instagram, which is allowing people to share what's going on with their loved ones as well as their concerns.
More than 1,300 people are following @VoicesofSanQuentin. The new page features prisoner's voices from their phone calls, edited into short clips.
We continue to organize and connect with front line organizations and reentry service providers to create a collaborative network of support to those impacted by incarceration in the time of Covid-19.
Ultimately, as Haines says: "The only remedy to this pandemic is found in the immortal words of Moses…[Let my people go!]"