Go Back: Home > Earth Island Journal > Latest News
Latest News
Social unrest and famine, superstorms and droughts. Places, species and human beings – none will be spared. Welcome to Occupy Earth
If you're poor, the only way you're likely to injure someone is the old traditional way: artisanal violence, we could call it – by hands, by knife, by club, or maybe modern hands-on violence, by gun or by car.
But if you're tremendously wealthy, you can practice industrial-scale violence without any manual labor on your own part. You can, say, build a sweatshop factory that will collapse in Bangladesh and kill more people than any hands-on mass murderer ever did, or you can calculate risk and benefit about putting poisons or unsafe machines into the world, as manufacturers do every day. If you're the leader of a country, you can declare war and kill by the hundreds of thousands or millions. And the nuclear superpowers – the US and Russia – still hold the option of destroying quite a lot of life on Earth.
photo by MARQUINAM/FlickrWill our age of climate change also be an era of civil and international conflict?
So do the carbon barons. But when we talk about violence, we almost always talk about violence from below, not above.
Or so I thought when I received a press release last week from a climate group announcing that "scientists say there is a direct link between changing climate and an increase in violence". What the scientists actually said, in a not-so-newsworthy article in Nature two and a half years ago, is that there is higher conflict in the tropics in El Niño years, and that perhaps this will scale up to make our age of climate change also an era of civil and international conflict.
The message is that ordinary people will behave badly in an era of intensified climate change.
All this makes sense, unless you go back to the premise and note that climate change is itself violence. Extreme, horrific, longterm, widespread violence.
Climate change is anthropogenic – caused by human beings, some much more than others. We know the consequences of that change: the acidification of oceans and decline of many species in them, the slow disappearance of island nations such as the Maldives, increased flooding, drought, crop failure leading to food-price increases and famine, increasingly turbulent weather. (Think Hurricane Sandy and the recent typhoon in the Philippines, and heat waves that …more
(1) Comments
Proposed California bill aims to inform consumers and reduce use of toxic flame retardants
Ever wondered if your couch was filled with toxic flame retardants? If you have, chances are you weren't able to find out because the manufacturer wasn't required to inform you.
Photo by This Year's LoveThe bill requires manufacturers to stop using flame retardents in furniture stuffing.
Fortunately, that may be changing. Last month, California State Senator Mark Leno introduced SB 1019, a bill that would require furniture manufacturers to label furniture that has been treated with flame retardants and to inform consumers of such use at the point of sale. If passed, the proposed bill will be implemented in January 2015, and would contribute to a broad effort in California to reduce the use of toxic flame retardants.
Flame retardant use expanded in California under Technical Bulletin 117 (TB 117), which was implemented in 1975 and required furniture filling to be resistant to an open flame, encouraging the use of flame retardants among furniture manufacturers. (Yes, even furniture gets it's own regulations.)
Over the past few years, however, research has called into question the fire safety benefits of flame retardants, while also pointing to the serious health and environmental risks associated with exposure to flame retardant chemicals.
With respect to fire safety, recent studies have shown that fireproofing furniture filling doesn't do a whole lot of good. "It turns out, on the fire safety side, [TB-117] actually wasn't a very good regulation," said Veena Singla, staff scientist with the Natural Resources Defense Council (NRDC). "What they found was that adding flame retardants to the inside [of furniture] doesn't provide any meaningful fire safety benefits." In other words, once the outside fabric of a couch goes up in flames, it doesn't matter how much flame retardant has been doused on the fillings. The couch is going to burn.
In addition to their questionable fire-safety benefits, flame retardants have been linked to a variety of environmental and health ills. "They produce health and environmental concerns," said Singla. "The chemicals are added to the filling, but they aren't chemically attached or bound to it, so they continuously migrate out of the filling into the air and dust, and that is how people get exposed to these chemicals."
Once released into the air and dust, these chemicals persist in the environment and have been shown to negatively impact …more
(0) Comments
With other companies making progress on palm oil, there's no excuse for Girl Scouts' inaction
In seventh grade, we were inspired by Jane Goodall's dedication to chimpanzee conservation and decided to raise awareness about the endangered orangutan in order to earn our Girl Scout Bronze award. When we discovered that the orangutans' rainforest habitat is destroyed for palm oil plantations, we began educating our peers with a poster board presentation. In the seven years since then, we've grown that middle school awareness campaign to an international platform.
Photo by Carlos Quiles/Rainforest Action NetworkEndangered orangutans' rainforest habitat is being destroyed for palm oil plantations. Yet, instead of changing where the palm oil for their cookies is sourced from, Girl Scouts USA is purchasing misleading "GreenPalm" certificates.
We learned that unsustainable palm oil production isn't just threatening orangutans. Indonesia is the third largest emitter of greenhouse gases due to its rates of deforestation and peat burning, both of which are driven by this industry. Additionally, in 2012, the US Department of Labor linked palm oil production in Indonesia with child labor, and in Malaysia with forced labor. Social injustices linked to palm oil also occur in other countries. During a trip to Colombia with a human rights organization called Witness For Peace, we had the opportunity to speak with communities directly impacted by this industry. Paramilitary groups there had forcibly displaced these people and sold the stolen land to palm oil corporations.
This single ingredient is harming people, animals and the environment, and it's in 50 percent of the products on American grocery store shelves. Imagine our shock and dismay when we discovered that Girl Scout cookies contain palm oil. As members of the organization since first grade, we had been taught the importance of environmental stewardship and service. Part of the Girl Scout Law includes "to make the world a better place." Switching to a source of deforestation-free palm oil for its cookies seemed like the right thing for the Girl Scouts to do.
So we launched a campaign called Project ORANGS to bring this issue to the attention of our national organization. More than 140,000 people signed our online petitions, hundreds of Girl Scouts decorated puzzle pieces and earned our "Rainforest Hero" badge, and we educated millions of consumers through appearances in the Wall Street Journal, ABC World News, NPR, and TIME magazine. Girl Scout executives met with …more
(0) Comments
Reckitt Benckiser sues California over ban on rat poison that kills wildlife
Last week I wrote about California's new plans to ban over-the-counter sales of certain anticoagulant rodenticides that are taking a huge toll on the state's wildlife (Read the report here). But no sooner had the Department of Pesticide Regulation announced the ban, to begin on July 1, than the biggest manufacturer, Reckitt Benckiser, fired back with a lawsuit.
Photo by Dave HarperThe magnificent golden eagle is another species that has been poisoned by anti-
coagulent rodenticides.It is not just California's groundbreaking new rules the maker
of d-Con is fighting. Reckitt Benckiser has been fighting the US Environmental
Protection Agency for years.
Anticoagulant rodenticides are killing birds of prey — hawks, owls, falcons, golden eagles, even turkey vultures. These products are also killing endangered kit foxes and Pacific fishers, and people's pets. They cause secondary poisoning when the predator animal consumes a poisoned rodent, or, as has happened with dogs, eats the bait directly.
Reckitt Benckiser, the maker of d-Con, claims that the state overstepped its authority and failed to do an analysis of the impacts of its ban under the California Environmental Quality Act. I find that claim just a bit ironic considering the impacts of their product on the environment — on birds of prey, wildlife, the entire food chain.
While the state's proposed new rules are not strong enough to prevent all poisonings of wildlife and pets — the pest control industry is exempted from the ban — it would have removed products that are currently poisoning an estimated 10,000 children per year in addition to the pet and wildlife victims.
The California Department of Fish and Wildlife's 800 pages of over 350 incidents of wildlife poisonings probably represent just the tip of the iceberg. The state says its records are far from comprehensive—they include only the animals that have been found and turned in to their agency. Wildlife biologists believe that many poison victims are never found or are eaten by other animals, probably continuing the chain of poison. WildCare, a wildlife rehab facility in San Rafael, found that over 76 percent of the animals it tested for rat poison in 2013 were contaminated. Many wildlife rehab facilities are receiving animals with the symptoms of rodenticide poisoning but cannot afford to test them (each test costs over $100 and most rehab facilities are operating on …more
(0) Comments
Climate researcher set out to raise alarm about a warming world, but it was his understanding of the world's problems that changed the most
I stopped pedaling and looked anxiously at the frontier. In front of me was the California-Mexico border, marked by a white tollbooth-like structure and a large sign that read Mexico in metal letters beneath the country's coat of arms: a large eagle perched on a cactus with a snake in its talons. It was an hour after sunrise on a Sunday in early December, and the light angled through the cool desert air, illuminating the quiet, dusty town of Tecate just beyond the tollbooth.
Biking through the Peruvian Andes. While biking, no windshield protects you from the rain, heat, or wind, and there's no wall between you and the people along the road.
If I was trying to be inconspicuous, I was failing. Clad in arm and leg warmers, I essentially wore full-body spandex, and I stood over six feet tall. My bike helmet had a large brim on the front and a cloth attached at the rear, both futile attempts to guard my pale skin from the sun. Between my outfit and my black touring bike with four red panniers, I wasn't going to blend in south of the border.
But, although I was conspicuous on the road, once I left it I was invisible. Unlike traveling by car, with a bike you can disappear off the highway at any point and set up camp, even just a hundred feet off the road, without a soul knowing where you've gone. Thieves can't rob you if they don't know you're there. It's the greatest sense of freedom; the world was my campground, my living room, my highway. The night before, five miles north of Tecate, I'd easily found a place to sleep, as numerous foot trails led away from the highway, and a patch of desert ground had already been cleared – likely by people also wishing to keep hidden. I wondered how many illegal immigrants, how many of the people I saw working in California during my eight years in the state, had slept on similar patches of ground, staring at the stars.
At twenty-six years old, I was on the adventure I had dreamed of since I was twenty: Starting from my home in California, I planned to ride south …more
(1) Comments
Oil and gas giant say climate policies are highly unlikely to stop it digging up fossil fuels. So what are we going to do about it?
Monday saw the release of the latest climate report from the planet's scientists. Predictions of famine, flood, and so on – mostly what we already knew, in even more striking language.
Photo © Copyright Richard Webb/ Licensed for reuse under this Creative CommonsExxon Mobil said that government restrictions that would force it to keep its reserves in the
ground were "highly unlikely," and that they would not only dig them all up and burn them,
but would continue to search for more gas and oil.
But Monday also saw the release of another document somewhat less expected, and probably at least as important in the ongoing battle over the future of the atmosphere and hence all of us who live in its narrow envelope.
Here's the backstory. For 18 months now some of us have been campaigning for colleges, churches, cities and the like to sell their shares in fossil fuel companies, on the grounds that their business plans call for burning far more carbon than scientists believe the planet can safely handle. It's become the fastest growing divestment movement in history — but some have tried to reach out to the industry and reach a middle ground instead, hoping to reform them instead of simply trying to break their power.
Profound thanks are due, then, to those shareholder activists who urged "constructive engagement" with the oil, gas and coal barons.
Because those organizations, groups like As You Sow, CERES, and the Interfaith Center on Corporate Responsibility, managed in very short order to get Exxon Mobil, the leader of the fossil fuel industry, to show its cards. In fact, in a truly historic moment, Exxon Mobil turned over the whole deck — and to its credit it showed it has nothing up its sleeve, no tricky rhetoric or sleight of hand. Just endless amounts of oil and gas.
On Monday the company issued two reports, in formal response to a shareholder resolution that demanded they disclose their carbon risk and talk about how they planned to deal with the fact that they and other oil giants have many times more carbon in their collective reserves than scientists say we can safely burn.
The company said that government restrictions that would force it to keep its reserves in the ground were "highly unlikely," and that …more
(0) Comments
The consensus text does not track the bleeding edge of anxiety
There are two things to keep in mind if you would know the climate future. The first is that, as scientific statesman John Holdren likes to say, it will come to us as a mixture of mitigation, adaptation, and suffering. The second is that the suffering will be disproportionally visited upon the poor and the innocent.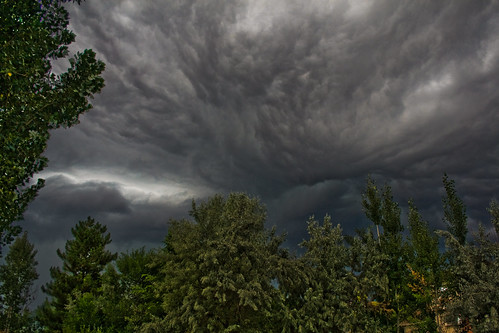 Photo by Tal AtlasWhere once there was constant recourse to "this storm/drought/surge is consistent with global warming," we're now increasingly likely to hear "this storm/ drought/surge would not have happened without global warming."
Hold these thoughts when considering the massive tome just issued by the IPCC's Working Group II. (The much briefer Summary for Policymakers, or SPM, is here). Working Group II (or "WG2" for short) is the part of the International Panel on Climate Change – the largest, most sustained, and arguably most important peer-reviewed scientific enterprise in history – which is focused on understanding climate-change related "impacts, adaptation, and vulnerability." Its report, released on Monday, comes halfway though the year-long rollout of the three volume set that together make up the IPCC's "Firth Assessment Report."
Volume I is focused on climate science in itself – the "physical science basis" of the crisis. It was released in September and can be found here. Volume III, due out later this month, is focused on mitigation – that is, on what the nations of the world can do to slow and then, hopefully, stop greenhouse gas emissions.
Since the release of WG1's report in late 2013 has perhaps faded from memory, it's useful to recall it and to pause to appreciate that WG1 did its job well. In fact, it's not too much to say that the first volume, coming at a time when climate denialism was already sagging, gave us a fine marker of its now accelerating decline. It did so by stepping past the contrived denialist shitstorm that was "Climategate" with a decisive summary and restatement of our increasingly firm – and increasingly grim – understandings.
The scientists are still far too timid in their unwillingness to draw conclusions, but they are getting more forthright. This was evident last fall when, late in the WG1 drafting process, the IPPC quietly took the monumental step of laying out official numbers for the remaining global carbon budgets. (This is a long and …more
(0) Comments