Go Back: Home > Earth Island Journal > Latest News
Latest News
As progressive institutions, the Gates Foundation and Wellcome Trust should commit to taking their money out of the companies that are driving global warming, says The Guardian's editor-in-chief
The world has much more coal, oil and gas in the ground than it can safely burn. That much is physics.
Anyone studying the question with an open mind will almost certainly come to a similar conclusion: if we and our children are to have a reasonable chance of living stable and secure lives 30 or so years from now, according to one recent study 80 percent of the known coal reserves will have to stay underground, along with half the gas and a third of the oil reserves.
If only science were enough.
If not science, then politics? MPs, presidents, prime ministers and members of congress are always telling us (often suggesting a surrender of civil liberties in return) that their first duty is the protection of the public.
But politics sometimes struggles with physics. Science is, at its best, long term and gives the best possible projection of future risk. Which is not always how politics works, even when it comes to our security. Politicians prefer certainty and find it difficult to make serious prudent planning on high probabilities.
On climate change, the public clamor is in inverse proportion to the enormity of the long-term threat. If only it were the other way round. And so, year after year, the people who represent us around the UN negotiating tables have moved inches, not miles.
When, as Guardian colleagues, we first started discussing this climate change series, there were advocates for focusing the main attention on governments. States own much of the fossil fuels that can never be allowed to be dug up. Only states, it was argued, can forge the treaties that count. In the end the politicians will have to save us through regulation – either by limiting the amount of stuff that is extracted, or else by taxing, pricing and limiting the carbon that's burned.
If journalism has so far failed to animate the public to exert sufficient pressure on politics through reporting and analysis, it seemed doubtful whether many people would be motivated by the idea of campaigning for a paragraph to be inserted into the negotiating text at the UN climate talks in Paris this December. So we turned to an area where campaigners have recently begun to have …more
(0) Comments
Toll expected to rise; top officials blame climate change
In a 4:00 p.m. EST, phone interview from Manhattan on Monday, Vanuatu's Ambassador to the United Nations, Odo Tevi, updated Earth Island Journal as to the latest news regarding the cyclone that ravaged his South Pacific Island nation over the weekend: "We were hit by a Category 5 cyclone, Cyclone Pam… Currently, there are 24 confirmed deaths. Eleven are from Tafea province, eight from Efate [the main island where the capital of Port Vila is located], five from Tanna… Tafea province has about four islands."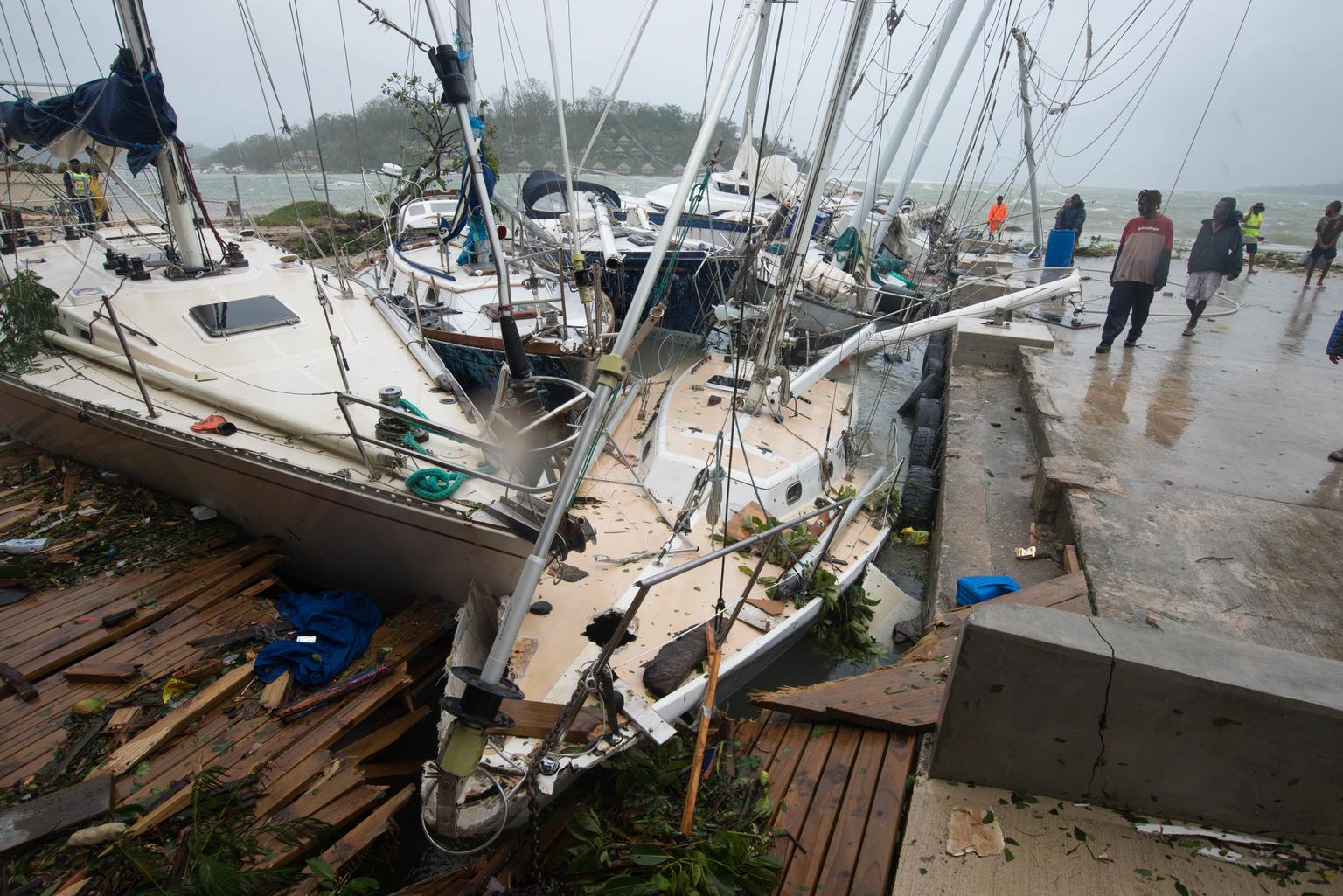 Photo courtesy of UNICEFThe full scale of the damage wreaked by the storm is still unclear given the remoteness of the island chain and its severely damaged communications network
The speed of Pam's winds was unprecedented for the South Seas Island chain located in Melanesia. "The cyclone was carrying winds of 300 kilometers an hour," the Ambassador told EIJ. "We had a big cyclone in 1987 called Cyclone Uma. This [Pam] is the biggest cyclone ever in the history of Vanuatu [with] faster winds… I haven't received any news on flooding; there was heavy winds and rains." (The February 1987 Cyclone Uma was reportedly a Category 4 tropical cyclone that reached speeds of up to 195 kilometers per hour.)
"Currently, [the cyclone] has devastated the capital [Port Vila]… Especially the squatter settlement, because they don't have permanent structures or buildings, they are mostly affected. The urban poor are affected. That is one of the challenges we're facing. There are reports some school buildings have been destroyed by the cyclone," Tevi said. "When the hurricane hit everything was down. But now they're working on it and in the next few days there will be electricity. Some of the communications are up and running, but not everything as before. Maybe another week."
The full scale of the damage wreaked by the storm is still unclear given the remoteness of the island chain and its severely damaged communications network. The death toll is expected to rise once communication between the far-flung islands is reestablished.
"The challenge now is that about 75 percent [of the population] is in the rural area, so we can't really get information. In the next two, three days, we can get information in the rural area. But in the capital, which the hurricane also hit, there's some information coming out now," …more
(1) Comments
'Zoothanasia' is a common practice in Europe and also occurs in the US. Some wildlife advocates say it's unnecessary
The killing of a young giraffe at the Copenhagen Zoo in February 2014 shook the world, causing protests from animal advocates and the public alike. "Marius," an 18 month-old giraffe that had been born at the Copenhagen Zoo, was healthy and likely would have lived a long life. The animal was put down (and then fed to lions at the zoo), because officials at the zoo concluded it was unsuitable for breeding. A month later, the same zoo euthanized four lions, again on the grounds of genetic purity and breeding.
Photo by Michael ButtonGiraffes at the Copenhagen Zoo. Zoo animals are typically killed for two reasons: to control the population and manage "surplus animals," or to maintain genetic strength and diversity within a captive breeding program.
Zoo administrators ended up receiving death threats, and the killings sparked a media feeding frenzy. The serial deaths ushered in a newfound awareness of a not-so-new practice and raised some overlooked questions: Is "zoothanasia," as the practice has been called, really necessary? And how common is it?
Zoo animals are typically killed for two reasons: to control the population and manage "surplus animals," or to maintain genetic strength and diversity within a captive breeding program. While many animal rights activists and some conservation biologists are against the use of euthanasia among zoo animals, organizations such as the European Association of Zoos and Aquaria and the Pan African Association of Zoos and Aquaria defend the practice. "As an organization, we believe that culling has a valid scientific basis and must remain one of the tools open to our members, provided that it is carried out humanely," says David Williams-Mitchell, a spokesperson for EAZA.
Marc Bekoff, a professor of ecology and evolutionary biology at University of Colorado-Boulder and the person credited with coining the term "zoothanasia," disagrees. He says that killing captive animals is the opposite of conservation. "There simply is no reason to kill any animals, members of endangered species or not, in zoos unless she/he is mortally ill or injured," says Bekoff, who is author of the book Rewilding Our Hearts: Building Pathways of Compassion and Coexistence.
Sometimes, zoo animals are killed because there's just too many of them in their cages and enclosures. These "surplus animals" are the result of animals that have been allowed to …more
(0) Comments
From the Amazon to the Mekong, from the Balkans to the Andes, civil society networks have sprung up to defend our planet's arteries
The Chong people consider the Areng River at the foot of Cambodia's Cardamom Mountains a sacred inheritance from their ancestors. The river sustains lush forests with rare elephant, tiger, and crocodile species. The Chong people fish, grow rice, and gather roots and mushrooms on the river banks. They say that piles of money could not replace their river if it were destroyed by a dam.
Photo courtesy of International RiversMen and women from the Pakistan Fisherfolk Forum participate in a ceremony by the Indus River in Pakistan to launch their 14-day campaign for the International Day of Action for Rivers.
The Chong people are not alone in revering their river. We call our rivers Father Rhine and Mother Ganges. The Mekong, Nile and Zambezi are venerated as Rivers of Life. In India, rivers like the Yamuna and Narmada are worshipped as goddesses. Rivers feed us, connect us, and give us a sense of identity. This is why we celebrate them with an International Day of Action for Rivers on March 14 every year.
Scientists confirm what our ancestors knew from experience. Rivers connect land, freshwater, and marine ecosystems. They host some of the world's most diverse plant and animal communities. Rivers sustain much of our agriculture, and their fisheries nourish millions. Their sediments protect our coastlines against erosion by the sea, and pull carbon out of the atmosphere. Healthy rivers act as natural buffers that balance ever more serious floods and droughts.
We often ignore that we depend on rivers for our long-term prosperity. We are damming them, polluting them, and sucking them dry. Some rivers don't even reach the sea anymore. Between 10,000 and 20,000 freshwater species are at risk of extinction or have already died out. Because their migration routes have been cut, the survival of 24 of the world's 26 majestic sturgeon species is threatened or near-threatened.
Rivers and other wetlands are more strongly affected by the loss of species than any other major ecosystem. Even so, they are currently faced by a dam-building boom of unprecedented proportions. No less than 3,700 hydropower dams are under construction or in the pipeline right now around the world. They include the Stung Cheay Areng Dam on Cambodia's sacred Areng River.
From the Amazon to the Mekong, from the Himalayas to the …more
(0) Comments
A renewable energy revolution soars amid radioactive ruins
The catastrophe that began at Fukushima four years ago today is worse than ever.
But the good news can ultimately transcend the bad — if we make it so.
An angry grassroots movement has kept shut all 54 reactors that once operated in Japan. It's the largest on-going nuke closure in history. Big industrial windmills installed off the Fukushima coast are now thriving.
Photo by Takeshi Garcia An angry grassroots movement has kept shut all 54 reactors that once operated in Japan. It's the largest on-going nuke closure in history
Five US reactors have shut since March 11, 2011. The operable fleet is under 100 for the first time in decades.
Ohio's Davis-Besse, New York's Ginna, five reactors in Illinois and other decrepit American nukes could shut soon without huge ratepayer bailouts.
Diablo Canyon was retrofitted — probably illegally — with $842 million in replacement parts untested for seismic impact. Already under fire for illegal license manipulations and an avoidable gas explosion that killed eight in San Bruno in 2010, Pacific Gas & Electric has plunged into a legal, economic and political abyss that could soon doom California's last reactors.
Meanwhile, Germany is amping up its renewable energy generation with a goal of 80 percent or more by 2050.
France — once nuke power's poster child — has turned away from new reactor construction and is moving strongly toward renewables.
Worldwide the Solartopian revolution is ahead of schedule and under budget. Predictions about its technological and economic potential are being everywhere exceeded.
More than twice as many Americans now work in solar as in coal mines. As the head of the Rockefeller Brothers Fund recently put it: "We are quite convinced that if John D Rockefeller were alive today, as an astute businessman looking out to the future, he would be moving out of fossil fuels and investing in clean, renewable energy."
Even America's Tea Party has developed a green wing promoting renewables.
Vital focus now centers on battery breakthroughs needed to escalate rooftop solar, electric cars and other post-nuke game-changers.
But there's plenty of bad news. The State Secrets Act of Japan's authoritarian Abe regime renders unreliable all "official" information from Fukushima. Grassroots nuclear campaigners are under serious attack.
At least 300 tons …more
(0) Comments
In Review: Under the Dome
Viewed more than 200 million times online since its late February release, a hard hitting anti-pollution documentary went viral in the Peoples Republic — until China's so-called "Great Firewall" removed the compelling Internet sensation from Chinese websites. The self-financed Under the Dome is created and presented by Beijing-based investigative reporter, TV/radio host, and author Chai Jing. Complications surrounding her daughter's birth inspired Chai to make this reportedly $167,000 nonfiction film that energetically tackles China's energy status quo, pulling no punches. Her documentary, and the government's suppression of it, is a case study of the current state of the Chinese environmentalist movement, which has previously used film as an organizing tool.
Photo by John ChandlerSmog in Shangai. Under the Dome investigates the enormous air pollution crisis in China, which is industrializing at a rapid pace.
Jing borrowed the title of her documentary from a CBS sci-fi mini-series with the same name starring Dean Norris (based on a Stephen King novel), wherein a mysterious, transparent force field descends on an American town, cutting it off from the outside world. In Jing's doc this malevolent power becomes the rampant air pollution generated by China's largely unregulated fossil fuel industry.
Audiences will be familiar with Under the Dome's cinematic style: As in 2006's Oscar-winning An Inconvenient Truth, wherein Al Gore made a power point presentation about climate change, Jing, too, presents an ecology-themed audio-visual work before a live audience. Clad in a white shirt and blue jeans, the confident, well-spoken journalist stands in front of a large screen, flanked by flat screen monitors, and narrates in Chinese the eyebrow raising 103-minute presentation before a crowd of young people sitting on the floor. Under the Dome utilizes previously shot material in China, London, and Los Angeles, including Jing's interviews with government and energy industry officials, scientists, regulators, etc., as well as original animation, archival footage, and well-made montages.
Jing makes no bones about her eco-stance, setting the tone of her agitprop film early on by proclaiming: "This is a battle between me and air pollution." Under the Dome includes harrowing images and information as Chai investigates the enormous air pollution crisis of a China which, she asserts, is industrializing at the fastest pace of any developing nation in history, accomplishing in only 30 years what it took other countries a century to do. …more
(0) Comments
As world demand for seafood continues to grow, so does demand for green aquaculture practices
At the end of Fisherman's Wharf #2 in Monterey, California there is a small building which houses the Monterey Abalone Company. In the morning chill, a smell of fresh fish and salt hangs in the mist. This the same wharf John Steinbeck walked while looking for a boat to take him and Ed "Doc" Ricketts to the Sea of Cortez in 1940. The small office inside is lined with counters that are cluttered with papers, shells, and instruments. In the deck there is a hatch that opens into a gaping hole. A wood ladder leads down under the pier. It's dark and dripping under the wharf. There's an odor that is both fishy and animal. A pathway of planks leads to the end of the pilings. Pigeons coo overhead, while barks and splashes come from the darkness where the planks disappear. As you walk towards the noises, large shapes emerge and the lugubrious California sea lions, startled, raise their heads in defiance. They grunt, lumber off like overweight men on short crutches, and dive into the water.
Monterey Abalone Company farms abalone in cages suspended in the water under Fisherman's Wharf in Monterey, California.
Unbeknownst to the tourists sauntering overhead, there is a sea farm with 150,000 abalone under the boardwalk of the wharf. Down here, sturdy mesh cages hang in the sea from the network of beams. There are 150 to 6,000 abalone per cage, depending on the size of the shells within. A system of pulleys and ropes is in place to lift the cages out of the water. The enclosures protect the abalone from the marauding sea otters who constantly circle in search of snacks. A worker pulls a cage up, opens the lid, and inside are rigid plastic sheets with abalone stuck fast on their surfaces. The capacity of this abalone farm is 300,000 shellfish.
Worldwide aquaculture production has skyrocketed over the past two decades, while capture fisheries have leveled off. In 2011, aquaculture production surpassed marine harvest fisheries, and it shows no sign of slowing down. Currently more that 50 percent of seafood destined for human consumption is cultured. At the same time, there has been growing alarm about the impact of aquaculture, especially about the use of chemicals and antibiotics, introduction of diseases to wild populations, pollution and damage to natural habitats. Since world …more
(2) Comments