Go Back: Home > Earth Island Journal > Latest News
Move could make it the first country to have GM salmon on grocery shelves
Health authorities in Canada have approved a fast-growing, genetically altered salmon as safe for consumption, paving the way for it to become the first genetically modified animal to be allowed on Canadian dinner plates.
photo by Jake Khuon, on FlickrThe modified salmon is ready for market in 16 to 18 months rather than the up to three years needed for conventional salmon.
After four years of testing, Health Canada and the Canadian food inspection agency said on Thursday they had found the salmon developed by Massachusetts-based AquaBounty Technologies to be as safe and nutritious as conventional salmon.
The GM fish contains a growth… more
by: The Guardian
(0) Comments
Zero emission milestone reached as Iberian country is powered by just wind, solar and hydro-generated electricity for 107 hours
Portugal kept its lights on with renewable energy alone for four consecutive days last week in a clean energy milestone revealed by data analysis of national energy network figures.
Electricity consumption in the Iberian country was fully covered by solar, wind and hydro power in an extraordinary 107-hour run that lasted from 6.45am on Saturday 7 May until 5.45pm the following Wednesday, the analysis says.
Photo by André B/FlickrAs recently as 2013, renewables provided only about 23 percent of Portugal's electricity. By 2015 that figure had risen to 48 percent.
News of the zero emissions landmark comes just days… more
by: The Guardian
(0) Comments
But 2,000 new plant species are discovered every year, report reveals
One in five of the world's plant species is threatened with extinction, according to the first global assessment of flora, putting supplies of food and medicines at risk.
Photo by CIFOR Agricultural land pushing up against the forest near Rio Branco, Acre, Brazil. Habitat destruction is one of the biggest factors threatening plant species.
But the report also found that 2,000 new species of plant are discovered every year, raising hopes of new sources of food that are resilient to disease and climate change. New finds in 2015 included a giant insect-eating plant first spotted on Facebook and a 100-tonne tree… more
by: The Guardian
(0) Comments
Instagram snaps of celebs like Khloe Kardashian posing with orangutans and chimpanzees put survival of these endangered species at risk
Instagram snaps of celebrities including Paris Hilton and James Rodriguez posing with apes in the Gulf are damaging efforts to clamp down on wildlife trafficking and endangering the survival of some species, a UN body has warned.
Photo by Khloe Kardashian InstagramKhloe Kardashian posing with an orangutan in Dubai. She posted the photo with the following caption: "My new
best friend, Dior!!!! I had the most incredible day!! Thank you for such a blessed experience! #MyDubai"
New research by the UN's great apes survival partnership (GRASP) points to an alarming rise in trafficking of orangutans, chimpanzees, gorillas, and bonobos… more
by: The Guardian
(0) Comments
The 1970s study which predicted civilization would collapse some time this century was wrong on resources, but right on pollution
Forty-four years ago, the size of the global economy was $29 trillion in today's prices. In 2014 it was $79.4 trillion. It's certainly been a rocky road at times, but the trend of economic growth has been robust. Only four years over this period have shown a contraction of economic output.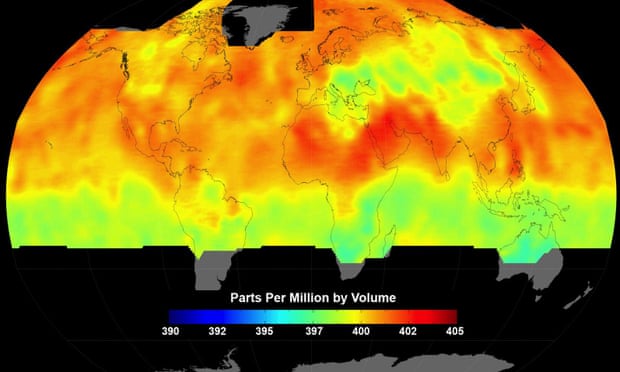 Photo by OCO-2 /JPL-Caltech/NASA Global average carbon dioxide concentrations as seen by Nasa's Orbiting Carbon Observatory-2 mission, June 1-15, 2015.
Consequently, one should feel foolish for suggesting that there are not only limits to growth, but that such limits are… more
by: The Guardian
(0) Comments