Go Back: Home > Earth Island Journal > Latest News
Instagram snaps of celebs like Khloe Kardashian posing with orangutans and chimpanzees put survival of these endangered species at risk
Instagram snaps of celebrities including Paris Hilton and James Rodriguez posing with apes in the Gulf are damaging efforts to clamp down on wildlife trafficking and endangering the survival of some species, a UN body has warned.
Photo by Khloe Kardashian InstagramKhloe Kardashian posing with an orangutan in Dubai. She posted the photo with the following caption: "My new
best friend, Dior!!!! I had the most incredible day!! Thank you for such a blessed experience! #MyDubai"
New research by the UN's great apes survival partnership (GRASP) points to an alarming rise in trafficking of orangutans, chimpanzees, gorillas, and bonobos… more
by: The Guardian
(0) Comments
The 1970s study which predicted civilization would collapse some time this century was wrong on resources, but right on pollution
Forty-four years ago, the size of the global economy was $29 trillion in today's prices. In 2014 it was $79.4 trillion. It's certainly been a rocky road at times, but the trend of economic growth has been robust. Only four years over this period have shown a contraction of economic output.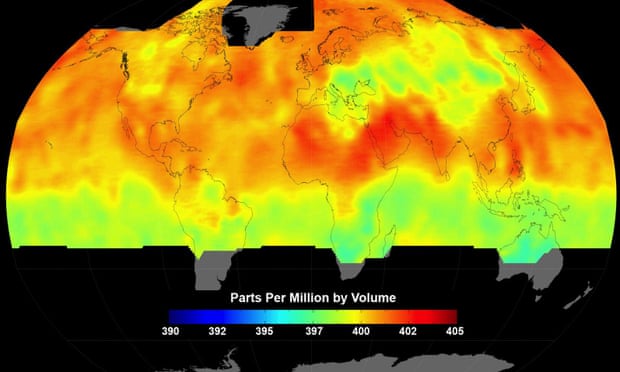 Photo by OCO-2 /JPL-Caltech/NASA Global average carbon dioxide concentrations as seen by Nasa's Orbiting Carbon Observatory-2 mission, June 1-15, 2015.
Consequently, one should feel foolish for suggesting that there are not only limits to growth, but that such limits are… more
by: The Guardian
(0) Comments
Climate change and strong El Niño cause hundreds of kilometres of reef to bleach, as higher temperatures stress the coral
The mass coral bleaching event smashing the Great Barrier Reef has severely affected more than half its length and caused patches of bleaching in most areas, according to scientists conducting an extensive aerial survey of the damage.
Photo by By Steve Parish/Courtesy of Lock the Gate AllianceThe mass bleaching on the Great Barrier Reef is part of what the US National Oceanographic and Atmospheric Administration has called the third global bleaching event – the first occurred in 1998.
"The good news with my last flight is that I found 50 reefs that weren't bleached, so that may… more
by: The Guardian
(0) Comments
Environmental advocates call president's reversal an outsize victory for reducing climate change
The Obama administration promised to protect Atlantic waters for future generations on Tuesday, raising expectations that waters off the US east coast and Alaska would be protected from oil and gas drilling.
Photo by Coast Guard News The Polar Pioneer drilling rig. Shell intended to use the rig to drill for oil in the Arctic before abandoning the drilling plans.
The expected decision reverses Barack Obama's move just last year to open up a vast swath of the Atlantic coast to drilling — and consolidates the president's efforts to protect the Arctic and fight climate change during his final months in the… more
by: The Guardian
(1) Comments
Countries previously seen as climate change villains present shared vision on cutting emissions
The US and Canada declared they would help lead the transition to a low-carbon global economy on Thursday, in a dramatic role reversal for two countries once derided as climate change villains.
The shared vision unveiled by Barack Obama and Justin Trudeau ahead of a meeting at the White House commits the two countries to a range of actions to shore up the historic climate agreement reached in Paris last December.
The two leaders committed to rally G20 countries behind the accord, promote North American carbon markets, cap emissions from hundreds of thousands of existing oil and gas wells, and protect… more
by: The Guardian
(2) Comments