Go Back: Home > Earth Island Journal > Latest News
Decision comes after two-year study into the effects of fracking on the state's air and water raises 'serious questions'
The state of New York said it would ban the controversial practice of hydraulic fracturing on Wednesday because of "red flags" about its risks to public health.
The ban puts one of the last great areas of untapped potential in the Marcellus Shale off-limits to the oil and gas industry.
Photo by Adam Welz for CREDO ActionToday's decision for a frack-free zone across an entire state is the biggest obstacle to date to an industry that has had rapid growth across a number of other states.
The decision was reached after a two-year study into the effects of fracking on the… more
by: The Guardian
(0) Comments
Poorer countries likely to reject agreement in Paris next year if onus falls on them rather than those largely responsible for global warming
At one point on Saturday night it looked quite likely that the Lima climate talks would collapse in disarray. Instead of the harmony expected between China and the US following their pre-talks pact, the world's two largest economies were squaring off; workmen were dismantling the venue; old faultlines between rich and poor countries were opening up again and some countries' delegations were rushing to catch their planes.
Photo by Percy Ramirez/OxfamCountries may technically still be on track to negotiate a final agreement in Paris next year, but the gaps between them are growing rather… more
by: The Guardian
(0) Comments
Barack Obama aims for reduction of a quarter or more by 2025, while Xi Jinping sets goal for emissions to fall after 2030
The United States and China have unveiled a secretly negotiated deal to reduce their greenhouse gas output, with China agreeing to cap emissions for the first time and the US committing to deep reductions by 2025.
The pledges in an agreement struck between President Barack Obama and his Chinese counterpart, Xi Jingping, provide an important boost to international efforts to reach a global deal on reducing emissions beyond 2020 at a United Nations meeting in Paris next year.
Photo by Official White House Photo by Pete SouzaPresident Barack Obama shakes hands with staff and their families during a meet… more
by: The Guardian
(0) Comments
Most important assessment of global warming says solutions to cutting carbon are available and affordable
Climate change is set to inflict "severe, widespread, and irreversible impacts" on people and the natural world unless carbon emissions are cut sharply and rapidly, according to the most important assessment of global warming yet published.
The stark report states that climate change has already increased the risk of severe heatwaves and other extreme weather and warns of worse to come, including food shortages and violent conflicts. But it also found that ways to avoid dangerous global warming are both available and affordable.
Photo by Dave SizerCarbon emissions, such as those from coal-fired power plants will have to fall to zero… more
by: The Guardian
(0) Comments
Species across land, rivers and seas decimated as humans kill for food in unsustainable numbers and destroy habitats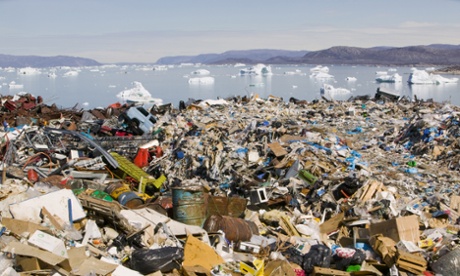 Photograph: Global Warming Images/WWF-CanonRubbish dumped on the tundra outside llulissat in Greenland stand in stark contrast to icebergs
behind from the Sermeq Kujullaq or llulissat Ice fjord – a Unesco world heritage site.
The number of wild animals on Earth has halved in the past 40 years, according to a new analysis. Creatures across land, rivers and the seas are being decimated as humans kill them for food in unsustainable numbers, while polluting or destroying… more
by: The Guardian
(1) Comments