Go Back: Home > Earth Island Journal > Latest News
Icelandic whaler Kristján Loftsson's perverse concept has a long pedigree and a remarkable resonance with Moby-Dick
It is a fantastically surreal proposition. An Icelandic whaler, Kristján Loftsson, is powering his whaling ships using "biofuel" composed of 80 percent diesel – and 20 percent whale oil. Loftsson claims the oil is additionally friendly to the environment as it is rendered out of whale blubber using heat from Iceland's volcanic vents.
Photo by Library Company of PhiladelphiaThis is not the first time animal fat has been used to feed the whale hunt.
The story might seem a bizarre development even in the Alice in Wonderland world of modern whaling, where Japanese whaling fleets claim to be conducting "scientific research" and the… more
by: The Guardian UK
(0) Comments
Charity says industry struggling to survive despite government bailout and calls for resources to be diverted to whale-watching
Japan's whaling industry is "dead in the water" and cannot survive without huge taxpayer subsidies, according to a study.
Photo by Flickr user GuanoThe Japanese whaling fleet uses water cannons to ward off a Greenpeace protestors in this 2008
photo. The cost of sending the fleet to the Antarctic and clashes with anti-whaling groups have forced
the Japanese fleet to return with a fraction of its quota in recent years.
The report, to be published on Tuesday by the charity International Fund for Animal Welfare (IFAW), draws on Japanese government data for the first time to build a… more
by: The Guardian UK
(3) Comments
The case involved five allegations of oil spills in Nigeria, four of which were quashed by the court
Shell was acquitted in a Dutch court on Wednesday morning of most of the charges against it for pollution in Nigeria, where disputed oil spills have been a long-running source of contention between the oil company, local people and environmental campaigners.
Photo by Jenn FarrAn Amnesty International mission delegate's fingers covered in oil from an oil spill at Ikarama,
Bayelsa State. This photograph was taken by Amnesty International researchers eight months
after the spill. There are often long delays in cleaning up after oil spills in the Niger Delta.
The case involved five allegations of spills in Nigeria, and four… more
by: The Guardian UK
(0) Comments
No reason to deny project, bipartisan majority says, but others in Congress press Obama to back up climate change commitment
President Barack Obama faced intense pressure to break with his inauguration day promise on climate change on Thursday, after a bipartisan majority in the Senate urged approval of the Keystone XL pipeline.
The letter from 53 senators said there was no reason for Obama to deny the pipeline — as campaigners are demanding — because the project had now undergone exhaustive environmental review.
Photo by Matt WansleyThe state of Nebraska withdrew its objections to the project this week after TransCanada Corp
revised its pipeline route to avoid ecologically sensitive Sandhills region, leaving Obama without
political cover for delays in the… more
by: The Guardian UK
(1) Comments
Greenpeace analysis shows 14 planned giant fossil fuel projects will increase global emissions by 20 percent by 2020
China and Australia top a global list of planned oil, gas and coal projects that will act as "carbon bombs" and push the planet towards catastrophic climate change, a Greenpeace report warned on Tuesday.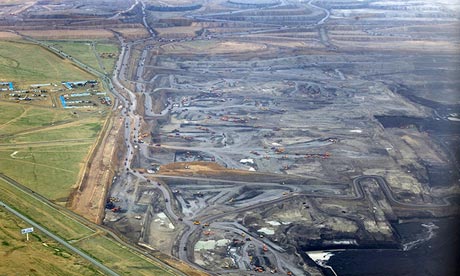 Photo by Lu Guang/GreenpeaceThe Shengli opencast coal mine in Xilin Hot, Inner Mongolia. China's five north-western provinces
aim to increase coal production by 620 million tons by 2015.
The Point of No Return study, by consultancy firm Ecofys for Greenpeace, calculated that the 14 giant fossil fuel projects would produce 6.3 gigatons of CO2 a year in 2020 — as much as… more
by: The Guardian UK
(0) Comments