Go Back: Home > Earth Island Journal > Latest News
Species across land, rivers and seas decimated as humans kill for food in unsustainable numbers and destroy habitats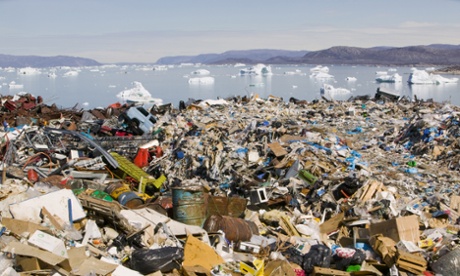 Photograph: Global Warming Images/WWF-CanonRubbish dumped on the tundra outside llulissat in Greenland stand in stark contrast to icebergs
behind from the Sermeq Kujullaq or llulissat Ice fjord – a Unesco world heritage site.
The number of wild animals on Earth has halved in the past 40 years, according to a new analysis. Creatures across land, rivers and the seas are being decimated as humans kill them for food in unsustainable numbers, while polluting or destroying… more
by: The Guardian
(1) Comments
The UN climate summit in New York decided nothing – but it has helped put climate change back on the agenda
By Michael Jacobs
So 120 government leaders each made 4 minute speeches about climate change at the United Nations. Did it make any difference?
Yes, but not in the ways you might think.
The UN climate summit did not conclude in a grand 'agreement'. But that was not its purpose. This was not a negotiating meeting. Indeed it was barely a 'meeting' at all: the assembled leaders simply made speeches one after the other, with most of the real debate occurring in later sessions (on energy, forests, finance and so on) in which the main speakers were environment ministers and representatives from civil society and business.
more
by: The Guardian
(1) Comments
In Australia, USA, UK, and Canada, politicians are rejecting evidence and expert opinion about climate change
As people's understanding of climate science grows, among both experts and non-experts alike, we become more accepting of the fact that humans are the driving force behind global warming. That's because the evidence supporting human-caused global warming is overwhelming; hence rejection of that reality is usually based on an incomplete understanding of the scientific evidence.
Photo by Caelie FramptonA climate change denial billboard in Ontario, Canada.Global warming denial remains a tenable position for politicians in English-speaking countries because voters in those regions don't yet view the issue as urgent or a high priority.
In Australia, Prime Minister Tony Abbott's chief… more
by: The Guardian
(1) Comments
It's the great taboo of our age — and the inability to discuss the pursuit of perpetual growth will prove humanity's undoing
Let us imagine that in 3030BC the total possessions of the people of Egypt filled one cubic meter. Let us propose that these possessions grew by 4.5 percent a year. How big would that stash have been by the Battle of Actium in 30BC? This is the calculation performed by the investment banker Jeremy Grantham.
Photo by Joshua BouselOn Friday, a few days after scientists announced that the collapse of the west Antarctic ice sheet is now inevitable, the Ecuadorean government decided to allow oil drilling in the heart of the Yasuni national park.
Go on, take a guess. Ten… more
by: The Guardian
(2) Comments
Phone calls follow attempted assassination of Congolese national park's chief warden and increased reports of intimidation
World Wildlife Fund staff members have been telephoned with death threats for opposing oil exploitation in Africa's oldest national park, which is home to one in four of the world's estimated 800 remaining mountain gorillas. It follows the attempted assassination of the Virunga national park's chief warden last month and the death of two Congolese park wardens in the last few months.
Photo by Wildlife DirectTwo Congolese park wardens were killed in the last few months, and park director, Emmanuel De
Merode, was shot in an ambush while driving alone in a park vehicle.
"We are taking… more
by: The Guardian
(0) Comments