Go Back: Home > Earth Island Journal > Latest News
Meanwhile, chemical industry's own research indicates that "safer substitutes" are also potentially hazardous
New information emerged last month about toxic contamination from chemicals used to manufacture Teflon pots and pans and many other consumer, military, and industrial products. Water tests in several states have revealed a growing number of sites where the groundwater is polluted by the most well studied of these chemicals — C8 or PFOA — prompting calls from a group of state governors for federal action.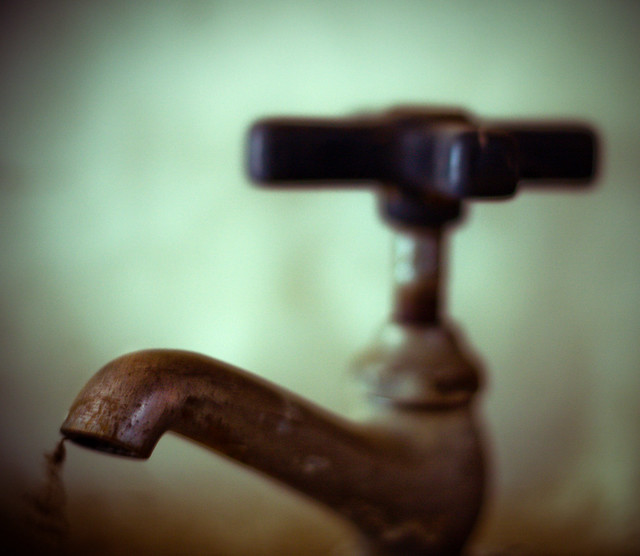 Photo by Rick HarrisState officials want the Environmental Protection Agency to issue federal guidelines on how to understand the hazards of PFCs and how best to respond when water pollution is discovered.
Meanwhile… more
by: Sharon Kelly
(0) Comments
Chemicals industry has already replaced these compounds with new ones that have received little scientific scrutiny
Last week, the Food and Drug Administration (FDA) announced that it will ban three grease-resistant chemicals from food packaging materials like pizza box liners, microwavable popcorn bags, and sandwich wrappers. The newly banned substances all come from a family of chemicals, known as perflourinated chemicals, known to be associated with cancer, digestive ailments, and reproductive harms.
Photo by Lis Ferlaperflourinated chemicals found in food packaging material like pizza box liners, microwavable popcorn bags and sandwich wrappers have been associated with cancer, digestive illness, reproductive harms
The catch? The ban only applies to perflourinated chemicals that have already largely been taken off the… more
by: Sharon Kelly
(0) Comments
SkyTruth uses satellite imagery and data-crunching to track fracking, mountaintop removal, and oil spills around the world
The twenty-first century has been dubbed the "surveillance society," a culture where police departments increasingly deploy drones to spy from above, smart phones precisely track their owners' locations, and government agencies routinely record our emails and phone calls. In this new milieu, environmentalists have started to do some watch-dogging of their own, documenting industry's misdeeds by adapting newly available technology and tactics to fit their needs.
Photo by EcoFlight.Wellpads, access roads, pipeline corridors and other natural-gas infrastructure in western Wyoming's Jonah Field. High-altitude imagery allows SkyTruth to reveal the sheer scope of development as well as changes over… more
by: Sharon Kelly
(0) Comments
Coal mining on public lands could wipe out power plant reforms, Greenpeace report finds
A report published today by Greenpeace highlights a growing contradiction in government policies on one of the dirtiest of fossil fuels: coal. In June, the Obama administration announced a plan to crack down on carbon dioxide emissions from power plants. Meanwhile, the federal Bureau of Land Management has continued to quietly lease publicly owned coal seams to mining corporations at deeply discounted prices. These rock-bottom rates have helped drive a push for expanded exports of American coal, and they risk wiping out the benefits of President Obama's new greenhouse gas controls.
Photo by eastcoalfax/FlickrThe Bureau of Land Management has leased 2.2 billion tons of coal on… more
by: Sharon Kelly
(2) Comments
Future fracking cases could be affected
This April, Lisa and Robert Parr of Wise County, Texas won a widely-publicized $3 million verdict in a case alleging they had suffered health problems from pollution related to gas fracking. Last week, a Texas judge upheld that verdict and ordered the defendant, Aruba Petroleum, to pay up.
Photo adapted from image by Katie TegtmeyerIt's not known how many fracking cases have been settled prior to jury verdict, or under what terms, because of the widespread use of non-disclosure agreements.
Although the case was widely labeled as unprecedented,… more
by: Sharon Kelly
(2) Comments