Go Back: Home > Earth Island Journal > Latest News
Latest News
A wildlife crisis on the Pilcomayo River spurs "futile" rescue effort by citizens
They call it Agrophil Cemetery. A desiccated wasteland is all that's left of a vast marsh that stretched along the Pilcomayo River in Paraguay. Now, dozens of dead and dying caimans lie mired in mud, bare earth extends to the horizon, and patient vultures perch in the branches of leafless trees.
Agrophil is at the epicenter of the worst drought the region has weathered in nearly two decades. As wildlife suffer and Argentina and Paraguay jockey for control of the river's remaining waters, some activists have travelled to the river to take matters into their own hands: relocating the aquatic reptiles to wetter areas and demanding that the government drill wells for the surviving wildlife.
Photo by Dick KnightAs the drought in the region worsens, some wildlife activists have begun relocating caimans to wetter areas,
But the Pilcomayo is a dynamic river undergoing unprecedented change, and the activists' actions have prompted debate and derision. Many fear their attempts to rescue wildlife are misguided, if not futile, and direct attention away from the root causes of the river's plight.
Alberto Meza, president of the group Ya Estamos Cansados de Sus Leyes (which translates to "We're Tired of Their Laws"), says his team of volunteers has helped rescue more than 130 animals over three trips to the river. And with every trip, he's seen the situation on the Pilcomayo worsen. "Ninety percent of the animals still there are already dead," he says. A nearby ranch owner told Meza that vultures were feasting on the dead and dying alike.
Ordinarily, the Pilcomayo supports an abundance of wildlife. Tens of thousands of caimans sun themselves along the river's banks and hunt for frogs, fish and small mammals in its waters. (Caimans are closely related to alligators and crocodiles, though they are often smaller and have much narrower bodies). Capybara, one of the world's largest and most adorable rodents, live along the shores, and sábalo and other fish migrate up the river to spawn.
Meza says "hundreds and hundreds" of caiman have already perished in the drought, along with fish, capybaras, and livestock. But the crocodilians bear the brunt of the drought because most other animals are more mobile and can seek water elsewhere when the river runs dry.
Officials from Paraguay's Secretary of the Environment (SEAM) and the
Ministry of Public Works and Communications dispute Meza's account. They say that only three large marshes, or bañados, have been severely impacted by the drought …more
(0) Comments
Search is on for ancient or near-extinct crops that might be better suited for this new reality
Throughout history, different types of food have surged and dropped in popularity, and some foods that existed at one point just aren't around anymore. But we're not talking about foods that aren't popular, quite the opposite in fact. Some of our favorite foods and drinks could be considered "endangered" because the places where they are grown are being severely impacted by climate change. If this isn't proof that we need to do something about climate change, I don't know what is. To start off, here are a few foods that are part of our every lives that might not be around for long.
Photo by Taidoh/FlickrCoffee and chocolate are among globally popular foods that might soon become scarce because the places where coffee and cocoa beans are grown are being severely impacted by climate change.
Coffee
According to the Union of Concerned Scientists, just about every coffee growing region in the world is being threatened by higher temperatures, longer droughts, and more intense rainfall and plant diseases. Coffee-producing countries are seeing their yields decline already. If temperatures continue to increase, 80 percent of the land in Brazil and Central America, where the most popular coffee bean, Arabica, is currently grown, will be unsuitable by the year 2050. During that same time period, a 50 percent decline in growing regions around the world can be expected.
Chocolate
Unlike coffee, rising temperatures alone isn't necessarily putting this food on the endangered list. Cacao trees thrive in hot, humid environments, and can only be grown on land about 20 degrees north and south of the equator. The rainforest regions near the equator are perfect for the cacao trees. But the problem is that while the temperature is increasing, the amount of rainfall in these areas is not increasing, so the heat is sapping the moisture from the plants and the ground, decreasing humidity in these regions.
Beer
In 2015, 42 beer companies signed the Brewery Climate Declaration to call attention to how climate change is threatening the industry, while committing to lowering their own carbon footprints. Warmer temperatures and extreme weather in the Pacific Northwest are damaging hop plants, which means lower yields. At the same time, high demand for beer has pushed the price of hops up by more than 250 percent over the last decade. Clean water is also becoming an issue in the west with droughts and reduced …more
(0) Comments
Bayer and Syngenta criticized for secrecy after unpublished research linked high doses of their products to damage to bee colonies
Unpublished field trials by pesticide manufacturers show their products cause serious harm to honeybees at high levels, leading to calls from senior scientists for the companies to end the secrecy which cloaks much of their research.
The research, conducted by Syngenta and Bayer on their neonicotinoid insecticides, were submitted to the US Environmental Protection Agency and obtained by Greenpeace after a freedom of information request.
photo by Keith McDuffeeThe newly revealed studies show Syngenta's thiamethoxam and Bayer's clothianidin seriously harmed colonies at high doses.
Neonicotinoids are the world's most widely used insecticides and there is clear scientific evidence that they harm bees at the levels found in fields, though only a little to date showing the pesticides harm the overall performance of colonies. Neonicotinoids were banned from use on flowering crops in the EU in 2013, despite UK opposition.
Bees and other insects are vital for pollinating three-quarters of the world's food crops but have been in significant decline, due to the loss of flower-rich habitats, disease and the use of pesticides.
The newly revealed studies show Syngenta's thiamethoxam and Bayer's clothianidin seriously harmed colonies at high doses, but did not find significant effects below concentrations of 50 parts per billion (ppb) and 40ppb respectively. Such levels can sometimes be found in fields but concentrations are usually below 10ppb.
However, scientists said all such research should be made public. "Given all the debate about this subject, it is hard to see why the companies don't make these kinds of studies available," said Prof Dave Goulson, at the University of Sussex. "It does seem a little shady to do this kind of field study — the very studies the companies say are the most important ones — and then not tell people what they find."
Prof Christian Krupke, at Purdue University in Indiana, said: "Bayer and Syngenta's commitment to pollinator health should include publishing these data. This work presents a rich dataset that could greatly benefit the many publicly funded scientists examining the issue worldwide, including avoiding costly and unnecessary duplication of research."
Ben Stewart, at Greenpeace, said: "If Bayer and Syngenta cared about the future of our pollinators, they would have made the findings public. Instead, they kept quiet about them for months and carried on downplaying nearly every study that questioned the safety of their products. It's time for these companies to come clean about what they really know."
Syngenta had told Greenpeace in …more
(0) Comments
In Fiji, saving coral reefs is a community affair
When coral ecologist Victor Bonito dove into the warm waters just off Fiji's Coral Coast on a Thursday morning in early February, he noticed some bleaching on a previously healthy patch of reef, but didn't think much of it. The next day, however, he started getting phone calls from several residents of the villages dotting the coast. Dead fish were washing ashore. By Monday, Bonito's phone was ringing like crazy. He went down to a beach near his office in the village of Votua. The sand was lost beneath a blanket of fish – some dead, some still gasping. "I couldn't get into scientist mode," Bonito said, "because everyone was calling, asking if it was okay to eat the fish."
Photo by Victor BonitoVictor Bonito (right) and crew member Mosese Tuiloruma plant live coral grafts in an underwater coral nursery. Traditional fishing practices – like breaking apart coral to flush out fish, or poisoning, or dynamiting – has caused extensive damage to Fiji's extensive coral reef ecosystem.

Over the following days, Bonito and a group of young Votua villagers – who Bonito is teaching to identify, cultivate, and protect the corals in a no-take marine protected area (MPA) – did some dives to assess the extent of the bleaching and die-off. "We had never seen anything like it," Bonito said. He downloaded the latest temperature readings from a digital thermometer he keeps on the reef. In the days leading up to the die-off, temperatures had not dipped below 80 degrees Fahrenheit, a threshold beyond which the health of the Coral Coast's nearshore marine ecosystem would be threatened. But on the day of the die-off, the water temperature reached nearly100 degrees.
El Niño was the culprit. At that moment, sea surface temperatures throughout the tropical Pacific were breaking records. February's Coral Coast bleaching was just a small part of a global pattern that had begun in October 2015. The event, which is still going on, has now become the longest bleaching event since scientists first started monitoring the phenomenon in 1998, when an El Niño-driven marine heatwave killed 16 percent of the world's corals. Researchers are still assessing the extent of this bleaching – and scientists from NOAA have warned that the crisis may actually continue into 2017.
Fiji's coral reef ecosystem is the most extensive in the South Pacific, and the Coral Coast's fringing reef is one …more
(0) Comments
New report finds 200 million people exposed to toxic drinking water
In the 2000 biographical film about a legal clerk who brings a major utility company to its knees for poisoning residents of Hinkley, California, Erin Brockovich ended on a Hollywood high note with a $333m settlement from PG&E. But chromium-6 contamination of America's drinking water is an ongoing battle the US Environmental Protection Agency (EPA) is losing.
Photo by Katherine JohnsonIn their analysis of the EPA's own data collected for the first nationwide test of chromium-6 contamination in US drinking water, the Environmental Working Group report found that 12,000 Americans are at risk of getting cancer.
Nearly 200 million Americans across all 50 states are exposed to unsafe levels of chromium-6 or hexavalent chromium, a heavy metal known to cause cancer in animals and humans, according to a new report released Tuesday by the nonprofit research and advocacy organization Environmental Working Group (EWG).
Today, Brockovich says Hinkley wasn't an isolated event.
"The water system in this country is overwhelmed and we aren't putting enough resources towards this essential resource," Brockovich wrote in an email to the Guardian. "We simply can't continue to survive with toxic drinking water."
In their analysis of the EPA's own data collected for the first nationwide test of chromium-6 contamination in US drinking water, the report's co-authors Dr David Andrews and Bill Walker, senior scientist and managing editor of EWG, found that 12,000 Americans are at risk of getting cancer.
Drinking water in Phoenix, Arizona, has the highest concentration of chromium-6 contamination. Of the 80 water samples taken across the city — water that serves 1.5 million people — 79 showed average concentrations of 7.853 ppb. California scientists have recommended a public health goal of 0.02 ppb, but industry pressure led to the adoption in 2014 of a legal safe limit of 10 ppb.
"More than two-thirds of Americans' drinking water supply has more chromium than the level that California scientists say is safe — a number that's been confirmed by scientists in both New Jersey and North Carolina," according to Walker.
"Despite this widespread contamination, the US currently has no national drinking water standard for chromium-6."
Dr Andrews said: "Part of the reason behind writing this report is really highlighting how our regulatory system is broken — in its ability to incorporate new science, and its ability to publish and update drinking water standards."
Hexavalent chromium is used in a variety of processes: leather tanning, chrome-plating and small …more
(0) Comments
Docs Show Vallejo City Council Members met in Secret to Craft Port, Cement Plant Plan
When Nathan Stout moved to Vallejo, by the San Francisco Bay, he wanted to get involved in the community. So he joined the citizens' commission the city had formed to work on a new general plan. He was inspired by the project's principles — resident involvement in planning, focus on the needs of South Vallejo, the city's poorest neighborhood, and a beautiful, iconic waterfront.
Photo by Patrick NouhaillerInitial plans for the city of Vallejo's new general plan included a proposal to create green promenade along the waterfront in the city's poorest neighborhood.
The citizens' commission presented its vision at a meeting late last year. "We wanted to have open space on the waterfront — a green walkway, a promenade," Stout said. But to the group's surprise, "The city attorney told us we couldn't do that because there was a pending project, so the industrial sites needed to remain industrial."
The members of the General Plan Working Group — and pretty much everyone else in Vallejo — had been kept ignorant of a parallel planning process. Three city council members had been meeting in secret with local business leaders since April 2014 with the aim of getting the US Army Corps of Engineers to dredge a shipping channel between Vallejo and Mare Island, site of a former Navy shipyard. In its first few months, this Mare Island Straits Economic Development Committee embraced a proposal for a massive project to build a deep-water port — Vallejo Marine Terminal (VMT) — and a cement processing plant on the city's south shore.
A toxic project
Residents first got wind of the project when the city quietly issued a draft Environmental Impact Report (DEIR) last September. Longtime Vallejo resident Boudicca Todi recalled, "I read the whole thing and I just started crying. It was so obvious they were targeting this community to put in a toxic project." Meanwhile fellow Vallejo resident Peter Brooks and a few friends got together to read over the report and discuss it. They immediately decided to form Fresh Air Vallejo to fight the project.
There were problems with the cement plant, Todi said, "but VMT is scarier." The VMT proposal lists examples of bulk products the port might handle, such as feed grains, lumber, and steel. "'Such as,'" Todi emphasized. "That should scare anyone!" Vallejo residents were acutely aware that farther down the Bay, residents of Oakland were engaged in a massive battle to prevent their city from becoming a …more
(4) Comments
In Review: When Two Worlds Collide (Documentary)
As members of the Standing Rock Sioux and other tribes confront the Dakota Access pipeline, don't miss Heidi Brandenburg and Mathew Orzel's hard-hitting film about a more violent resistance by Indigenous people south of the border against would-be developers and exploiters.
Photo by Jack Weisman/Yachaywasi FilmsA scene from the documentary showing Peru's Indigenous Amazonian people protesting to save their rainforest.
When Two Worlds Collide is an eye-opening documentary about Peru's Amazonian tribes' struggle to protect their ancestral homeland in the rainforest against the destruction and deforestation wreaked by oil, logging, and other extractive industries acting in cahoots with the government of President Alan Garcia. Their efforts put Peru's indigenous peoples on the frontlines of international eco-activism and puts them on a collision course with the iron heel of the state.
At the heart of this struggle is the aboriginal tribes' campaign to rollback laws passed by the federal government in Lima that overturn Indigenous people's rights to collective ownership of land and water and their resources in favor of exploitation by for-profit private developers. Amazonian activists contend up to 102 laws in Peru are unconstitutional and demand that they be repealed — in particular the despised forestry law, number 1090. Ignored by the legislature, where tricky parliamentary maneuvers are pulled to outfox opposition party representatives and negotiations lead to a road going nowhere, Native freedom fighters resort to roadblocks, occupations, and other civil obedience tactics.
At the vortex of this mass movement is Alberto Pizango, a Peruvian Indian who attended university, became a teacher and then leader of Native rights' groups, including the Interethnic Association for the Development of the Peruvian Rainforest (AIDESEP). As the film's protagonist Pizango makes a compelling character study. In some ways Collide harkens back to the early Soviet revolutionary cinema of VI Pudovkin, that depicted the dynamic interplay between individuals and causes, as in Pudovkin's 1928 Storm Over Asia (which also dealt with Native people fighting outsiders).
The Amazonian cauldron boils over in June 2009 when militarized Special Forces Police wearing helmets (look for cinematic metallic reflections) and camouflage uniforms, riding in armored vehicles and choppers, clash with demonstrators. All hell breaks loose as protesters are shot and policemen killed (some by spears). Perhaps in retaliation, at a Petroperú(the state-owned petroleum company) pumping station, up to 38 outnumbered law enforcers are taken hostage and then executed.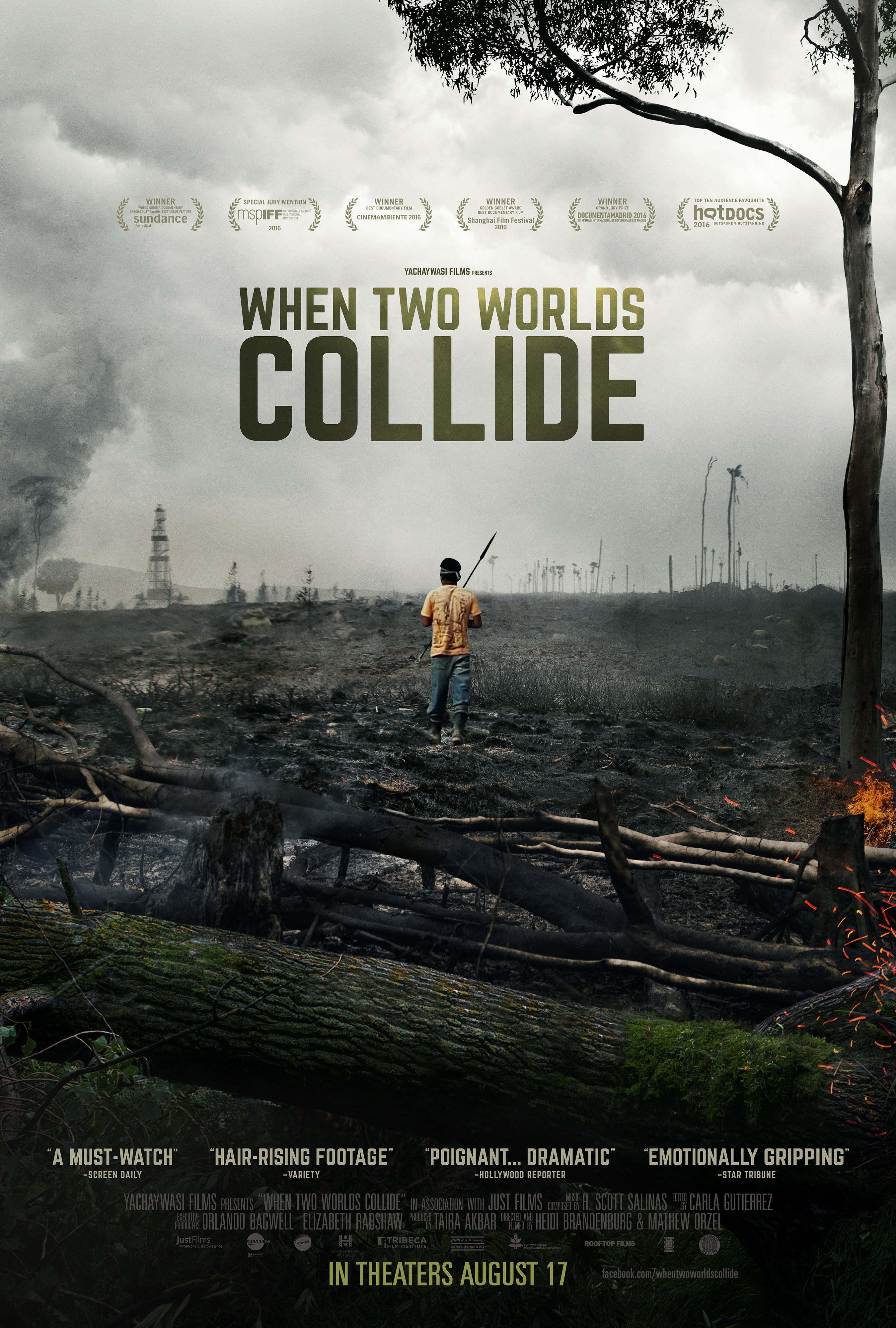 Presumably Bandenburg and Orzel had access to TV …more
(0) Comments