Go Back: Home > Earth Island Journal > Latest News
Latest News
Meanwhile, chemical industry's own research indicates that "safer substitutes" are also potentially hazardous
New information emerged last month about toxic contamination from chemicals used to manufacture Teflon pots and pans and many other consumer, military, and industrial products. Water tests in several states have revealed a growing number of sites where the groundwater is polluted by the most well studied of these chemicals — C8 or PFOA — prompting calls from a group of state governors for federal action.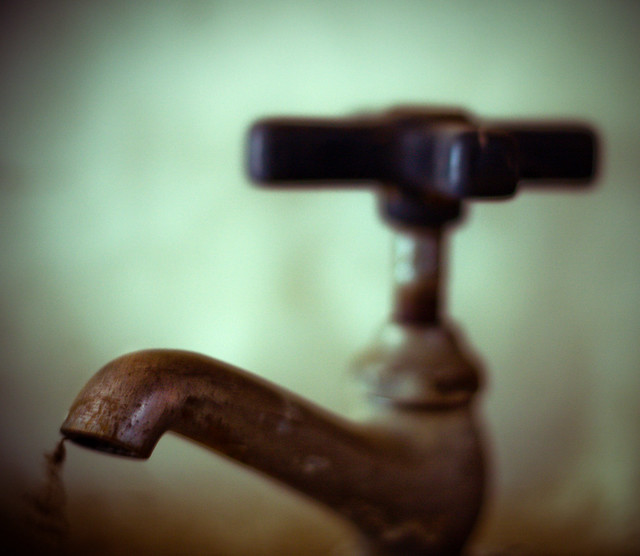 Photo by Rick HarrisState officials want the Environmental Protection Agency to issue federal guidelines on how to understand the hazards of PFCs and how best to respond when water pollution is discovered.
Meanwhile there are new indications that another perfluorinated chemical (PFC), heavily promoted by chemical manufacturers as a safer substitute for C8, is also toxic and just as persistent in the environment as C8, raising questions about the adequacy of a voluntary C8 phase-out agreement promoted for the past decade by the Environmental Protection Agency.
First created in a lab in 1947, C8 has managed to spread extraordinarily far and wide. Built from one of the strongest bonds in organic chemistry, the tie between carbon and fluorine atoms, the chemical that acts as a surfactant was, until recently, used not just in Teflon cookware, but in hundreds of other consumer products including fast food wrappers, waterproof clothing, electrical cables, and pizza boxes.
As with many other PFCs, C8 is impervious to breaking down or biodegrading. It can also accumulate in the human body over time and has been linked to at least six serious health conditions, including kidney cancer, ulcerative colitis, and thyroid diseases. According to the Centers for Disease Control, the chemical can now be found in trace amounts in the blood of roughly 98 percent of Americans.
Ongoing legal battles surrounding C8 contamination by a former DuPont plant in West Virginia have drawn renewed attention to the risks associated with the chemical. (Read "Teflon's Toxic Legacy," our in-depth report on how DuPont hid information that C8 was making people sick.) And now this toxic chemical is being found at potentially hazardous levels in places ranging from small New Hampshire towns to the lead-laced waters of Flint, Michigan.
In New York's Hoosick Falls, where in 2014 local authorities refused to conduct tests until one …more
(0) Comments
Massive infrastructure project would starve bay of fresh water, harm wildlife
Should local salmon be pushed to extinction? Should some Bay Area residents pay much higher water bills? Should San Francisco Bay be contaminated with toxic pollutants?
Photo by Vlad Butsky The proposed water tunnels would harm San Francisco Bay's birds, fish, and the entire bay ecosystem.
My guess is that Bay Area residents would answer these questions with a resounding "no," but these scenarios will become reality if the two 30-mile water tunnels proposed by Governor Jerry Brown are built.
The tunnels have a new name since they were first proposed in in 2012: the California Water Fix. These massive tunnels would divert more fresh water from the Sacramento River for transport to the Central Valley and southern California, mostly to be used to grow crops for export. But even under the new name, they would still cause major harm to the San Francisco Bay, and to the recreation, jobs, and wildlife that depend on a healthy bay.
The Sacramento and San Joaquin Rivers both flow to the delta. The delta, in turn, flows to San Francisco Bay. The mix of fresh water with ocean water that flows in from the Golden Gate makes the bay ecosystem a rich environment for birds, fish, seals, sea lions, and other wildlife.
The fresh water that San Francisco Bay receives is critical to maintain the delicate balance of the bay's ecosystem. But for decades, massive amounts of fresh water have been pumped from the delta for use locally and farther south in the state. So much fresh water is already being taken that there's not enough to protect the bay ecosystem and the wildlife that depends on it.
The proposed tunnels would further starve the bay and delta of fresh water. The proposal would cause an increase in toxic algae that can be lethal to wildlife. Concentrations of pollutants like mercury and selenium in the bay, which are already high enough that people are warned not to eat certain fish caught in bay waters, would rise even higher. Scientists predict that several species of native fish would go extinct.
Local jobs would also disappear. According to the Pacific Coast Federation of Fishermen's Associations, local salmon would face extinction, threatening thousands of jobs that depend on healthy salmon runs.
Global climate change could make …more
(1) Comments
Like everywhere else, fighting oil and gas in Florida now means taking on big pipeline projects
The national fight to stop the frack attack has brought people together from California to Pennsylvania, New York to Texas, and Michigan to Maryland. Now, in the throes of a highly divisive presidential election, the national energy debate is raging like never before.
Photo by NPSFlorida's Big Cyprus National Preserve, where Burnett oil company is pushing for expanded oil and gas exploration.
As a perennially contested swing state, Florida's decision on whether to pursue more oil and gas development — or instead prioritize protection of land, water, air, and wildlife — is reverberating far and wide.
Florida only has about a dozen active oil and gas fields and ranks very low among oil and gas producing states. But drillers have set their sights on using new technologies to access more resources and develop new ones.
In response, activists have organized to call for drilling restrictions and a fracking ban. They scored a big victory on March 1, when Florida's state legislators abandoned an effort to pass Senate Bill 318 that would have led to new regulations on hydraulic fracturing and possibly acidizing techniques. It would have opened the door to drilling statewide, even in the internationally significant Everglades National Park and other fragile and unique natural environments. It also would have effectively prohibited municipalities and counties from banning fracking (an attempt to follow the lead of Texas and Oklahoma).
In January, a coalition of environmental groups, including Earthworks, continued the fight against the Burnett oil company's proposal to use seismic testing to explore for more oil and gas in Big Cypress National Preserve. Big Cypress is home to the endangered Florida panther and many other unique, at-risk animals and a critical water supply for the Everglades.
We submitted detailed, comprehensive comments demonstrating that the company had barely considered impacts on animals, plants, and water or provided sufficient, credible information to back up their "no risk" claims. This view was echoed by thousands of people across Florida and nationwide who told the National Park Service that a full environmental impact statement (EIS) is necessary. In late January, US Senator Bill Nelson of Florida also called on the Interior Department to conduct a full EIS.
Like everywhere …more
(0) Comments
Nanticoke Solar is a joint venture by First Nations business leaders and renewable energy companies
One would be hard-pressed to find a more symbolic victory for clean energy than a solar farm taking up residence inside the former home of one of the largest coal-fired power plants in North America. That's what is happening, on the shores of Lake Erie in Ontario, Canada.
Photo by JasonParisThe Nanticoke Generating Station, which is being converted to a solar farm.
At one time, the Nanticoke generating station was producing a staggering 4,000 megawatts of energy and was one of the country's largest greenhouse gas emitters. The plant was officially decommissioned in 2013, part of a long process to shutter all coal-fired plants in the province — a goal that was accomplished in 2014.
Now, in a move that unites local First Nations business leaders and renewable energy companies, the mothballed site will soon be home to a solar farm called Nanticoke Solar. The new project is a joint venture of Sun Edison Canadian Construction and the Six Nations of the Grand River Development Corporation.
The facility — located in Haldimand County on four separate parcels of land including a former coal pile — is expected to generate 44 megawatts and utilize the transmission wires already in place. The plant's capacity, is just a little over one percent of the some 4,000 megawatts the former coal plant used to generate, but it's part of Ontario's larger effort to replace coal with renewable energy sources.
Currently, the province of Ontario meets the majority of its energy needs through nuclear and hydroelectric generation. Clean energy sources — wind, solar and bioenergy — provide just six per cent of the province's energy demand. Unlike most Canadian provinces, Ontario's emissions are on the way down — already at six per cent below 1990 levels. The long-term goal of the province's climate change strategy is an 80 per cent reduction in 1990 emission levels by 2050.
Nanticoke Solar is one of 16 new renewable energy projects announced by Ontario's Independent Electricity System Operator that in total could generate 455.885 megawatts of renewable energy including five wind, seven solar and four hydroelectric contracts. Of the new projects announced, 13 involve participation from Aboriginal communities.
"Six Nations has been involved in renewable energy for quite some time," says Matt Jamieson, the president …more
(0) Comments
Nearly a trillion dollars may be wasted on supporting the dying coal industry, says new report
Nearly a trillion dollars — $981 billion to be exact. According to a report released today, that is the estimated amount that could be spent on the global coal plant pipeline. It is also more than one-and-a-half times the cost to end energy poverty according to the International Energy Agency's (IEA) Energy for All Case.
photo by Gavin Fordham, on FlickrMajuba Power Station in South Africa. Constructing all proposed coal plants would cost $981 billion, more than 1.5 times the amount need to end energy poverty for 1.2 billion people.
But instead of solving a global crisis, those trillion dollars may go down the drain, supporting potentially stranded assets in the dying coal industry.
Today's report, released by the Sierra Club, CoalSwarm, and Greenpeace, is an update to last year's report on new and proposed coal plants worldwide. Last year, we found an industry in peril, with two proposed plants shelved or canceled for every one completed. The news isn't any better for the industry this year.
Worldwide coal use has dropped for the past two years, but the industry continues to ignore this trend and build new coal plants. This is not surprising, given that no industry wants to admit it is obsolete, but the staggering lack of foresight will only accelerate the collapse of coal. Nowhere is this more evident than in China, which is still building new plants even while use of its existing fleet has fallen below 50 percent. And China is not unique. We are seeing utilization rates fall among big coal consumers, including the European Union, the United States, and India.
Graph from page five of this year's report
Coal generation was previously tied closely to coal capacity, and knowing how much power could be generated from coal used to be a good way to estimate how much energy would be generated from coal. Not anymore. With utilization rates plunging, investments in new capacity could quickly turn into stranded assets – and investors know it.
Big banks like JPMorgan Chase, Bank of America, Citigroup and Morgan Stanley are backing away from coal. In Indonesia, the world's largest exporter of coal, mining companies are asking for public subsidies and a …more
(0) Comments
16,000 preterm births a year are linked to fine particulate pollution, costing the US $4.33 billion annually
One in 10 babies in the United States is born prematurely, before 37 weeks of pregnancy. Preterm birth is the leading cause of death for children under five and is linked to numerous health problems that persist throughout life. Many factors can contribute to preterm birth but air pollution – particularly fine particulate pollution – is increasingly being linked to the incidence of premature birth in the US and elsewhere around the world. According to a study published today in Environmental Health Perspectives, the annual economic costs of the nearly 16,000 premature births linked to air pollution in the US each year has reached $4.33 billion.
Photo by Steven BussSmog over LA. A growing number of studies have linked particulate pollution with low birth weight and preterm birth.
These costs stem from both direct healthcare expenses and costs associated with lifelong health problems. "Preterm babies who survive often face a life of health complications, including chronic disease, asthma, cognitive and motor problems and psychological impairments," explains Linda Franck, chair of family health care nursing at the University of California San Francisco School of Nursing.
"To our knowledge, this is the first time that such economic estimates are reported and suggest that considerable health and economic benefits can be gained through reductions in outdoor air pollution exposure in pregnancy," write lead study author Leonardo Trasande and colleagues at New York University.
"For a long time we've known that air pollution contributes to cardiovascular disease in adults and to asthma and other respiratory conditions in children," explains Trasande, New York University School of Medicine associate professor of pediatrics and environmental medicine and the study's lead author. Now a growing number of studies have linked particulate pollution with low birth weight and preterm birth. These studies look both at where preterm births are occurring and also how air pollution can adversely affect pregnancy through inflammation, stress, and other biological mechanisms.
There is also increasingly precise information showing where particulate pollution is occurring. This includes information collected by US states and by the US Environmental Protection Agency. Using such data about air pollution and the number of premature births per county in a year, Trasande and colleagues were able to estimate how many preterm births could be …more
(0) Comments
TenTen's plight reveals the unexpected perils faced by migrating birds and the unanticipated consequences of poverty
In early February as Haitians took to the streets of the capital city of Port-au-Prince in violent protest against the government, a quieter political drama of international consequence unfolded in a far away village in the Central Plateau where a man held a migrating raptor for ransom hoping it would be his ticket out of the country.
Photo shared on social mediaThe osprey's captor initially mistook it for an eagle — a well-known symbol associated with the United States, and hoped to use it as his ticket out of Haiti.
The man and his neighbors mistook the bird, an osprey, for an eagle — a well-known symbol associated with the United States even in this remote village. The bird carried particular weight because it had a metal band on its leg that listed an eight-digit number — 788-10910 — and had "Washington, D.C." inscribed on it.
"They'd assigned guards to this bird. Everyone wanted a piece of this bird and thought they were going to get a reward because it was a bald eagle," said Kelly Crowdis, a Port-au-Prince-based American veterinarian who traveled from the capital — driving for hours, taking two boats, and walking more than two-and-a half miles — to examine the bird after she heard about it.
Local police and politicians, representatives from Haiti's Ministry of Agriculture and many others tried to no avail to take custody of the bird, but the villagers and the bird's captor would not surrender the bird.
"They thought because the bird had a band on it that it had a specific owner," Crowdis told me over the phone from Port-au-Prince. "You can't blame them. We tried to explain to the people and the entire community that this was a migratory bird."
The osprey did not have an owner, exactly, but the number on its band did lead to clues about its origin. It was banded in 2001 as a nestling in Massachusetts under a federal permit belonging to one Norman Smith, who works for Mass Audubon.
Reached by phone, Smith said the osprey belonged to an ongoing study begun 35 years ago in which more than 6,000 birds were given unique tracking numbers. This particular bird was banded in the last week of June of 2001 at …more
(1) Comments