Go Back: Home > Earth Island Journal > Latest News
Latest News
Coastal communities suffering from what some experts call a widespread human heath crisis
In April 2010, BP's Deepwater Horizon oil drilling platform exploded, killing 11 workers before sinking 5,000 feet to the bottom of the Gulf of Mexico.
Oil gushed for 87 days unchecked, creating the single-largest marine oil disaster in US history.
photo by Florida Sea Grant, on FlickrFire boat response crews battle the blazing remnants of the off shore oil rig Deepwater Horizon April 21, 2010.
In response to the disaster, BP used 1.8 million gallons of highly toxic Corexit dispersants in what the oil giant claimed was an effort to keep the oil from reaching shore. Critics accuse BP of sinking the oil with the dispersants as a means of minimizing fines under the Clean Water Act.
"The dispersants contain chemicals that many scientists and toxicologists have warned are dangerous to humans, marine life and wildlife," IPS reported in 2010, adding:
A March 1987 report titled "Organic Solvent Neurotoxicity," by the National Institute for Occupational Safety and Health (NIOSH), states: "The acute neurotoxic effects of organic solvent exposure in workers and laboratory animals are narcosis, anesthesia, central nervous system (CNS) depression, respiratory arrest, unconsciousness, and death.
"Several chemicals and chemical compounds listed in the NIOSH report, such as styrene, toluene and xylene, are now present in the Gulf of Mexico as a result of BP's dispersants mixing with BP's crude oil," IPS reported, a situation which other scientific reports show creates a toxicity 40 times worse than the oil alone.
Joe Yerkes is a Florida fisherman who joined the cleanup effort of the disaster after he was put out of work by the oil in his fishing waters.
Yerkes was exposed to both oil and dispersants while cleaning up oil.
"I have spent the years since the spill happened literally trying to survive," Yerkes told Truthout in 2014. "I've lost five friends now who were also exposed to BP's oil and dispersants, who were unable to seek proper treatment to extract the chemicals from their bodies before the exposure killed them."
"Not long after his exposure, Yerkes became violently ill, started bleeding from his nose and ears, and began vomiting blood. When he couldn't get well, he had his blood tested and found it contained high levels of chemicals, which his physician attributed to …more
(0) Comments
This year's Goldman Environmental Prize winners offer inspiration and hope for the future
The spirit of Berta Cáceres was strong at the 2016 Goldman Environmental Prize celebrations in San Francisco last night. The evening's ceremony opened with a spoken tribute to the indigenous Lenca activist who was assassinated in her home last month — less than a year after she walked up to the stage at the San Francisco Opera House to receive a Goldman for her sustained fight against big dams and other mega-development projects in Honduras.
Photo courtesy of Goldman Environmental PrizeThe six prize-winners offer compelling examples of ordinary folks taking extraordinary actions to protect our shared planet.
"Giving our lives in various ways for the protection of the rivers is giving our lives for the wellbeing of humanity and this planet," Cáceres had said during her acceptance speech that evening, as she urged us to wake up and take action to save our beleaguered world.
Had Cáceres been with us last evening, she would have been heartened to see that there are many courageous, inspiring grassroots activists across the world who are indeed awake and alert to the perils facing our planet, who continue to risk their lives to protect the land and communities they hold dear.
She would have met 39-year-old Leng Ouch of Cambodia, who's spent two decades protecting rainforests in one of the most dangerous countries in the world for environmental activists. For years, Leng undertook dangerous undercover investigations to document illegal logging operations. (According to the United Nations, between 1990 and 2010, Cambodia's forest cover dropped from 73 percent to 50 percent largely as a result of illegal logging.)
Leng exposed the deep ties between some of Cambodia's biggest timber barons and the nation's political class, and the rampant land grabs by Chinese and western companies that have robbed poor, rural communities of their land. His investigations have forced the Cambodian government to cancel large land concessions it had bestowed on logging and industrial farming companies, but at the same time have put him and his family at immense personal risk.
Environmental and human rights activists are routinely harassed and threatened in Cambodia. Leng's colleague, Chut Wutty, an internationally known anti-logging activist, was murdered in 2012; weeks after his murder, the body of journalist Hang Sorei Oudom, who reported frequently on illegal logging activities, …more
(0) Comments
The 1970s study which predicted civilization would collapse some time this century was wrong on resources, but right on pollution
Forty-four years ago, the size of the global economy was $29 trillion in today's prices. In 2014 it was $79.4 trillion. It's certainly been a rocky road at times, but the trend of economic growth has been robust. Only four years over this period have shown a contraction of economic output.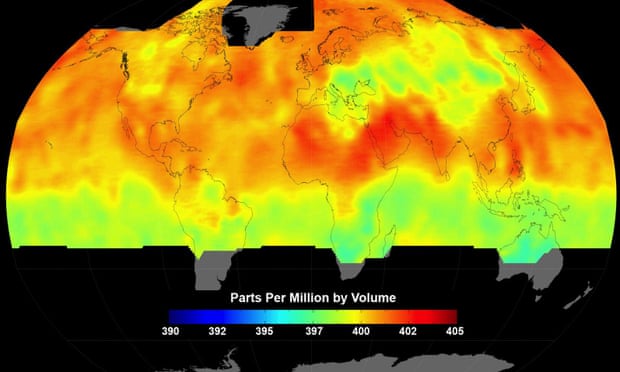 Photo by OCO-2 /JPL-Caltech/NASA Global average carbon dioxide concentrations as seen by Nasa's Orbiting Carbon Observatory-2 mission, June 1-15, 2015.
Consequently, one should feel foolish for suggesting that there are not only limits to growth, but that such limits are already affecting the global economy. That's one evaluation of the book Limits to Growth, which was published in 1972 and contained the central, controversial conclusion that the seemingly never-ending increase in population, industrial output, food production, and resource use would rapidly unravel at some point around the middle of the 21st century.
It painted a picture of our over-inflated global industrialized civilization going bang. We are still here and growth continues, so it must be wrong, right?
Perhaps not.
The Limits to Growth study was commissioned by the global thinktank Club of Rome and was based on the output of computer simulations that represented a simple global economy and its interactions with environmental processes. Nowadays you could happily run this model on your phone. In the early 1970s it required a mainframe computer and cutting-edge numerical techniques.
Two studies have evaluated how well the 1972 results of the Limits to Growth model have fared compared to what has actually happened in the intervening period. Their main findings are that it did pretty well actually. That doesn't mean collapse is inevitable, but that despite its simplicity, Limits to Growth captured some important features of our civilization.
It concluded that there are two drivers of a possible collapse. First, non-renewable resources such as fossil fuels should become harder to extract. This makes them more expensive with costs feeding into, among other things, higher food prices and so the global food production …more
(0) Comments
Goldman Environmental Prize winners use legal strategy, grassroots organizing to defend human health and Indigenous land rights
Legal work isn't usually glamorous. In movies, lawsuits are portrayed as epic, exciting battles — in practice, legal work can be a slow and arduous process. Thankfully, as two of the 2016 Goldman Environmental Prize recipients well know, it can also bring unparalleled results.
Photo courtesy of Goldman Environmental Prize Zuzana Caputova took on two landfills in her small town of Pezinok, Slovakia.
Zuzana Caputova has seen such results first hand. For years, she has been fighting an unpermitted landfill just outside of her small town of Pezinok, Slovakia. Built in the 1960s, the landfill sits a mere 500 feet from a residential area. Caputova could smell the landfill from her home, and worried about her children's health. Rates of cancer, respiratory illnesses, and allergies were increasing in her community of just over 20,000 people, and one type of leukemia was being reported at eight times the national average. Then, in 2003, construction began on a second landfill within city limits, despite a 2002 ordinance banning waste dumps within the city. This time, Caputova, a lawyer by training, decided she had to do something to stop it.
"Gradually, I became more acquainted with the information related to the situation in Pezinok around the [landfill] where toxic waste had been dumped," Caputova told me last week, speaking through a translator. "And also information related to the new waste dump that was basically in the process of being approved while very clear violations of the law were happing. So it was this clear injustice in combination with the values that are so important, such as life and health."
These values of life and health weren't abstract concepts for Caputova. "We had incidents of people suffering from cancer both in my family, as well as my close circle of friends," she said. "And I also knew of small children [who were affected], and there was a very high probability that their suffering was linked with the dump."
Noting that, "on a very deep, personal level it was fear of the cancer" that motivated her, Caputova embarked on a long-battle against the new dump using a combination of legal advocacy and on-the-ground activism.
Working closely with a local NGO, VIA IURIS, one component of Caputova's strategy involved challenging the …more
(0) Comments
Blaming the drought on irregular weather, without acknowledging the impacts of upstream dams and climate change, is an act of intentional misinformation
The Mekong Delta in Southeast Asia is facing its worst drought in recent history, causing food and water shortages for over half a million people living along the Mekong River.
Photo by International Rivers The Nuozhadu dam is the largest dam on the Mekong River.
The Chinese government has made headlines amidst the disaster for its decision to release water from upstream dams on the Mekong that lie within China's borders.
Chinese ministry spokesman Lu Kang said in a news briefing last month that China "hopes it can be of help in alleviating the drought downstream." The water will be released until mid-April from the Jinghong dam, with the stated purpose to benefit the lower Mekong delta nations of Cambodia, Laos, Myanmar, Thailand and Vietnam.
Originating in the remote Tibetan Plateau, the Mekong flows 3,000 miles through China's Yunnan province, northeast Myanmar, and parts of Thailand, Laos, and Cambodia before merging with the South China Sea in southern Vietnam. The river has the world's most productive inland fishery and is a major source of livelihood for millions of people.
The Chinese ministry and media blame El Niño weather for the massive drought that has damaged 160,000 hectares of rice paddies in the Mekong Delta, left 600,000 people facing drinking water shortages, and will result in losses up to $2 million. But Vietnamese officials say while El Nino is partly to blame, the real cause of the water shortage is excessive construction of more than 10 hydropower dams on the upper stream of the river.
Little reporting on the issue has linked the drought to the dams, despite such comments by Vietnamese officials. Mekong River conservationists, on the other hand, have been quick to draw connections. Niwat Roykaew, chair of Chiang Khong Conservation Group, believes the drought is caused by the six major man-made reservoirs on the upstream portion of the Mekong that lie within China's borders.
"The Mekong River has a cycle. Rainwater in the monsoon season refreshes the snowpack and raises water levels," Roykaew said. "Snow melts in the dry season when the water levels are low. We don't need more water from dams in the dry season. We need to sustain the natural circle that feeds the ecosystems and …more
(1) Comments
Recent sightings ignite hope for species thought to have disappeared from the Mexican island
It has been about 10 years since local environmentalists and conservationists sadly concluded that the last of the wild whitetail deer — odocoilesis virginiansis yucatanensis — had disappeared from Mexico's Isla Cozumel. Despite private conservation efforts and awareness campaigns starting in the 1980s, locals believed the species had been hunted to extinction on the island by 2000.
Photo by Tati Biermas Photographer Tati Biermas captured Cozumel's elusive whitetail deer on film this past October.
A local photographer, Tati Biermas, recently proved this assumption wrong. Biermas is one of the only people to capture these elusive and greatly missed members of the island on film in more than a decade. Her role as island tour-guide and photography teacher regularly takes her into secluded areas of Cozumel where she photographs herons, crocodiles, coatis, and many more wildlife species in their natural habitats.
"I saw them on the other side of the island... at the end of a lagoon south of Rancho Buenavista," Biermas says of her latest encounter with the wild deer this past October. This was only her second encounter with the species in 16 years, but she's not alone in her discovery. Reports of deer sightings are on the rise, particularly on the south and west sides of the island.
Cozumel's whitetail deer is a smaller version of the Canadian and American whitetails, with ancestral roots throughout Mexico's Quintana Roo and the Yucatan regions. A subspecies of the larger northern deer, the yucatanensis of Cozumel are the same species found on the nearby mainland. According to local historians, the deer were brought to Isla Cozumel in the 19th century by Mayan refugees who were fleeing the Caste War of Yucatán. Originally farmed as a dietary staple, some deer escaped the small family farms and bred throughout the island. As the island's human population increased from just a few hundred residents to tens of thousands, the deer faced increasing threats from over-hunting. (Actual population numbers are unavailable since tracking the remaining deer is so difficult.)
For residents and tourists alike, part of the charm of Isla Cozumel is the fact that it has been left largely undeveloped by people. Perched just a few miles off the Quintana Roo mainland of Mexico, the island is home to diverse species …more
(0) Comments
Report finds 146 different pesticides on fruit and vegetable samples tested by federal agencies
Keep your hands off those strawberries folks! Unless they are organic that is. Apparently nearly all conventionally grown strawberry samples tested by federal officials had detectable pesticide residues, and some had traces of as many as 17 different pesticides lingering around.
Photo by bionicgrrrl In California, where most US strawberries are grown, each acre of strawberry field is treated with a whopping 300 pounds of pesticides.
With summer and its bounty of luscious fruits and vegetables just around the corner, the Environmental Working Group has come out with its annual "Dirty Dozen" list of produce that are heavily contaminated with pesticides, and this year strawberries get top billing on the list of foods to avoid.
The popular berry — the average American eats nearly eight pounds of fresh strawberries a year — displaced apples, which headed the list the last five years running.
Once a seasonal crop, strawberries are now grown almost all year long with the help of heavy doses of pesticides. In California, where most US strawberries are grown, each acre of strawberry field is treated with a whopping 300 pounds of pesticides. Of this, more than 60 pounds are conventional chemicals that may leave post-harvest residues. Most of the rest are fumigants — volatile poison gases that can drift into nearby schools and neighborhoods.
EWG's update of its "Shopper's Guide to Pesticides in Produce" reports that 98 percent of conventional strawberry samples tested by the US Department of Agriculture had detectable pesticide residues. Of those, 40 percent had residues of 10 or more pesticides. Some of the chemicals detected on strawberries are relatively benign, but others are linked to cancer, reproductive and developmental damage, hormone disruption, and neurological problems.
"This is the first year that strawberries topped the list, and I was surprised by how heavily contaminated they were," Sonya Lunder, EWG senior analyst, told EIJ. "What's worse is that the residues are well within the limits of laws regulating pesticides in food in this country. Most people don't even know that there are pesticide residues in their produce that stays on even after washing."
In total, the EWG report — which is based on results of more than 35,200 produce samples tested by the USDA and the Food and Drug Administration — found 146 …more
(1) Comments