Go Back: Home > Earth Island Journal > Latest News
Latest News
Nationwide Indigenous-led campaign is putting pressure on financial institutions to defund four proposed tar sands pipelines
On Friday, climate activists led by Indigenous leaders and environmental groups gathered outside branches of JP Morgan Chase and Wells Fargo in downtown Seattle to protest their financing of tar sands pipelines. It's not the first time the banks have been besieged by activists — and probably won't be the last.
The action was part of a new nationwide campaign launched in May to put pressure on banks to defund four proposed tar sands pipelines. It builds on the movement that led cities, tribes, and individuals to divest billions of dollars from banks funding the Dakota Access pipeline over the past year.
Photo by James Ennis A nationwide campaign launched in May is putting pressure on banks to defund four proposed tar sands pipelines.
Many of the banks that fund DAPL — including JP Morgan Chase and Wells Fargo — also fund the four tar sands pipelines. The 17 banks that fund all five pipelines are the primary targets of the campaign. And like the divest movement launched during the Standing Rock resistance last year, this new campaign is led by Indigenous groups, including the 121 First Nations and tribes that signed the Treaty Alliance Against Tar Sands Expansion.
But there are some differences. While the Defund DAPL campaign goal was to get banks to pull out of loan commitments on a project already begun, this new campaign is trying to convince banks not to get involved in financing tar sands pipelines at all.
"Part of our thinking with amping up a lot of these actions is, let's apply enough pressure now so that these banks will think that this is a risky investment," said Matt Remle, a member of the Standing Rock Sioux tribe and co-founder of Mazaska Talks, one of the organizations coordinating the campaign.
Remle added that the strategies used by divestment organizers have also shifted since early divestment organizing, especially since February, when Seattle passed an ordinance terminating the city's over $3 billion contract with Wells Fargo, and other cities followed suit. Then in April, the Seattle City Council passed a resolution to avoid making contracts with the banks financing the Keystone XL.
Now they're hoping more cities will follow Seattle's lead. That's one reason why Mazaska Talks was established, Remle said. The grassroots organization hosts a website that serves as a clearinghouse for sample ordinances and resolutions that cities, tribes, and others groups can …more
(0) Comments
Podcast ponders the role of civil disobedience in the climate movement for activists young and old
If you are trying to figure out how to respond to the mounting climate crisis, the newly released Stepping Up podcast has you covered. Each story tells a tale of people taking a stand in unique and surprising ways: A bunch of kids organizing a global movement; a millennial learning how to talk to his climate denying congressman; an evangelical doing the Lord's work by saving the planet; climate clowns donning red noses and taking to the streets. One of their stories might just give you inspiration to find your own path forward. In any case, these stories are fun and imaginative and often funny to listen to.
Photo courtesy of Stepping Up podcast The latest Stepping Up episode examines the role of civil disobedience in the climate movement.

The second episode in the Stepping Up series has been released. In this episode, series producer Claire Schoen has decided that it is time to step up her own game — and tell her own story. Schoen has been protesting climate change policies lately, along with millions of other Americans; raising her voice against cuts to the EPA and speaking out against our climate denying cabinet. But she is beginning to wonder if it's enough.
Perhaps it is time to get arrested.
Yet she wonders how effective civil disobedience is in today's era. And at the age of 65, Schoen wonders what her role should be.
To answer these questions, Schoen travels back in time to visit her hippie youth. It's 1981 and she's half-way down the California coast joining a protest against the Diablo nuclear power plant that is just about to go online.
The sound of people singing and drumming drowns out the noise of police screaming into loudspeakers. The gathering crowd is 30,000 strong and the day of action is months in the making. Among the 60 anti-nuke groups, there are professors with their students, farmers from the surrounding countryside, and teenagers getting arrested with their moms.
The area was scouted in advance by activists, who published a 64-page manual on how they plan to stop the plant from opening. Schoen notices people on walkie-talkie's, figuring out how to sneak into the plant. They are saying things in code, like "Fourteen hobbits going down, over."
She makes her way to the front gates, where there's a massive human chain linking arms in an effort to stop the plant's workers from going through. It …more
(0) Comments
Do high-end campsites undermine the spirit of national parks?
One of the most popular new trends in outdoor recreation is known as "glamping" which is a portmanteau of "glamorous" and "camping". The idea is this: visitors pay steep fees, ranging anywhere from $175 to $3,999 per night, to stay in luxurious campsites with hotel-like accommodations that can include TVs, elegant meals, and even maid service. Yet this new craze is being criticized by many as antithetical to the populist spirit of national and state parks.
Photo by Flickr user tgidenver Guests at a glamping site just outside Moab National Park.
Several companies have jumped into the glamping industry, competing to one-up each other when it comes to comfort and luxury. Some, like Pampered Wilderness, a new campsite operating in Millersylvania State Park in the state of Washington, are permanent, or at least seasonally permanent, campgrounds that offer guests onsite "amenities like flat-screen TVs or microwaves and fireplaces," according to a 2015 New York Times op-ed by Christopher Solomon. Another "glampsite, Under Canvas, offers "king-size beds, plush linens, animal hide area rugs, well-worn leather chairs, a wood-burning potbelly stove...even daily maid service" to visitors. Other companies take guests from site to site, setting up glampsites as they move. (Though, to be fair, these guests are often still staying in tents and sleeping in sleeping bags.) For example, in a different editorial for the New York Times (which reads more like a paid advertisement), Amy Tara Koch writes that brands like REI now offer guided trips in national parks that include "in-tent delivery of coffee, tea, or hot chocolate every morning and Epsom salt foot baths at the end of the day." Another company, Backroads organizes trips to parks "featuring camp hosts, a chef, and activity guides" in national parks such as Yellowstone and Grand Teton, among many others.
Some people are less than pleased with this new trend. In the words of Christopher Solomon, "[Glamping] is the worst thing to happen to public parks since poison ivy."
The argument is that by offering high-priced luxury getaways in parks that have been specifically set aside for the enjoyment of all Americans, these business ventures detract from the egalitarian quality that makes the NPS so important. With the popularity of glamping on the rise, the great outdoors is at risk of becoming just another escape or amusement for the rich, while the middle-and-lower classes are shut out.
Eric Malkowski, who works as …more
(1) Comments
Citizen scientists across US will be collecting data on once-in-a-lifetime event
On August 21, for the first time in almost 100 years, a total solar eclipse will exclusively cross the United States. A 65-mile swath of darkness, the "path of totality" caused by the moon blocking all of the sun except its corona, will darken the Oregon coast around 10 a.m., rush at 1700 mph across country, and vanish close to 3 p.m. off the coast of South Carolina.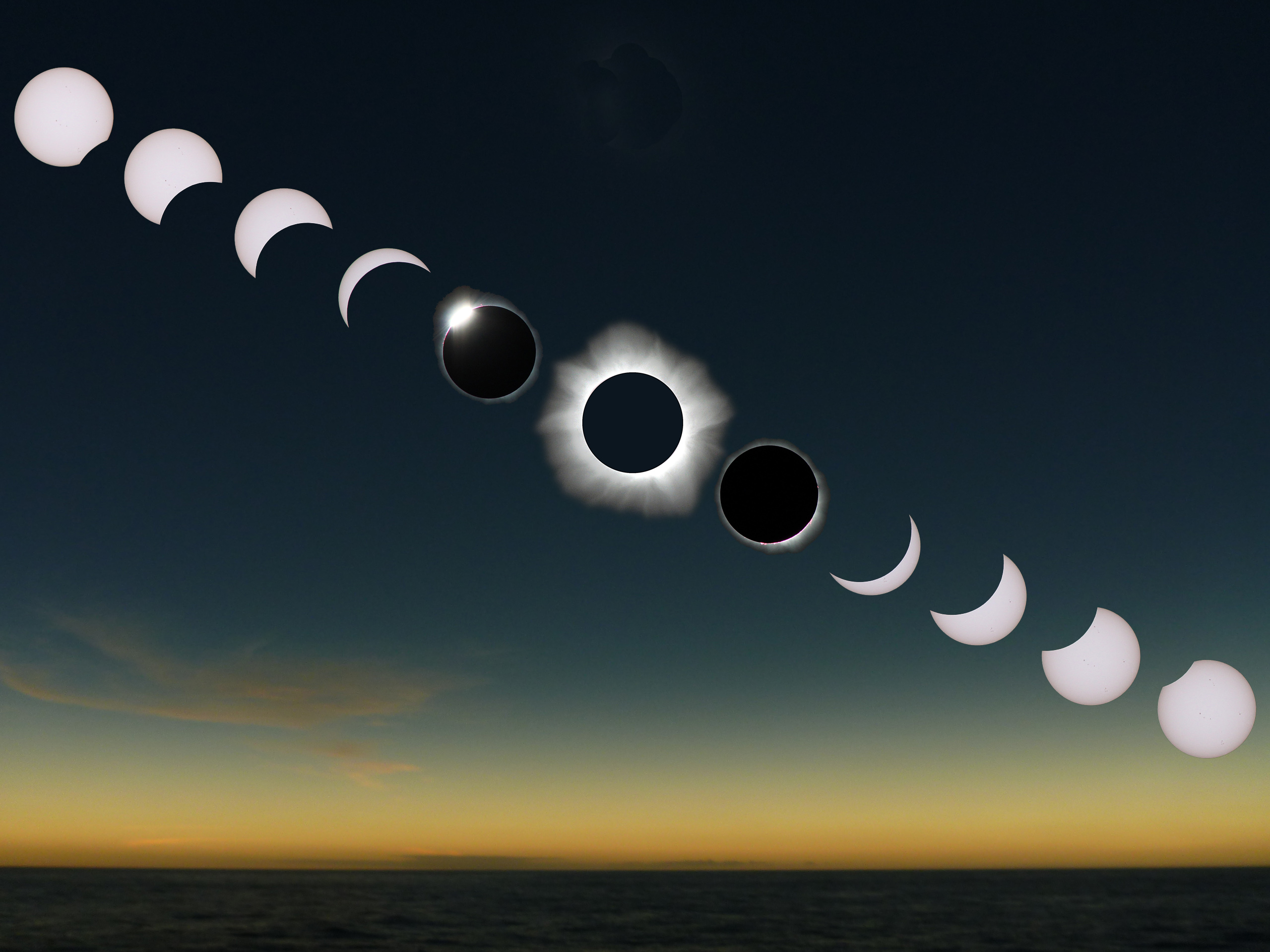 Photo by Rick Fienberg / TravelQuest International / Wilderness Travel The total solar eclipse of November 14, 2012, as seen from aboard the cruise ship Paul Gauguin in the South Pacific near New Caledonia. This sequence runs from lower right to upper left.

How do we know this? Science. And people who love science are quite excited. NASA estimates that 50 million people live within a few hours of the path of totality, so "The Great American Eclipse" is expected to be the most eye-witnessed total eclipse in human history. (Keep those eyes protected with certified viewing glasses, though.)
The natural world, whether it is ready or not, will be affected by this rare phenomenon, which will last only two to three minutes in any given spot. Scientists aren't entirely sure how the eclipse will impact flora and fauna — most information available about animal behavior during a full eclipse is anecdotal. But there is some evidence from previous eclipses to suggest that birds may fly home to roost, cattle may head towards barns, and even light sensitive plants like poppies may close as day turns to night.
"We're monitoring plants and animals with distinct night-time behaviors as close to the totality zone as possible," Elise Ricard, senior planetarium presenter at California Academy of Sciences in San Francisco, tells Earth Island Journal. Ricard is working with the Nashville Zoo — Nashville is the biggest city in the path of totality — to build a body of evidence of how wild and domestic animals react to an eclipse.
"We want to increase the amount of available data, [to] make observations of animals and plants before, during, and after the eclipse so there's a control," Ricard says. "We want to compare how a bird in 70 percent totality acts like one in 100 percent totality."
And it's not just the professionals getting excited about this amazing event. Citizen scientists, empowered by technology such as iNaturalist.org, will be recording valuable data as well.
"The path of totality is going through an …more
(0) Comments
Children at Pacific Northwest school spend their days — rain, shine, and snow — in nature
For four hours a day, a group of preschool children and their teachers in Washington State head into a forest. Rain, snow, or shine, the children are free to run, play, climb, explore, sit quietly, or play musical instruments. The teachers are there to support children's natural curiosities and exploration.
Photo by Karen Olsen/Cedarsong Nature School Rain, snow or shine, students at Cedarsong Nature School spend four hours per day in the forest.

This nontraditional school setting in the northwestern United States is Cedarsong Nature School, a Forest Kindergarten on Vashon Island. Opened in 2008, Cedarsong is a model Forest Kindergarten program, designed to connect children with the natural world and their place in it.
"My impetus for starting this type of program was to nurture the bond with nature that children are born with," says Cedarsong founder Erin Kenny. "This leads to environmental stewardship. People who are disconnected from nature don't care if the ancient forests are being cut down — they don't care that the Amazon rainforest is being cut down. It doesn't affect them."
The Forest Experience
Cedarsong takes place on five acres of undeveloped forestland. Parents drop children, ages two to six, off at the trailhead in the morning. The group walks into a camp area where there's a firepit, buckets, shovels, musical instruments, and magnifying glasses. There are no toys — the children rely on their own creativity.
Meeting at the same location day after day, season after season, allows children to bond intimately with the land. They notice when new plants come up and can observe entire lifecycles of species. There's a picnic shelter and table, a composting toilet, and a storage shed for snacks, extra clothing, and emergency supplies. There is no indoor school space.
"For four hours, we just help the children manage if they're having any discomfort," says Kenny. "There's nowhere to retreat. If they start getting a little shivery, we can just put another layer on them."
For Elizabeth Fitterer, Cedarsong provided an alternative preschool experience for her family. Her daughter Lorelei always preferred natural materials to plastic toys. When Fitterer saw a poster for Cedarsong, it seemed like a good fit. "As a baby, if Lorelei was upset, I'd take her out into the yard and it would calm her down just to be outside," she says. "When she started walking, she liked to go on big walks, stomping around in puddles, …more
(0) Comments
Highways pose dangers to wildlife, but roadside spaces can also provide valuable habitat
When we think of roads and highways, images of cars and trucks whizzing by comes to mind. But what does the side of the road look like? Try picturing your local highway — is it littered with trash? Are there any plants? What about barriers or fences?
When Claudia Alta "Lady Bird" Johnson, the First Lady and wife of President Lyndon B. Johnson, contemplated roadsides back in the 1960s, she envisioned a space where ugly billboards were replaced with native wildflowers and plants. Today, this idea of roadside ecology is just beginning to come into vogue as more scientists start to ask how we can better design the margins of roads to create habitat and support local ecology.
Photo by Matt Lavin Native flowers grow along a road in New Mexico. Some ecologists say that roadside areas can provide important habitat for native plants and pollinators.
Johnson brought the concept of aesthetically-pleasing road improvements to the fore during her time as First Lady. In 1964, she helped create the Society for a More Beautiful National Capital to improve the aesthetic of Washington DC. The nation's capital became a staging ground for cleaning up trash, improving parks, and planting flowers along roadsides. In Johnson's view, this was a way to promote the mental health of a nation suffering from prolonged exposure to the turmoil of the Vietnam War.
Helping craft the Highway Beautification Act of 1965, Johnson hoped to minimize the ubiquity of billboards along highways and promote the planting of wildflowers across the country. But there were enough loopholes in the bill that today there are more billboards along highways than when the bill passed. The vision of lush, plant-filled right-of-ways was not realized either.
Despite these setbacks, Johnson's time as First Lady was marked by her continuous advocacy for the beautification of roadsides, neighborhoods, and natural areas. She was instrumental in realizing the passage of landmark conservation laws, such as the Wilderness Act of 1964 and the Wild and Scenic Rivers Act of 1968. And in October of 1982, long after her time as First Lady had ended, Johnson further solidified her conservation legacy by founding the National Wildflower Research Center, later renamed the Lady Bird Johnson Wildflower Center. It will celebrate its 35th birthday this year, and with it, a commitment to landscape ecology and research.
Johnson illustrated her intentions for the Center in a letter welcoming visitors to an early version …more
(0) Comments
National park that is home to thousands of Indigenous people loses protected status to allow for construction of 190-mile road
Bolivia has given the go ahead to a controversial highway that would cut through an Amazon biodiversity hotspot almost the size of Jamaica and home to 14,000 mostly Indigenous people.
Photo by Marielle Claudia Indigenous peoples march in defense of the Isiboro Sécure Indigenous Territory and National Park, known as Tipnis, in 2011. The Bolivian government has approved construction of a highway through the protected area.
President Evo Morales enacted the new law opening the way for the 190-mile (300km) road through the Isiboro Sécure Indigenous Territory and National Park, known as Tipnis, its Spanish acronym. The road will divide the park in two and strip it of the protections won in 2011 when a national march by thousands of protesters ended in clashes with the police and forced the government to change its position.
Speaking to supporters of the road in the Amazon city of Trinidad, Morales accused developed countries of pushing "colonial environmentalism" in Bolivia.
"This so-called colonial environmentalism isn't interested in the Indigenous movement having schools, hospitals; they're not interested in the Indigenous movement having electricity or that we have highways," he said. The law was backed by the majority of local authorities and the governor of Beni, Bolivia's main Amazon region.
The legislation passed through Bolivia's Senate last week where Morales' governing Movement Toward Socialism party holds a two-thirds majority, and was enacted on Sunday. Rival political parties and the Catholic church opposed the law, joining activists and Indigenous groups who marched in several cities across the country.
"This is the beginning of the destruction of protected areas in Bolivia and indigenous peoples' territory," Fernando Vargas, a Tipnis Indigenous leader, told The Guardian. Tipnis, which stretches for more than 10,000km2, is home to the Moxeños, Yurakarés and Chimanes Indigenous people.
"Evo Morales is not a defender of Mother Earth, or Indigenous peoples. He's in favor of extractivism and capitalism," Vargas added, rejecting the leader's assertion that the Tipnis movement was driven by foreign NGOs.
"We know that the road means the destruction of our territory, we don't need anyone to tell us," he said.
Opponents of the road say it will open up the park to mining and oil and gas exploration, as well as loggers and coca farmers, known as cocaleros, whom they accuse Morales, a former cocalero leader, of supporting. Illegal coca crops in Bolivia increased by 150 percent from 2015 to …more
(0) Comments