Go Back: Home > Earth Island Journal > Latest News > Post and Comments
Latest News
Experts Hope Total Solar Eclipse Will Reinvigorate National Interest in Science and Nature
Citizen scientists across US will be collecting data on once-in-a-lifetime event
On August 21, for the first time in almost 100 years, a total solar eclipse will exclusively cross the United States. A 65-mile swath of darkness, the "path of totality" caused by the moon blocking all of the sun except its corona, will darken the Oregon coast around 10 a.m., rush at 1700 mph across country, and vanish close to 3 p.m. off the coast of South Carolina.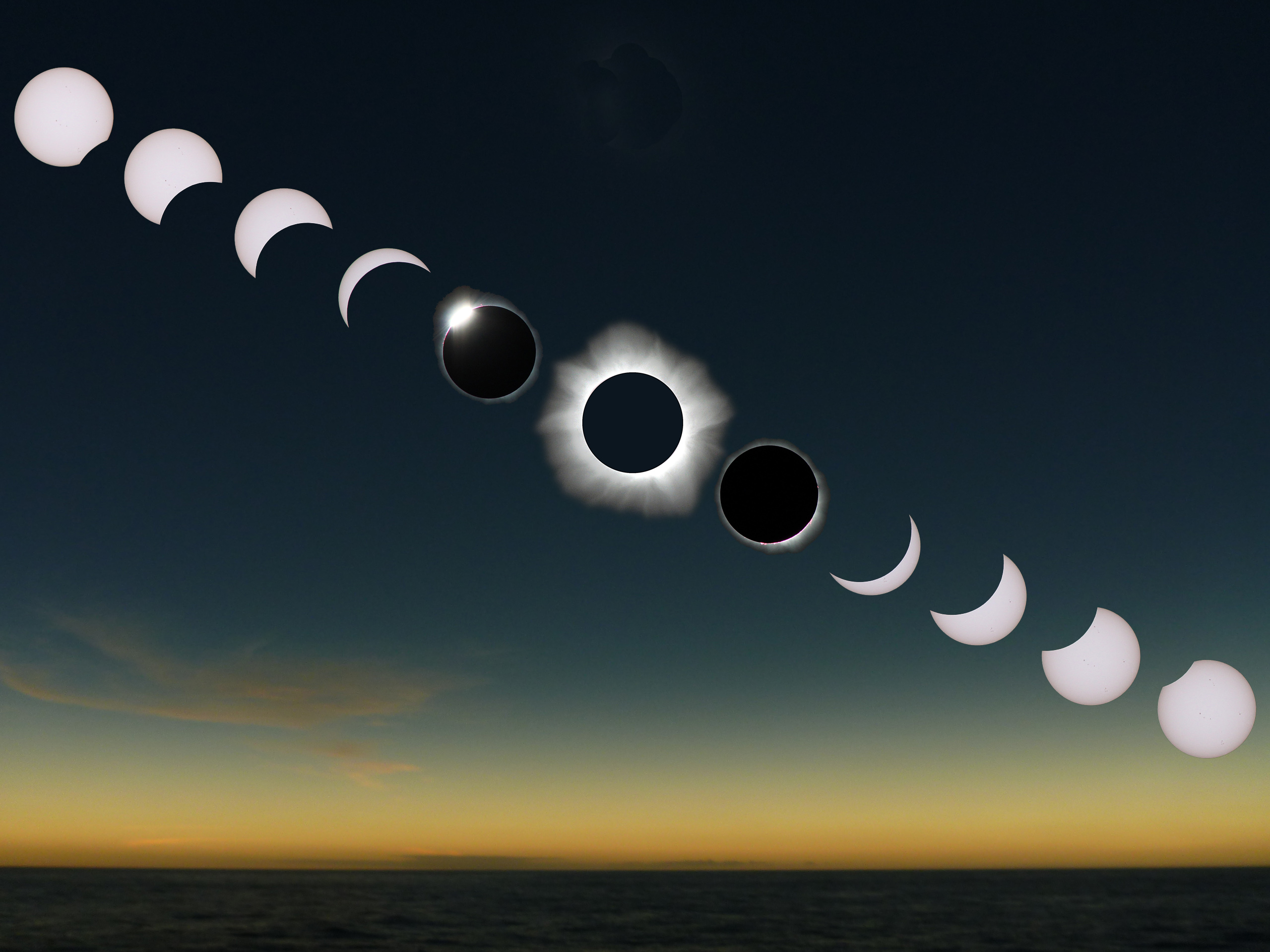 Photo by Rick Fienberg / TravelQuest International / Wilderness Travel The total solar eclipse of November 14, 2012, as seen from aboard the cruise ship Paul Gauguin in the South Pacific near New Caledonia. This sequence runs from lower right to upper left.

How do we know this? Science. And people who love science are quite excited. NASA estimates that 50 million people live within a few hours of the path of totality, so "The Great American Eclipse" is expected to be the most eye-witnessed total eclipse in human history. (Keep those eyes protected with certified viewing glasses, though.)
The natural world, whether it is ready or not, will be affected by this rare phenomenon, which will last only two to three minutes in any given spot. Scientists aren't entirely sure how the eclipse will impact flora and fauna — most information available about animal behavior during a full eclipse is anecdotal. But there is some evidence from previous eclipses to suggest that birds may fly home to roost, cattle may head towards barns, and even light sensitive plants like poppies may close as day turns to night.
"We're monitoring plants and animals with distinct night-time behaviors as close to the totality zone as possible," Elise Ricard, senior planetarium presenter at California Academy of Sciences in San Francisco, tells Earth Island Journal. Ricard is working with the Nashville Zoo — Nashville is the biggest city in the path of totality — to build a body of evidence of how wild and domestic animals react to an eclipse.
"We want to increase the amount of available data, [to] make observations of animals and plants before, during, and after the eclipse so there's a control," Ricard says. "We want to compare how a bird in 70 percent totality acts like one in 100 percent totality."
And it's not just the professionals getting excited about this amazing event. Citizen scientists, empowered by technology such as iNaturalist.org, will be recording valuable data as well.
"The path of totality is going through an incredibly rural area with a lot of national parks and state parks," Ricard said. "We have people going into these areas to experience nature when they probably rarely do this."
For those who can't get to the eclipse — or who might be anxious about getting caught in a massive traffic jam before, during, or after the eclipse — the Eclipse Megamovie Project has you covered.
"Total eclipses show that we're just a small part of the universe and there are still mysteries to be untangled," Dan Zevin, who is part of the Multiverse Education Team that is leading the megamovie project at UC Berkeley's Space Sciences Laboratory, tells Earth Island Journal. "We need to cherish this earth while we have it."
The Eclipse Megamovie Project recruited over a thousand citizen scientists to capture images of the eclipse as it moves across the continent. The project team will stitch the images together and expects to have at least three to five minutes of the "movie" ready for the 6 o'clock news that day.
"Many on the team are aware that this could be a life-changing moment," Zevin says. "I dare anyone to find anything computer generated that's anything close to an eclipse."
Jay Pasachoff, chair of the International Astronomical Union's Working Group on Solar Eclipses, has viewed 33 total solar eclipses from all parts of the world. "I've been spreading the gospel of science for this total eclipse," Pasachoff says, "but it's also just as important to get the young people out there to experience it. This is a whole body experience, not a flat screen experience."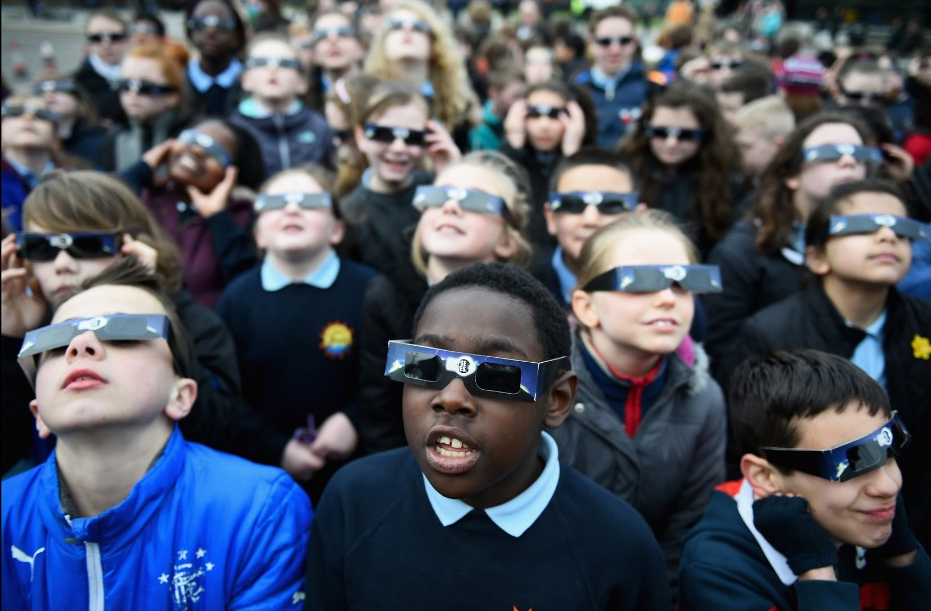 Photo by Mark Margolis / Rainbow Symphony Children use special-purpose "eclipse glasses." Scientists hope that Monday's total eclipse will inspire interest in their field among younger generations.

"The best science outcome of this eclipse could well be the discovery that a nine-year old girl or boy who witnesses this remarkable event makes many, many years from now," Pasachoff adds.
Although most scientists will be studying the solar corona, the mysterious atmosphere of the sun that is somehow hotter than its core that will appear as a shimmering halo outlining the moon during the total eclipse, the National Ballooning Project will have a decidedly different vantage: recording the eclipse from above to record how the atmosphere reacts during the dramatic change of light and temperature.
Jennifer Fowler, assistant director with the Montana Space Grant Consortium and part of the ballooning project, hopes the total eclipse will help people appreciate the sun on a day-to-day basis. Fowler has been handing out viewing glasses, hoping to encourage people to get out and see the eclipse and think about the sun. "It's ever present," she says, "but we just take it for granted that it will set every night and come back every morning."
For all the grand plans surrounding humanity's future life on Mars our current planet is in the "Goldilocks zone" — we're the perfect distance from the sun, which is why we have water, habitable temperatures, and so much flora and fauna. It's why humans are able to survive here in the first place.
"It sinks in that we have an amazing star nearby," Fowler says. "I hope this event will help people appreciate the entire natural world, how rare and how fragile it is. I hope people will get a sense of awe that will last well after the eclipse is over."
David Baron, author of American Eclipse: A Nation's Epic Race to Catch the Shadow of the Moon and Win the Glory of the World, hopes this eclipse will have the same effect that the 1878 eclipse had for our country. "The whole nation rallied around that total eclipse event in 1878," Baron says. "At the time, we were looked down [on with respect to] science by Europe and others. The 1878 event made us credible as a nation who believed in science."
Like the communal excitement around the 1878 eclipse, or that surrounding NASA's Apollo missions in the 1960s and `70s, the total solar eclipse has the potential to be one that re-invigorates a national interest in science and nature.
"It's the most spectacular sight you will see in your entire life," Baron says. "When you see all the stars in the background, and the planets, you feel viscerally connected to the entire universe."
Write to the editor about this post.
Subscribe Today

Four issues of the award-winning
Earth Island Journal for only $15