Go Back: Home > Earth Island Journal > Latest News > Post and Comments
Latest News
Hurricane Sandy, One Year On: 'It's Like a New Chance in Life'
A year after Sandy struck the north-east US, a view from Staten Island, the hardest-hit New York borough
By Adam Gabbatt
I remember the water coming from the ocean," says Anna Maglione-Buono.
"And the thing I remember most is that I was very guilty that the kids were in the house with us. I was not scared for me and my husband. I was more scared for the children."
Photo by Tommy MilesThe day after Sandy, along the north shore of Staten Island.
A year ago, as hurricane Sandy approached America's north-east, Maglione-Buono, 49, was in her home in South Shore, just 200m from Staten Island's eastern coast. As the ocean rose amid the howling winds, water washed up over the beach and began to lap at Father Capodano Boulevard, the expressway at the top of Maglione-Buono's street.
The Buono family had decided to stay at home, despite their area being classed as evacuation zone A – the most likely to be dangerously affected. They could remember similar warnings about hurricane Irene a year earlier. That storm had come to nothing. Maglione-Buono said that by the time she realized this one was different, it was too late to leave. As the hurricane lashed Staten Island, her son Nicholas, 19, ran out with a neighbor in an attempt to reach the family's car and get to higher ground.
"They came running back saying that the water was coming," Maglione-Buono told The Guardian in an interview on Staten Island, almost a year to the day since the storm hit.
"Behind them was a wave of water following them. When they got to the front steps, the water came from the corner, hit the building, made a big splash, and then it was non-stop. It literally was an ocean coming at us."
The Buonos' street dips downhill away from the beach. The water gushed down the road and within minutes their home, a two-story, three-bedroom 1930s house, was flooded. The water rose to 7ft high in their ground floor. The family watched it creep up the stairs as they huddled in a bedroom, occasionally glancing out onto the street, where water was rising outside their neighbors' homes.
Down the block, Patty Chiaramonte, 49, and her son Alex April, 21, had also ignored the warnings. They were in their kitchen as the storm approached.
"We were in the room about to eat dinner and we hear the back door open," April remembered. "Then we see the water coming in and I didn't know what was happening. [Chiaramonte] went to close the backdoor and then I hear water: 'Glug, glug, glug'."
Within minutes the water was chest high and still rising. "The refrigerator floating. That's the one thing I remember seeing," Chiaramonte said.
In their single-story home there was no safety from the icy flood. Like in the Buono's home, it rose to seven feet – almost above the doorframes.
"I thought we were going to die," April said. "You're thinking about everything you're going to lose. Friends, family. You're thinking: 'I could lose everything'."
April decided he had to leave. He swam out into the storm, taking the difficult decision of leaving his mother, who couldn't swim, behind. He told The Guardian his story in the aftermath of the hurricane last year, and still thinks about it a year later.
Kicking out into the into the pitch-black, swirling, ocean, from his backdoor, April made it to a neighbor's two-story home. They took him in, but it was too dangerous to return for Chiaramonte. She sat, semi-submerged, on the boiler – the highest point in the home – for seven hours. The coast guard rescued her the next morning in an inflatable boat.
"Your mood gets affected," she said. "Because of the fact you've come so close to death. I'm sitting there, I'm saying: 'Please I don't want to die. I want to see my son grow up. I want to see my grandkids'.
"So, yeah, your mood changes, because you've come so close to death and you don't know what it's going to be. Even your personality changes. You become like a whole different person, because it's like a new chance in life."
'Get rid of this house and just leave'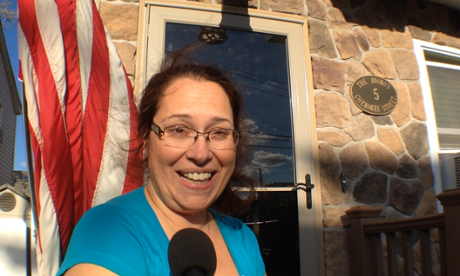 Photo by Adam GabbattAnna Maglione-Buono. The Buono family had decided to stay at home, despite their area being
classed as evacuation zone A – the most likely to be dangerously affected.

When the water finally receded, both families' homes were caked with mud, silt and sewage. The contaminated water caused mold to spread. Clothes, furniture, photographs and treasured possessions were ruined, as in houses elsewhere in New York City, New Jersey and beyond. Neither family could stay in their home.
Chiaramonte and April moved into a hotel in downtown Brooklyn, the room paid for by the Federal Emergency Management Agency (FEMA). They lived in the hotel – with only a microwave to prepare food – for six months.
A colleague of Maglione-Buono's offered his mother's recently vacated Staten Island apartment, free of charge. The family – Maglione-Buono, her husband Joe, 50, and their four children Joseph, 28, Raymond, 25, Brittany, 24, and Nicholas, 19 – moved into the place in November, while they tried to decide whether they should move back into their home.
"The hardest part was figuring out if we were staying," Maglione-Buono said. "In the beginning we weren't sure what we wanted to do."
"The house was severely damaged. Severely. It was just before Christmas, and the entire roof needed to be replaced. It was completely covered in mold. The house needed to be completely renovated. And we knew the money we had from the insurance company and we knew it wasn't going to be enough.
"My son Raymond was like: 'Ma, just go find another house. Get rid of this house, and just leave'.
"My husband and I thought about it, and we love this house. And it was our home. And we decided we'll do what we can with what we have. No matter how long it takes, we'll fix it."
Tired of waiting for assistance from FEMA, the family decided to do the work on the house themselves.
"We did everything. Plumbing, sheetrock, insulation, painting, priming, putting studs in. I can't believe what we were able to do. We put in a bathroom – my son YouTubed how to put in a bathroom," Maglione-Buono said. "He didn't know how to do it. He YouTubed it. Thank God for YouTube."
The construction work was painstaking. Maglione-Buono's son and husband did the bulk of it, her son fitting it around his training at the police academy. The entire second story of the house had to be dismantled and rebuilt from scratch, with new exterior and interior walls. The roof had to be replaced. Electricity rewired. It took six months of daily work before the family could move back in, in May.
"It was the best feeling in the world," Maglione-Buono said. "It was more gratifying than the day we bought this house. I had a lot of family and friends that helped me. People from work, even strangers in the street just would come and bring us a quilt. They would stop and ring your bell."
'We lost everything. It could happen to anybody'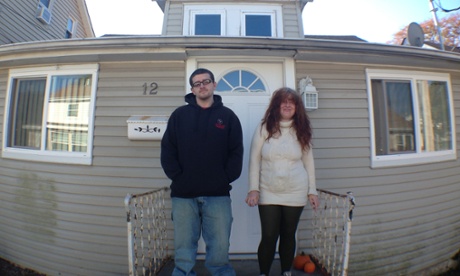 Photo by Adam GabbattAlex April and Patty Chiaramonte in front of their newly rebuilt house in South Shore.
While the Buonos toiled, Chiaramonte and April, without the skill or money to work on their home, were feeling restricted in their Brooklyn hotel room.
"When you're here," Chiaramonte said on Sunday, gesturing out to the beach, a step away from the street in Staten Island, "it's like country. Where we were it was like city. Restaurants, businesses, hotels and everything else. We went from countryish beaches to cityish."
Without transport, they struggled to return to their home regularly during the first couple of weeks. It was an hour and a half on buses and trains, and even then, they had little money to do anything once they arrived. One time they returned to find their cat, Cinnamon, sitting on April's bed amid the debris. She had been presumed lost in the storm. They took her home but she died a week later, they suspect from being exposed to the environment in the house. Their dog, a golden labrador named Rocky, had swum out after April on the night of the storm. They never saw him again.
In the early days they were helped by church volunteers, who shifted the debris – furniture, clothes, electronics – out of their wrecked home. The kitchen floor had gaping holes in it, bearing the foundations of the four-room home. Walls, windows, doors, cabinets and cupboards needed to be replaced.
The volunteers helped to strip the insulation from the walls, gutting the property. After a couple of months, teams from FEMA came in to refit the house, installing electricity and reconnecting running water. Every couple of days, Chiaramonte and April would stop by to see how the work was going.
Amid the chaos of the relocation to the Brooklyn hotel, and the strain of monitoring progress on the house, Chiaramonte lost her part-time job. With April also out of work, life was more difficult. They relied on friends and family for support – a friend of April's raised $600 for the pair, while the kindness of strangers took them both by surprise.
"We even met this freelance photographer, and she came to the hotel a couple of times," Chiaramonte said. "She gave me a card for DSW shoes, she gave my son a card, she helped us out with clothes and stuff like that."
They moved back into to their place in Staten Island on 22 April. It was like a new home. Giving a tour of its gleaming white walls, lush carpet and new furniture a million miles from the dark, dirty, damp shell it had been before, Chiaramonte was obviously proud of the transformation. But it is not just the physical things in this little section of Staten Island that have changed.
"It's funny," Chiaramonte said. "A lot of people on this block wouldn't talk to each other before the hurricane. After the hurricane, people have been talking to each other and speaking to each other. People that didn't talk, now all of a sudden they're talking to each other and helping each other out."
As for Chiaramonte, the change that she felt after surviving the storm has stayed with her.
"I'm more calm, more relaxed. I'm a little bit different. I'm not always yelling all the time. I still yell. But not as often. You get a little bit calmer and more relaxed because you're starting thinking about things.
"You could lose it all. We lost everything, between us. The dog gone. The cat gone. So, you know, you could lose everything. And it could happen to anybody."
Write to the editor about this post.
Subscribe Today

Four issues of the award-winning
Earth Island Journal for only $10