Go Back: Home > Earth Island Journal > Latest News > Post and Comments
Latest News
'Direct Action Gives People a Huge Sense of Community and Wellbeing'
Conversation: Filmmaker Emily James
At the San Francisco Green Film Festival way back in March, I watched an engaging, whimsical documentary about British direct action climate activists called Just Do It — A Tale of Modern-Day Outlaws. The film's director, Emily James, spent over a year following groups such as Climate Camp and Plane Stupid as they planned, plotted, and carried out their direct action campaigns that included thrown tennis balls filled with food to striking workers at a wind turbine factory, attempting to shut down a power plant, disrupting work at a major bank, and culminating at the 2009 UN climate change meet in Copenhagen. James, an award-winning filmmaker, was so inspired by the activists' dedication, that she made the film with no budget at all. She had to dip into her tax savings to keep herself and her two-year-old son fed while she filmed and edited over 300 hours of tape to create this well-crafted, upbeat film. Says the spunky, America-born, Londoner, once the story landed in her lap she simply had no choice in the matter. She "just had to do it." Excerpts from our conversation.

Photo By Gaby Motola
How did you get the idea for the film?
There was a housemate of mine who was involved so I met some of [the characters] through her. In a way that was my beginning with it, because in 2008 Plane Stupid shut down [London's] Stansted airport by occupying the runway and they needed somebody who knew how to use the camera to stand outside the airport at four o'clock in the morning and film them cutting through and going into it. They wanted footage of the actual action to go on the news. I agreed to do that.
So I got to see the meetings and how they planned it and I just thought it would make an amazing film. I also felt like it needed to be documented, what they were doing, because it was a pretty amazing thing.
I don't by and large make these kinds of films that are really observational, I make much more created, authored films, but in this case I thought you had to see it with your own eyes, you had to see how it played out.
So I turned to Plane Stupid and said, if you let me make a film which shows the meetings, the practicing and the lead up to things, then we will be able to make a film that has much longer shelf life and reach people in a more profound way. And they said, absolutely no way.
They were worried about safety and that the footage could be used against them. But I kept pushing them and eventually we worked out ways to hide the tapes and they came on board.
The film had a very insider tone and feel. Do you think it will appeal to people who aren't already concerned about the environment?
It's not a film that's really aimed at those people. It's aimed at those who are intelligent enough to realize that there there's something wrong that's going on with the environment, specifically with the climate. If I need to make that argument to somebody that climate change is actually happening and humans are causing it, this isn't the film to do that. There are other films that do that and do that very effectively.
How did you choose the characters, the persons you decided to follow?
I had imagined that once I figured out how to do this film and got the access to do it, I would go to the broadcasters and say, "look I've got access to film direct action activists as they plan and practice. This has never been done before," and they would just write me a check.
But what they [the channels] wanted was a very sensationalized, tabloid version. They wanted to make sure there were lots of hippies with dirty feet. They wanted the most extreme characters. They would use words like, "we need it to be warts and all," "we need it to be honest". I was like "no, you want them to have big warts right on the end of their nose that are really hairy…you want a freak show. And I'm not prepared to deliver a freak show."
The people I was filming were amazing people who were taking a huge risk by allowing me to film them and the last thing I was going to do was go digging in the messy bits of their lives. Everybody has messy bits in their lives. And that's the other thing people forget – you can make anybody look like an idiot. You let me film you for a week, and I can make you look like the biggest idiot in the cutting room. It's a huge responsibility to portray somebody in a fair and reasonably accurate light. That's what I wanted to do, make an accurate portrait of a community.
And that was a difficult challenge because communities are full of all different kinds of people, and some of them are hippies, and some of them do believe in astrology, and some of them are totally damaged from life, but those people were not the core of the community. They were not representative of the community by any means. So I tried to pick people who I felt were more representative of the community at large.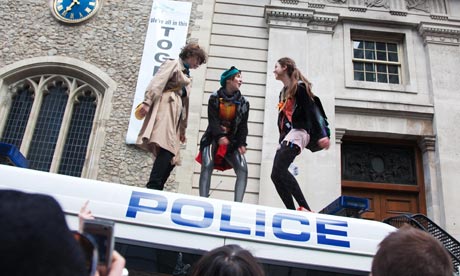 Photo by Kristian BuusFilm still: Girls dance on a police van at the G20 Climate Camp in April 2009
So because you didn't want to do what the networks wanted you to do, you funded the film yourself?
That's right. It was just me and my time. I didn't even own a camera and had to borrow one every time I needed to shoot something. Luckily I knew some people who would loan them to me. My son was two at the time. So it was a pretty intense year. And then when we went into post-production we started crowd-funding and had a lot of donations. We've also started applying for a lot of grants.
Back then, by the time I realized that I was going to have to do this independently, I was already more than halfway through the shooting and Copenhagen was only three months away. I had already figured out how to live on nothing for seven months. I remember in August of 2009 thinking that I'm so broke and this is so far from ever being able to pay me any money, I genuinely don't know what I'm gonna do. But I knew people who'd got themselves into debt for much stupider things. It wasn't even that this was a more a worthwhile [effort], I just had to do it.
And that's part of the reason why the film is called that, is because I saw that in them. I saw that in their approach to what they were doing. You think none of them paid a personal price? Come on, this is not easy stuff to do. So the idea that I was going to get halfway through filming their story and give up just because I didn't have any money was, a bit … was totally unacceptable.
How did you survive then?
I'd been working the year before so I just lived off the money that was in my tax savings account. Which is why I owe the tax office a very large sum of money (laughs).
You've been travelling around with the film quite a bit now. What kind of response would you say it's been receiving?
We've been meeting with a lot different organizations and activists, from the EarthFirst! and Occupy Oakland and 350.org and Greenpeace. And all of these groups seem to be saying that they are all ready to get back out there and do something more serious. The Keystone pipeline stuff has really shown that as well. I think people are ready to start taking stuff seriously. And I hope that the film will be useful to get people excited and to help them change up what they are doing and think a little bit laterally about how and what direction action is.
And also to demonstrate to people, something that I realized when I was making the film, that the people in the film get a huge sense of satisfaction and community and psychological wellbeing by participating in this kind of action. Because if you are one of those people who understands the scope of the problem, like climate change or other social, systemic problems that we have, you want so desperately for something to be done about that, but it can be really depressing and un-empowering. But when you step it up (beyond just recycling) and start doing something much more active and socially engaged — don't forget these are large scale actions that require a lot of people pulling together to do it — the sense of being a part of trying to make a place more like the way you want it to be is hugely satisfying.
Do you think working on this film has changed your ideas of activism or your idea of what you should be doing in any way?
I think that before I made the film if you'd asked, "would you be prepared to go to jail for something you believe in?" I would have said, yes. But in practice I certainly wasn't going out and taking the risk of that happening. But in the course of making the film basically forced me to put myself in positions and places where I'd could easily be arrested. This time I actually accepted that risk.
Write to the editor about this post.
Subscribe Today

Four issues of the award-winning
Earth Island Journal for only $10