Go Back: Home > Earth Island Journal > Latest News
Latest News
Australian marine park authority grants approval with strict conditions in decision met with derision by conservation groups
photo by eutrophication&hypoxia, on FlickrThe reef: the spoil will be dumped about 24km from Abbot Point, the gateway to the world heritage-listed reef.
Three million cubic metres of sediment from dredging to expand a coal port will be dumped in the Great Barrier Reef marine park, after the park authority approved the move on Friday.
The spoil resulting from the Abbot Point port project is to be dumped 24km away at a location near Bowen in north Queensland.
The expansion, which hinged on the Great Barrier Reef Marine Park Authority's approval of the dumping, means an extra 70m tonnes of coal each year, worth between $1.4bn and $2.8bn, will go through the port, which is also a gateway to the world heritage-listed reef.
The authority granted approval with strict conditions on Friday afternoon.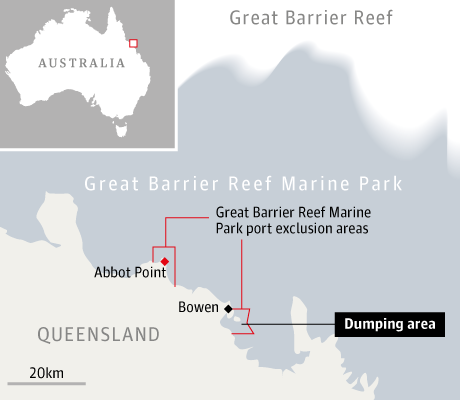 Map: Guardian/GBRMPA
The authority chairman, Dr Russell Reichelt, said he recognised the amount of debate and community concern the project had generated and shared with everyone a strong desire to ensure the reef remained a great natural wonder into the future.
"This approval is in line with the agency's view that port development along the Great Barrier Reef coastline should be limited to existing ports," Reichelt said.
"As a deepwater port that has been in operation for nearly 30 years, Abbot Point is better placed than other ports along the Great Barrier Reef coastline to undertake expansion as the capital and maintenance dredging required will be significantly less than what would be required in other areas.
"It's important to note the seafloor of the approved disposal area consists of sand, silt and clay and does not contain coral reefs or seagrass beds."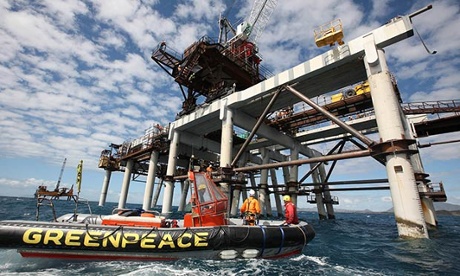 Photograph: Greenpeace Greenpeace activists protest at Abbot Point coal terminal in 2009.
North Queensland Bulk Ports Corporation had applied to dump within the Great Barrier Reef marine park and, although the authority was asked to make a decision within 10 days of the environment minister, Greg Hunt, approving the project in December, it asked for an extension.
North Queensland Bulk Ports Corporation is also expected to come up with an alternative site that is also expected to be within the marine park.
The corporation has …more
(1) Comments
January GMO Roundup
2013 was a big year for the debate over genetically modified foods. Maine and Connecticut passed GMO labeling laws, a ballot measure in Washington was only narrowly defeated, and several Hawaiian islands passed laws regulating GMO seed crops. Now, just a month into 2014, it seems like the battle over GMOs is heating up even further in both state and federal arenas. Here is a look at some of the top GMO stories that unfolded around the country this month.
Cheerios Ditch GMOs
photo by Kristina Alexanderson on FlickrOther than some cheery Cheerio news, this month has been all about new GMO
crops, lawsuits, and court decisions.
This was the one win for the no-GMO camp. On January 2, General Mills became the largest brand to remove GMO ingredients from a product, announcing that it has begun making GMO-free Cheerios. Though the breakfast cereal is made primarily with oats, which are not available in a GMO-variety, Cheerios will no longer use genetically modified (GM) cornstarch or sugar cane. Boxes will carry a label stating that they are "Not Made With Genetically Modified Ingredients" but may be processed in a facility where GM ingredients are used. General Mills will continue to use genetically modified ingredients in other cereals.
The change follows a campaign by Green America, called GMO Inside, which encouraged Cheerios enthusiasts to write comments on the Cheerios Facebook page pushing for the GMO-free cereal. General Mills maintains that GMO ingredients are safe, and adopted the change because of consumer interest.
2, 4-D Corn and Soy Heading to a Field Near You
In a draft Environmental Impact Statement (EIS) released on January 3, the US Department of Agriculture recommended full deregulation of Dow AgroSciences' new GMO corn and soybean varieties as the "preferred alternative," paving the way for the new GMO seeds to make their market debut. The new plant varieties are engineered to be resistant to Dow's 2,4-D herbicide. The chemical 2,4-Dichlorophenoxyacetic acid was an active ingredient of Agent Orange, the Vietnam War era defoliant that's linked to reproductive problems and cancer.
Some farmers welcome the move, noting that herbicide resistant weeds are on the rise and GMO varieties resistant to different herbicides will help address the issue. Environmental advocates, however, have strongly denounced the EIS, noting that …more
(0) Comments
Court injunction brought in by oil and gas company makes even supermarkets off-limits for Vera Scroggins
Vera Scroggins, an outspoken opponent of fracking, is legally barred from the new county hospital. Also off-limits, unless Scroggins wants to risk fines and arrest, are the Chinese restaurant where she takes her grandchildren, the supermarkets and drug stores where she shops, the animal shelter where she adopted her Yorkshire terrier, bowling alley, recycling centre, golf club, and lake shore.
Vera Scroggins has been banned from stepping foot onto any
land leased by Cabot Oil & Gas.
In total, 312.5 sq miles are no-go areas for Scroggins under a sweeping court order granted by a local judge that bars her from any properties owned or leased by one of the biggest drillers in the Pennsylvania natural gas rush, Cabot Oil & Gas Corporation.
"They might as well have put an ankle bracelet on me with a GPS on it and be able to track me wherever I go," Scroggins said. "I feel like I am some kind of a prisoner, that my rights have been curtailed, have been restricted."
The ban represents one of the most extreme measures taken by the oil and gas industry to date against protesters like Scroggins, who has operated peacefully and within the law including taking Yoko Ono to frack sites in her bid to elevate public concerns about fracking.
It was always going to be an unequal fight when Scroggins, now 63, made it her self-appointed mission five years ago to stop fracking in this, the richest part of the Marcellus Shale.
Just how unequal became clear on 21 October when the case of Cabot v Scroggins came before a local judge, Kenneth Seamans, in the Montrose court house.
Cabot turned up with four lawyers and nine witnesses, employees of the company and the firm it hired to provide security. Scroggins represented herself. She told the court she had been unable to find a lawyer as the hearing had been called on 72 hours' notice.
By the time the hearing was over, the judge had granted Cabot a temporary injunction barring Scroggins from all property owned or leased by the company.
"It is hereby ordered that Ms Scroggins is restrained, enjoined and prohibited from entering upon property owned and/or leased by Cabot Oil & …more
(0) Comments
Greens largely unexcited by State of the Union
About a third of the way through tonight's State of the Union address, as he tackled the issues of climate change and the environment, President Obama proclaimed, "The shift to a cleaner energy economy won't happen overnight, and it will require tough choices along the way."
True enough. The transition will take time, and it will force some hard decisions. But the problem here, as many environmentalists see it, is that the president doesn't seem willing to make those touch choices. Instead, he's doubling down on his "all of the above" energy strategy. And "all of the above" isn't a choice – it's a more like an all-you-can eat policy buffet that punts the hard decisions into the future. Until President Obama starts making those tough choices – begins genuinely confronting the oil and gas industry – we'll still be failing to confront the massive threat of climate change.
The president disappointed greens almost from the get-go. He opened his speech with a litany of recent American accomplishments, and on the list was this gem: "More oil produced at home that we buy from the rest of the world – the first time that's happened in nearly 20 years."
That elicited predictable groans from the environmentalists among the Twitterati.
From there, the president's remarks on climate and the environment felt like déjà vu all over again, a repeat from the natural gas love poem he delivered in 2012. Indeed, the natural gas industry was the big winner from tonight's speech. Sure, the president had nice things to say about the burgeoning solar industry, telling listeners that, "Every four minutes, another American home or business goes solar; every panel pounded into place by a worker whose job can't be outsourced." And he went on to call for an end to the $4 billion in government subsidies the fossil fuel companies receive annually.
Still, that was nothing compared to his full-throated celebration of the natural gas industry:
"If extracted safely, it's the bridge fuel that can power our economy with less of the carbon pollution that causes climate change. Businesses plan to invest almost $100 billion in new factories that use natural gas. I'll cut red tape to help states get those factories built, and this Congress can help by putting people to work …more
(0) Comments
Australian scientists fit bees with radio sensors to monitor behavior
In 1923, Austrian scientist and philosopher Rudolf Steiner prophesized that if commercial farming and beekeeping continued, honeybees would collapse in 80 to 100 years. Steiner's prediction couldn't have been more correct. In this age of industrialization, bees are dying at alarming rates. Beekeepers in the United States have lost 40 to 100 percent of their hives over the past year, says Lisa Archer, the food and technology program director at Friends of the Earth, and there may be further losses over the winter season. Beekeepers in Canada, the United Kingdom, and other countries around the world have reported similar losses.
Courtesy CSIROWhile bee tagging is not a new research technique, this is the first time such a large number of bees (5,000) will be used in a study.
Many of these massive bee die-offs have been attributed to a mysterious phenomenon called colony collapse disorder. When the disorder strikes a bee community, apiarists either find empty hives or masses of dead bees. Colony Collapse has been extensively studied, yet no one is entirely sure of its exact cause. The widespread use of neonicotinoid pesticides seems to be the prime suspect, with a growing body of evidence showing that this pesticide weakens bees' immune systems and attacks their nervous systems. Yet other factors such as varroa mites, viruses, monoculture, and even radiation from cell phone towers could also contribute to this disorder. Honeybees pollinate up to two-thirds of our global food crops, and without bees, food security could deteriorate around the world.
A groundbreaking study in Australia, however, could unlock the secrets of this deadly disease, helping farmers and beekeepers stay in business. Researchers at the Commonwealth Scientific Industrial Research Organization (CSIRO) are fitting 5,000 bees with Radio Frequency Identification (RFID) sensors, and releasing them in Hobart, Tasmania to monitor their behavior.
The tiny sensors measure at 2.5 millimeters by 2.5 millimeters, and weigh about five milligrams. While bee tagging is not a new research technique, this is the first time such a large number of bees will be used in a study. Also, the capabilities of these sensors could generate some incredible results. "We have put some serious thought and time into improving the quality of the antennas that will read the signals from the sensors," …more
(0) Comments
When Texans say "no" to oil and gas development, it's a sign that times are a-changin'
The earthquakes you may have heard about — the 30 tremblors that have struck north central Texas since November 1 and have damaged many homes. The quakes are most likely being caused by underground disposal wells used to get rid of wastewater generated during fracking operations. "Frackquakes," some are calling them.
Photo by Dennis DimickA massive oil field in Texas. The state has always been the heart of the US oil industry, embracing oil and gas development from its earliest years, and pioneering fracking in the Barnett Shale.
The quakes you probably haven't heard about are political. They're caused in part by the frackquakes, and in part by other environmental, social, and public health impacts of fracking-enabled oil and gas development. And they seem to be changing Texans' opinions about fracking.
The oil and gas boom sweeping through the US is occurring because horizontal hydraulic fracturing makes it possible to extract previously inaccessible oil and gas locked up inside the pores of shale rock thousands of feet underground.
How?
Well, by drilling a well down to the shale deposit; taking a right turn to horizontally extend the well for thousands more feet through the shale layer.,and then injecting millions of gallons (two to eight millions gallons, depending upon the area) of water laced with tens of thousands of gallons of toxics at such high pressure that the shale rock breaks (fractures). The water and toxics (called flowback fluid) are then withdrawn back up the well, and the released oil or gas follows.
The oil and gas is cleaned and piped and sold. But what of the toxics-laced flowback fluid and other (briny, and sometimes radioactive) water produced by the well?
Although some of it is reused, the vast majority of it must be disposed of. The disposal of fracking wastewater (flowback plus produced water) is what causes fracking earthquakes.
Because of the chemicals in fracking wastewater, it cannot be treated at an ordinary sewage wastewater treatment plant. Instead, it is injected in another well deep underground. It has long been known that this type of wastewater injection deep underground can lead to earthquakes when it occurs near a fault .
So it is no surprise that as fracking has become near universal — more than 90 percent of all new …more
(2) Comments
Identical House and Senate bills aim to strengthen Hawaii's Right to Farm Act and protect "modern farming practices"
Update 2, 3:20 p.m: Follow the Money: GMO seed company lobbyist threw fundraising events in December for three state senators who introduced SB 3058 yesterday. (Please scroll to the bottom of the copy to read more.)
UPDATE, 10.00 a.m
Big Biotech and its supporters are battening down the hatches against the growing movement against the GMO seeds industry in Hawai'i. Yesterday, (January 23), just two weeks after three big GMO seed companies sued Kauai County over its new GMO regulatory law, Hawai'i state legislators have introduced a two identical bills in the state House and Senate that would prevent the island state's counties from passing any laws that limit the rights of farmers "to engage in modern farming and ranching practices."
Photo by Ian UmedaWhile the bills don't specifically mention GMO crops, the impetus behind it is pretty clear.
House Bill 2506 (pdf) and Senate Bill 3058 (pdf), seeking to amend Hawaii's Right to Farm Act, was introduced by in the House of Representatives by Rep Richard Onishi of the Big Island, and 36 other lawmakers of the 51-member House, and in the Senate by Sen. ClarenceNishihara and 10 other state senators. Nishihara is the chair of the Senate Committee on Agriculture. The Right to Farm Act was framed to protect farming operations from nuisance suits.
Current language in the Act says:
"No court, official, public servant, or public employee shall declare any farming operation a nuisance for any reason if the farming operation has been conducted in a manner consistent with generally accepted agricultural and management practices. There shall be a rebuttable presumption that a farming operation does not constitute a nuisance."
While neither of the bills specifically mention GMO crops, the impetus behind them is pretty clear given they come close on the heels of county-level legislations that target the activities of the five big GMO seed companies that dominate Hawaii's agricultural scene.
Here the additional language the bills seek to introduce to the paragraph quoted above from the Right to Farm Act:
"The right of farmers and ranchers to engage in modern farming and ranching practices shall be forever guaranteed in this State. No law, ordinance, or resolution of any unit of local government shall be enacted that abridges the right of farmers and ranchers to employ agricultural …more

(0) Comments