Go Back: Home > Earth Island Journal > Latest News
Latest News
The movement to stop climate change needs both mass mobilizations and direct action.
Last Sunday, we joined 400,000 people in the People's Climate March (PCM) to demand action on climate change. The next day, we joined with 3,000 others to participate in Flood Wall Street (FWS), disrupting business as usual and naming capital as the chief culprit of climate change.
photo by South Bend Voice, on FlickrThe People's Climate March in New York City.
In the days leading up to these mobilizations, a few critics on the left framed a stark dichotomy between these two kinds of actions. The PCM was cast as a depoliticized, corporate-friendly sellout, in contrast to more militant direct action, which Flood Wall Street soon emerged to organize. Chris Hedges, for example, called the PCM "the last gasp of climate change liberals," and argued that the real resistance would come afterward "from those willing to breach police barricades." Resistance, according to Hedges, can only be effective "when we turn from a liberal agenda of reform to embrace a radical agenda of revolt." Likewise, Arun Gupta accused PCM of spending too much money on subway advertisements and wondered how much political value a march can have when mainstream politicians and other elites felt comfortable enough to march in it.
Surely there are critiques to be made of last week's mobilization – there is always room for improvement. But last Sunday's march was an important step toward building a popular movement for climate justice, which, in turn, is a necessary condition for more radical actions – like the ones FWS organized. The dichotomy between the PCM and FWS is a false one. What the world saw last week in New York was a vibrant movement ecosystem in which a broad mobilization and its radical edges engaged in a critical interplay.
What Hedges overlooks is how easily direct acts of revolt can be dismissed or repressed, if they are carried out by a small number of people who are not visibly tied to a broader social base. This is why Flood Wall Street's mobilization in relation to the PCM was so vital. To grasp this relationship requires us to shed the dichotomous thinking that pits this vs. that and us vs. them – too often extended to even our closest allies – and that …more
(0) Comments
In Review: Shored Up
Three years ago, when I was reporting on a story on climate change adaptation, the Environmental Protection Agency's sea level rise expert James Titus told me that "managing human expectations" was by far the toughest part of figuring out how to adapt our lifestyles to a quickly changing world. This is especially true in coastal areas where, as the waters rise, we will have to make value judgments about which places to let go and which places to save by trying to hold back the sea. (Trouble is, no one expects to be the ones to be asked to let go.)
Photo courtesy Shored UpMore and more people are moving to coastal communities. So what do you do when a mega-storm like Sandy hits or when slow beach erosion eats at the foundations of beachside homes?
The documentary Shored Up shows that we have, in fact, already been making those value judgments, and so far, the decisions have neither been egalitarian nor, some would argue, sound calls.
The United States is a largely coastal nation. About 123 million, or 39 percent, of the country's 300 million people live in coastal counties, which make up a mere 20 percent of the nation's land area. There are enough reports and studies out there now that show how these coastal communities are at grave risk from climate change. Yet, more and more people are flocking to these communities. So what do you do when a mega-storm like Sandy hits or when slow beach erosion eats at the foundations of beachside homes? Which homes do you save? Which shoreline communities do you protect from future disasters of this kind?
Using TV footage from Hurricane Sandy and past severe storms, interviews with Sandy survivors, scientists, politicians and activists, as well as neat, hand-drawn animation, Shored Up explores these questions and highlights how heavy development along the nation's coastline has put us in a tough predicament. And it shows how, usually, it's the ones with the money — think $2 to $6 million "supersized McBeach" holiday homes — that get bailed out.
Director and producer Ben Kalina had set out to make a film in 2009 about the state of barrier islands and the Army Corps of Engineers' expensive beach replenishment process, that's basically a Sisyphean effort to pile sand up on the …more
(0) Comments
Widespread interest in urban agriculture is forcing local authorities to re-examine rules that prohibit farming in cities
Sacramento has worked diligently over the past two years to brand itself as America's farm-to-fork capital, hosting local food festivals, wine tastings, and gala dinners featuring the city's premier chefs. Tickets for this year's dinner, at $175 dollars each, sold out in five minutes. The Sacramento Convention and Visitors Bureau has even organized a cattle drive and tractor parade through downtown.
photo by Robert Couse-Baker, on Flickr Sacramento has its share of farmer's markets, but there are no urban farms within the city limits
Sure, nearly 1.4 million acres of farmland exist around the city, which is located in California's vast and fertile Central Valley region, and the climate is amenable to growing produce year-round (drought complications notwithstanding). But there are no urban farms in Sacramento. The closest and most prominent urban farm, the 55-acre Soil Born Farms, exists outside the city limits.
Sacramento is relatively progressive when it comes to gardening: The city already allows frontyard vegetable gardens, urban chickens, and community gardens on private land and runs 13 community gardens on public land. But farming – that is, growing crops to sell – has fallen behind.
In response to urging from the Sacramento Urban Agriculture Coalition – which went so far as to draft its own proposed urban agriculture ordinance – the city may amend its municipal code to clear the way for residents interested in growing and selling produce by allowing farming as a primary land use in all zones, not only agricultural: that includes residential, commercial, and industrial.
The city has proposed an urban agriculture ordinance that would allow the cultivation of crops in residential areas up to 1 acre in size, in commercial areas up to 3 acres, and in industrial areas with no size restriction. Produce stands, greenhouses, and hoop-houses would be allowed, while mechanized farm equipment such as tractors would be prohibited after initial site preparation. The ordinance would also create an incentive zone providing reduced property taxes for agricultural plots.
But the urban agriculture coalition members were taken aback during a recent planning and design commission meeting when they learned that the city's proposal would limit produce sales from these farms to areas where agriculture was the "primary use." People who grow at homes, schools, or churches …more
(0) Comments
Initiative to remove water hyacinth from lakes is part of a long-term effort to restore the African nation's fragile ecosystems
Nestled within Africa's Great Lakes region, landlocked Rwanda is dotted with many beautiful and ecologically diverse freshwater lakes that sustain numerous fishing communities. The amazing array of bird life at these lakes, including the largest and most spectacular Lake Kivu, draw tourists from all over the world. However, Rwanda's lakes, as well other major freshwater bodies in the Great Lakes region, are being slowly suffocated by water hyacinth – a free-floating perennial native to South America that can be an aggressive invader.
The clean up campaign is starting with Lake Cyohoha, one of the worst-affected lakes in Rwanda's eastern Bugesera district, where volume of water hyacinth is so high that it has nearly halted all fishing activities.
Over the past few decades, lakes such as Kivu, Cyohoha, Ruhondo, Burera, Mugesera and Rweru have become overrun with water hyacinth, which forms thick, floating mats that cover large surfaces and affect aquatic life by sucking oxygen out of the water.
The Rwandan government has now launched a campaign to remove the plant from its lakes as part of a five-year initiative dubbed "SupportingEcosystem Rehabilitation and Protection for Pro-poor Green Growth Program" (SERPG) that aims to preserve the country's natural resources and boost its green economy.
The lake clean-up campaign spearheaded by the Rwanda Environment Management Authority (REMA), is first tackling Lake Cyohoha, one of the worst-affected lakes in Rwanda's eastern Bugesera district, where volume of water hyacinth is so high that it has nearly halted all fishing activities. The 16-mile lake straddles the nations of Burundi and Rwanda. Its watershed extends 196 square miles of which, 53.6 sq miles lie in Rwanda.
Water hyacinth have been reducing the lake's water quantity as well as impeding fishing activities that are vital to the livelihoods of communities surrounding them, says REMA deputy director general Colletta Ruhamya. More than 94,000 people live by the lake, and about 30,000 Rwandans depend on it for their survival. (Though badly affected, Lake Cyohoha is still producing some fish – about 1.2 tons per month, according to officials.) According to REMA, Lake Cyohoha used to be a large lake until the year 2000 when the encroaching water hyacinth made the water undrinkable, leading to an acute water shortage in the region.
REMA embarked on the Lake Cyohoha …more
(1) Comments
Species across land, rivers and seas decimated as humans kill for food in unsustainable numbers and destroy habitats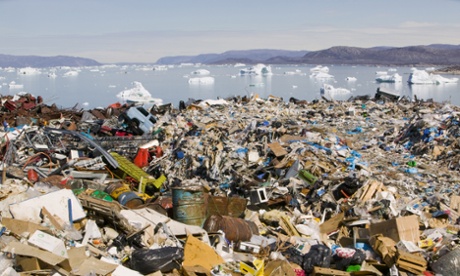 Photograph: Global Warming Images/WWF-CanonRubbish dumped on the tundra outside llulissat in Greenland stand in stark contrast to icebergs
behind from the Sermeq Kujullaq or llulissat Ice fjord – a Unesco world heritage site.
The number of wild animals on Earth has halved in the past 40 years, according to a new analysis. Creatures across land, rivers and the seas are being decimated as humans kill them for food in unsustainable numbers, while polluting or destroying their habitats, the research by scientists at WWF and the Zoological Society of London found.
"If half the animals died in London zoo next week it would be front page news," said Professor Ken Norris, ZSL's director of science. "But that is happening in the great outdoors. This damage is not inevitable but a consequence of the way we choose to live." He said nature, which provides food and clean water and air, was essential for human wellbeing.
"We have lost one half of the animal population and knowing this is driven by human consumption, this is clearly a call to arms and we must act now," said Mike Barratt, director of science and policy at WWF. He said more of the Earth must be protected from development and deforestation, while food and energy had to be produced sustainably.
The steep decline of animal, fish and bird numbers was calculated by analysing 10,000 different populations, covering 3,000 species in total. This data was then, for the first time, used to create a representative "Living Planet Index" (LPI), reflecting the state of all 45,000 known vertebrates.
"We have all heard of the FTSE 100 index, but we have missed the ultimate indicator, the falling trend of species and ecosystems in the world," said Professor Jonathan Baillie, ZSL's director of conservation. "If we get [our response] right, we will have a safe and sustainable way of life for the future," he said.
If not, he added, the overuse of resources would ultimately lead to conflicts. He said the LPI was an extremely robust indicator and had been adopted by UN's internationally-agreed Convention on Biological Diversity as key insight into biodiversity.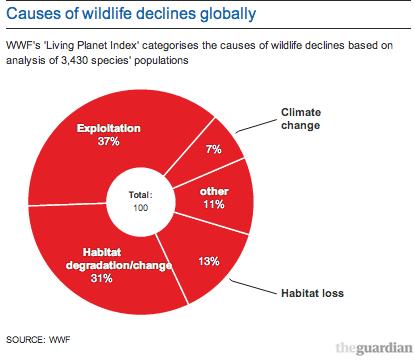 A …more
(1) Comments
Environmentalists celebrate, but say tackling widespread plastic pollution needs national and global-level action
After an insistent year-long campaign by environmentalists and citizen activists, today Governor Jerry Brown signed into law SB 270, a bill that prohibits the use of single-use plastic bags in grocery and retail stores throughout California, making it the first state in the nation to institute such a ban.
Photo byBill McDonald,Algalita Foundation / Heal The BayPlastic waste at the mouth of the Los Angeles River in Long Beach, CA.
The bill, introduced by state senator Alex Padilla from Los Angeles, goes beyond a simple "bag ban." Recognizing that removing plastic bags is only one strategy in the battle against wasteful consumption of both renewable and nonrenewable resources, the bill also requires that a surcharge of at least 10 cents be levied on paper bags, compostable bags, and even reusable plastic bags.
Response from environmental organizations is celebratory – but not jubilant. "It's clear that there is a growing grassroots movement not just in California but across the country to stop plastic pollution," says Dianna Cohen, CEO of Plastic Pollution Coalition (PPC), an Earth Island Institute project. "Our coalition consists of over 380 NGOs, businesses, and prominent individuals from around the world, all dedicated in their own ways to bringing about a measurable reduction of single-use and disposable plastics — plastic shopping bags, plastic bottles, and straws being the most pervasive." Cohen is one of many environmental leaders quick to add, however, that the passing of this legislation is "just the tip of the plastic pollution iceberg."
"This is a global environmental crisis – there is no place on earth remote enough not be touched by plastic pollution," she says. "Which is why the movement is global — it has to be. This global network is growing, thanks to dozens of organizations, locally, nationally and world-wide."
Leslie Tamminen, director of the Clean Seas Coalition and part of Seventh Generation Advisors, agrees that stopping the epidemic of plastic waste takes more than bans and laws. It takes "wide and sustainable changes in consumer behavior. Data from the over 121 local plastic bag bans has proven that bans are effective at reducing litter and changing consumer attitudes, and have refuted industry's claims of apocalyptic impacts on jobs and poor communities. A state plastic bag ban saves taxpayers the huge amount of money spent on litter cleanup, …more
(0) Comments
SRI methods generate higher rice yields using less water
Nearly one-third of the world's population depends heavily on rice and rice products for food, with rice providing up to 70 percent of daily calories in some regions. Over the last thirty years, milled rice consumption has increased by 40 percent, and by 2030, the global demand for rice is expected to increase up to another 40 percent. To meet this demand, rice paddies cover more than 300 million acres around the world.
Traditional rice fields are flooded and planted, and the high water levels are maintained until the rice is ready to be harvested. This requires a lot of water: Up to one-third of the planet's annual freshwater use goes towards irrigating and growing rice.
Photo by Oxfam GB AsiaSin Chhukrath harvests SRI rice in Cambodia. SRI farmers report higher yields and use less water and pesticides than farmers employing traditional methods.
In Asia, where more than 90 percent of the world's rice is grown and eaten, approximately 84 percent of all freshwater use goes towards agriculture, primarily for irrigating rice. This can create serious water shortages.
In the context of global climate change and booming population growth, these water shortages bring up serious questions about global food security. "We need yields to grow to meet growing demand," said Princeton professor Michael Oppenheimer, one of the authors of the Intergovernmental Panel on Climate Change (IPCC) 2014 report, "but already climate change is slowing those yields."
But a new farming technique, called System of Rice Intensification (SRI), is generating hope, excitement and new possibilities for increased crop yields.
SRI was first developed in the 1980's. It was developed by Father Henri de Laulanié, a trained agronomist and Jesuit priest, along with colleagues and farmers in Madagascar. With the innovative SRI method, farmers use less water and less synthetic herbicides and pesticides. Contrary to traditional rice farming which calls for standing water in the rice paddies, farmers alternate between keeping their fields wet and dry. Young rice seedlings are transplanted in single rows with more space between them than in traditional rice paddies. Seedlings are kept moist while the soil and its beneficial organisms are exposed to air and sunlight. This allows for more photosynthesis. Farmers add organic compost to improve the health and productivity of their crops, and use a …more
(0) Comments