Go Back: Home > Earth Island Journal > Latest News
Latest News
Oil and gas giant say climate policies are highly unlikely to stop it digging up fossil fuels. So what are we going to do about it?
Monday saw the release of the latest climate report from the planet's scientists. Predictions of famine, flood, and so on – mostly what we already knew, in even more striking language.
Photo © Copyright Richard Webb/ Licensed for reuse under this Creative CommonsExxon Mobil said that government restrictions that would force it to keep its reserves in the
ground were "highly unlikely," and that they would not only dig them all up and burn them,
but would continue to search for more gas and oil.
But Monday also saw the release of another document somewhat less expected, and probably at least as important in the ongoing battle over the future of the atmosphere and hence all of us who live in its narrow envelope.
Here's the backstory. For 18 months now some of us have been campaigning for colleges, churches, cities and the like to sell their shares in fossil fuel companies, on the grounds that their business plans call for burning far more carbon than scientists believe the planet can safely handle. It's become the fastest growing divestment movement in history — but some have tried to reach out to the industry and reach a middle ground instead, hoping to reform them instead of simply trying to break their power.
Profound thanks are due, then, to those shareholder activists who urged "constructive engagement" with the oil, gas and coal barons.
Because those organizations, groups like As You Sow, CERES, and the Interfaith Center on Corporate Responsibility, managed in very short order to get Exxon Mobil, the leader of the fossil fuel industry, to show its cards. In fact, in a truly historic moment, Exxon Mobil turned over the whole deck — and to its credit it showed it has nothing up its sleeve, no tricky rhetoric or sleight of hand. Just endless amounts of oil and gas.
On Monday the company issued two reports, in formal response to a shareholder resolution that demanded they disclose their carbon risk and talk about how they planned to deal with the fact that they and other oil giants have many times more carbon in their collective reserves than scientists say we can safely burn.
The company said that government restrictions that would force it to keep its reserves in the ground were "highly unlikely," and that …more
(0) Comments
The consensus text does not track the bleeding edge of anxiety
There are two things to keep in mind if you would know the climate future. The first is that, as scientific statesman John Holdren likes to say, it will come to us as a mixture of mitigation, adaptation, and suffering. The second is that the suffering will be disproportionally visited upon the poor and the innocent.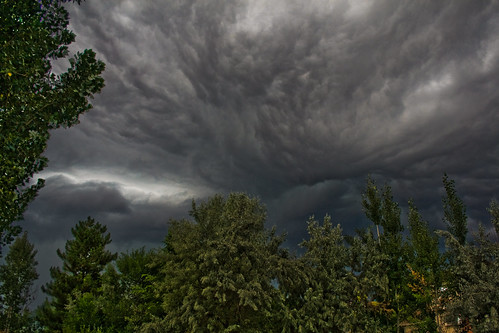 Photo by Tal AtlasWhere once there was constant recourse to "this storm/drought/surge is consistent with global warming," we're now increasingly likely to hear "this storm/ drought/surge would not have happened without global warming."
Hold these thoughts when considering the massive tome just issued by the IPCC's Working Group II. (The much briefer Summary for Policymakers, or SPM, is here). Working Group II (or "WG2" for short) is the part of the International Panel on Climate Change – the largest, most sustained, and arguably most important peer-reviewed scientific enterprise in history – which is focused on understanding climate-change related "impacts, adaptation, and vulnerability." Its report, released on Monday, comes halfway though the year-long rollout of the three volume set that together make up the IPCC's "Firth Assessment Report."
Volume I is focused on climate science in itself – the "physical science basis" of the crisis. It was released in September and can be found here. Volume III, due out later this month, is focused on mitigation – that is, on what the nations of the world can do to slow and then, hopefully, stop greenhouse gas emissions.
Since the release of WG1's report in late 2013 has perhaps faded from memory, it's useful to recall it and to pause to appreciate that WG1 did its job well. In fact, it's not too much to say that the first volume, coming at a time when climate denialism was already sagging, gave us a fine marker of its now accelerating decline. It did so by stepping past the contrived denialist shitstorm that was "Climategate" with a decisive summary and restatement of our increasingly firm – and increasingly grim – understandings.
The scientists are still far too timid in their unwillingness to draw conclusions, but they are getting more forthright. This was evident last fall when, late in the WG1 drafting process, the IPPC quietly took the monumental step of laying out official numbers for the remaining global carbon budgets. (This is a long and …more
(0) Comments
EPA action and bipartisan opposition could permanently block proposed mine at the headwaters of Alaska's Bristol Bay
If you've eaten wild salmon, chances are good it was caught in Alaska's Bristol Bay. That's because Bristol Bay and its watershed is the largest remaining wild sockeye salmon fishery in the world.
Photo by Emma ForsbergBristol Bay's salmon fishery is the economic lifeblood of the region.
For many thousands of years the fishery has supported the ecosystem – including subsistence Native Alaskan communities – that grew around it. But it's not just wildlife and Native Alaskans that rely on the Bristol Bay salmon fishery. It's also the economic lifeblood of the region. Salmon-dependent commercial fishermen, recreational fishermen, and tourism combine to account for 14,000+ jobs. A peer reviewed Environmental Protection Agency study estimates those jobs and other economic benefits from the fishery annually generate $480 million.
And because salmon – properly managed as they are now – are an annually renewing resource, that's 14,000 jobs and $480 million each year, forever.
Unfortunately this global treasure is under threat.
Northern Dynasty, a junior Canadian mining company wants to dig what would be North America's largest open pit mine – the Pebble gold/copper/molybdenum mine – in the headwaters of the Bristol Bay watershed. Basically, Northern Dynasty wants to mine, and dump toxic mining waste, on top of a good portion of the waters where Bristol Bay's salmon return every year to spawn.
If the Pebble Mine sounds like a colossally bad idea, that's because:
The EPA identified up to 94 stream miles that would be destroyed by the mine.
According to Northern Dynasty, the mine could generate more than 10 billion tons of mine waste (tailings).
Tailings would be stored forever behind some of the largest earthen dams ever built (more than 700 feet tall).
These earthen dams would be built in a very seismically active area, where a magnitude 8 earthquake occurs every decade or so.
Because of sulfides in the ore, Pebble would generate acid and leach heavy metals, which would likely be released into the watershed.
The mine would generate these acids in perpetuity – long after the mine had closed.
The ore deposit is directly underneath salmon spawning habitat.
Salmon are highly sensitive to pollution. Exposure to even …more
(1) Comments
State wants renewables in the mix, but ultimately utilities will get to decide where most of the power will come from
Perched beside the Pacific Ocean between Los Angeles and San Diego, San Onofre Nuclear Generating Station (SONGS) cranked out power to Southern California for four decades until a small radiation leak discovered in January 2012 revealed bigger problems. The plant was taken offline and in June of 2013, officially shuttered.
Photo by Rian CastilloThe San Onofre Nuclear Generating Station (SONGS) cranked out power to Southern
California for four decades until a small radiation leak discovered in January 2012
revealed bigger problems. The plant closed down in June 2013.
At the end of its operational lifetime, SONGS was helping to power 1.4 million homes — greenhouse gas emissions free. The majority of the plant was owned by Southern California Edison, with San Diego Gas and Electric claiming 20 percent. How then would the companies go about replacing the loss of SONGS?
Environmental groups hoped the end of the nuclear era in Southern California would be marked by a strong commitment to clean energy or "preferred resources," which in utility-speak means a combination of renewable power, demand response (reducing demand at peak times), and energy efficiency. The decision of what to do next has been guided by months of review by the California Public Utilities Commission, with input from numerous stakeholders. Would the commission make strong mandates for renewables or leave the door open for more fossil fuel development like gas-fired power plants?
"I think it's important for people to realize what a critical juncture the Public Utilities Commission is at right now and what an opportunity they have here to replace a significant outage at a supply side nuclear generating station with clean, preferred energy resources," Sierra Martinez, the legal director of California Energy Projects at the Natural Resources Defense Council, said in January as groups awaited a decision from the public utilities commission.
But figuring out how to replace the power generated at SONGS is not a simple equation. While the power plant produced 2,200 megawatts, the commission needed to determine just how much energy the utilities actually need in coming years with efficiency measures reducing demand, but population growth adding more pressure. "We have to plan to meet energy needs for buildings that are not yet constructed," said Martinez.
The problem is further complicated by the fact that the SONGS replacement …more
(0) Comments
UN science panel's chairman, Rajendra Pachauri, says report on impacts of rising temperatures should push leaders to act
The head of the United Nations climate panel said he hoped its report on the rising threat of climate change would "jolt people into action".
Photo by Kris Krüg for PopTechRajendra Pachauri, who has headed the IPCC for 12 years, said he hoped the new report would
push government leaders to deal with climate change before it is too late.
The report, released on Monday, is a 2,600-page catalogue of the risks to life and livelihood from climate change – now and in the future.
Rajendra Pachauri, who has headed the IPCC for 12 years, said he hoped it would push government leaders to deal with climate change before it is too late.
"I hope these facts will - for want of a better word - jolt people into action," he said.
The US Secretary of State, John Kerry, took a similar line.
"Read this report and you can't deny the reality: Unless we act dramatically and quickly, science tells us our climate and our way of life are literally in jeopardy," Kerry said in a statement. "Let's make our political system wake up and let's make the world respond."
The report was built on the work of more than 300 scientists drawing from 12,000 scholarly articles to produce the most comprehensive picture of climate risks to date. Pachauri said the report provided all that governments could need for coming up with a strategy for cutting greenhouse gas emissions and protecting populations from climate change.
The volume of scientific literature on the effects of climate change has doubled since the last report in 2007, and the findings make an increasingly detailed picture of how climate change – in tandem with existing fault lines such as poverty and inequality – poses a much more direct threat to life and livelihoods.
This was reflected in the language. The summary mentioned the word "risk" more than 230 times, compared to just over 40 mentions seven years ago, according to a count by the Red Cross.
"On the basis of this report they should be able to formulate a very clear plan of action," Pachauri said.
The report found the strongest evidence of climate change in the thawing permafrost in the Arctic and in the destruction of coral reefs. It found many freshwater and marine species had shifted their geographical range …more
(0) Comments
Look to the sun and save lives
It is impossible to forget the anxiety I felt for the safety of my family when 'supertyphoon' Haiyan, possibly the most powerful ever to hit land, struck the Philippines with an unprecedented ferocity last November.
Photo courtesy IHH/Insani Yardım Vakfı/TURKEY Tacloban, Phillippines, after Typhoon Haiyan. Typhoons are common in the Philippines, but it is fightening to think that the destructive power of typhoons will increase with global warming.
Leaving a path of destruction, Haiyan left 8,000 people dead or missing and devastated communities as millions of people lost their homes and livelihoods. Thousands of Filipinos are still grieving for the death of their loved ones.
It is a sadness I can share. My father-in-law died during Typhoon Conson in 2010 when a flash flood swept away his car as he was crossing a bridge on his way home. Fortunately, my family was luckier during Typhoon Haiyan and all survived. They were likewise spared during typhoons Washi and Bopha, which were in the area where they lived.
But in the wake of Haiyan, communities are struggling to recover and I remain fearful for the future of my beloved country. Typhoons are common in the Philippines, but it is fightening to think that the destructive power of typhoons will increase with global warming.
This is why I am in Japan this week on behalf of Greenpeace, attending a meeting of the Intergovernmental Panel on Climate Change (IPCC) as it prepares to deliver its latest, and perhaps most dire, assessment on the impacts of climate change.
Here at the IPCC meeting in Yokohama, the world's leading climate scientists will say that the future is grim if governments fail to to take approriate action. I bring a message of urgency.
More than four months after Haiyan struck, a national survey revealed that 3.9 million families have experienced involuntary hunger in the last quarter of 2013. Families are also going to extraordinary lengths to obtain clean water as safe drinking water is desperately scarce in the storm-ravaged portion of the central Philippines.
Yeb Sano, lead negotiator for the Philippines at the annual UN climate talks, also points out that more than 1 million farming households and 20,000 fishing households are struggling to pick up the pieces. Overall losses in the agriculture sector could come …more
(0) Comments
What's in a word?
In his now-classic essay, "Politics and the English Language," George Orwell warned: "Political speech and writing are largely the defense of the indefensible. … But if thought corrupts language, language can also corrupt thought. A bad usage can spread by tradition and imitation even among people who should and do know better."
Julia Kilpatrick, The Pembina InstituteBoreal forest "overburden" being cleared for tar sands mining in Alberta, Canada.
Orwell's insights are as true today as they were in 1946, when he wrote the piece. Calculated euphemisms clutter our political conversation, making it hard for citizens to winnow fact from fantasy. Take, as just one example, the jargon that infuses environmental debates.
Corporate polluters and government bureaucracies have done an excellent job at creating a raft of words that cover up – or at least distance and distract us from – environmental abuses. Technical-sounding phrases disguise the daily destruction of wild nature. A clear-cut is called a "timber harvest." Sewage goes by the name "bio-solids." Soil is referred to as "overburden."
Such terms confuse rather than clarify. And that, of course, is the point. If we can't talk straight about environmental degradation, we won't be able to think straight about it, either.
So here's a short decoder list of commonly used environmental jargon and euphemisms, as gleaned by some members of the Society of Environmental Journalists. A hat tip to Peter Dykstra, publisher of Environmental Health News, who kicked off this collection and did a similar rundown of euphemisms on PRI's "Living on Earth" last week.
Beneficial Reuse: In short, the recycling and/or reclamation of dangerous waste. In general, this can be a good thing. But the term elides the possible hazards involved.
Biosolids: Aka, human excrement. This is the waste disposal industry's term of art for treated sewage, which is often spread on farm fields and pastures. Here's one recent headline using the term: "Plans for biosolids concern residents of Spotsylvania." It might not be fit to print, but perhaps the headline writer could have been more to the point: "Plans for spreading shit concern residents of Spotsylvania."
(1) Comments