Go Back: Home > Earth Island Journal > Latest News
Latest News
Proposition 39 remains more of a promise than a proven success
Rows of smartly-placed solar panels, a green bounty of veggies and herbs planted next to sleek buildings wired with highly efficient lighting systems — to an unknowing visitor of the San Mateo County Community College district, California Clean Energy Jobs Act (aka Proposition 39) has fulfilled its intended purpose in splendid fashion. "Our district was prepared, we already had the resources and support," facilities manager Karen D. Powell says. "Other districts were not like us."
Photo courtesy of California Solar Schools A solar installation at Mt Diablo High School in Concord, CA. For many school districts,
however, energy efficiency is a luxury when faced with chronic problems like aging buildings
and little to no scheduled maintenance funding.
Touting energy efficiency and education over corporate greed (a wonderful recipe for the liberal Golden State), Proposition 39 was the cool kid on the block during the November 2012 statewide elections, easily passing with 61 percent of the vote. Sponsored by the billionaire-turned-sustainability-philanthropist, Tom Steyer, the proposition closed a corporate tax loophole and redirected the new funds — an impressive $550 million annually — from the General Fund to the Clean Energy Job Creation Fund.
Beginning in 2013, $428 million was made available through a grant program for energy efficiency retrofits in California community college and K-12 districts, with 11 percent allotted to community colleges and 89 percent to K-12 schools. The California Community College Chancellor's Office and California Energy Commission were charged with distributing funding based on annual proposals and number of full-time students in each district. The remaining funds were set aside for technical assistance and surveying as well as workforce training for disadvantaged youth and veterans.
This was the dream of a green economy, put into action. "People just really didn't want to see money going out of state anymore. They wanted [money] to stay right here in California and they wanted to see more jobs in California too," campaign consultant Christopher Lehman says. "Not just any kind of jobs, but green jobs that make California a better place to live and increases the quality of life. It just made all the sense in the world."
But the vision has proved to be rosier than reality. California public schools were hit hard by the economic downturn. For many districts, energy efficiency is a luxury when faced with chronic …more
(0) Comments
Bruins that associate camps and homes with easy to access food lose their ingrained fear of people
The undulating hills of the Adirondack Mountains in upstate New York are so vast and filled with dense forests that spotting black bears which inhabit these mountains can be a challenge. For most outdoor enthusiasts, simply being among the birch trees and rushing streams, and listening to the lone cries of the dignified loon is pleasure enough. For others, who perhaps expect more of a safari or zoo-like experience, not being able to spot a bear can prove frustrating.
Photo by Jim MullhauptThat's a cute bear-in-a-dumpster photo for sure, but the consequences of bears getting used to foraging for food near human habitations aren't that pretty.
There is one practice that will likely improve the chances of seeing a bear — putting out food — but it is not recommended by wildlife experts.
Leaving food and garbage around a campsite, as many a weekend visitor to the wilderness has been known to do, attracts the ever-sniffing noses of the resident black bear community. Sure, it means that one gets to spot that elusive bear, but the consequences of such an up-close encounter can prove deadly — for both the human and the bear.
Bears are omnivorous. Most of them will eat anything from nuts to deer to carrion, and they range wide in their search for food. Bruins living around frequently used backcountry campsites as well as communities bordering forested areas quickly figure out that these places can be a source of easy food. They begin visiting campgrounds and wood-side homes regularly looking for handouts or uneaten stuff tossed into garbage bins. The problem is, once bears come to associate these places with easy to get food, they lose some of their ingrained fear of people.
Wildlife experts say that many of the bears implicated in attacks on humans are animals who have become habituated to people because they've either received handouts or have scavenged food at campsites and garbage bins or livestock enclosures near rural and suburban homes. As wildlife habitats shrink across North America and at the same time conservation efforts help black bear and grizzly bear populations rebound, human encounters with such "habituated" bears are on the rise.
In 2012, there were more than 120 complaints about aggressive black bears, labeled Class 1 bears, in New York State, according to a …more
(0) Comments
A gripping tale of how two environmentalists took on the US Navy to save our ocean's giants
Joshua Horwitz has come up with an outstanding book about whales, the environment, and the clash between whales and the US Navy. Deeply researched over six years, this well paced and exciting book is both an education in whale and acoustic science and in how environmental issues grow from relative obscurity to become front-page news.
photo by Aleria Jensen, NOAA/NMFS/AKFSC (Wikimedia Commons)Whales rely on their acute and highly specialized hearing for communication, navigation, and detecting predators. Underwater sonar pulses used in during Naval exercises disorients and sometimes leads to their death.
War of the Whales is also one of the best books I've read that shows how environmentalists and scientists actually work, and how they often can work in tandem to address important issues that would otherwise be ignored by political decision-makers. Most books about the environment will focus on individuals who are interviewed about what should be done, but few authors actually get into the daily nitty-gritty of environmental advocacy – the planning, the choices, the implementation of strategy and the evaluation of the outcome, and then what comes next. And, as noted, Horwitz makes it interesting and involving – the tension in the book never lets up.
War of the Whales opens on a beach in the Bahamas, where researcher Ken Balcomb, one of the world's authorities on whales, including little-studied beaked whales, is startled to find one of the whales he knew wash up on the beach in front of his house (Balcomb takes photos of whales dorsal fin and back and uses these to identify individuals). There have been previous strandings of beaked whales, but usually only one at a time between long intervals of years. This whale was one of more than a dozen others of several different species that washed up around the same morning on different beaches in the Bahamas.
Similar large strandings had been recorded previously in Europe and often associated with sea trials run by various world navies, including the US Navy, but the difference was that this time Balcomb was able to remove several of the whales' heads and preserve them in freezers. An autopsy of the heads proved, for the first time, that the trauma these whales encountered came from sound – specifically underwater sonars booming at immense levels. The …more
(0) Comments
Environmental organizers busy laying plans for the People's Climate March
If everything goes according to plan, the People's Climate March could be the largest climate demonstration in the United States to date. On September 20 and 21, waves of citizens will descend on New York City to show public support for the UN "Solutions Summit" and to demand immediate action to staunch greenhouse gas emissions. I'll be joining them — traveling with a group of protesters on a train from Washington, DC to New York as I cover the march for Earth Island Journal — and last week I attended an organizing meeting in DC to see what I should expect.
Photo by Bjorn Philip BeerThe diverse and large turnout at a march organizers' meeting in Washington, DC, indicates that the September demonstration in New York has a broad, populist appeal.
As I arrived in the capital, a few big questions occupied my mind. How will this march be different from past climate-related mobilizations? Can this effort succeed in moving the needle of elite and public opinion? Will it lead to drastic emissions reductions?
What is different about the People's Climate March became apparent the moment the crowded meeting began. The gathering took place in the basement of the Martin Luther King Jr. Library, just one stop on an "Organizers Tour" that is traveling up the East Coast spreading the word about the march Paul Revere-style. The assembled group was as varied as it was large. I expected a young crowd, yet there were dozens of silver-haired retirees. Some attendees were policy wonks at major environmental organizations who wanted to participate in a more hands-on way. Others were activist types who had recently been arrested in non-violent direct actions in the DC area. For every seasoned activist I spoke with, there was someone who was taking to the streets for the first time in their lives.
The diversity of this organizers' meeting is mirrored at the national level. Paul Getsos spoke on behalf of the organizing committee for the national People's Climate March and described a broad coalition of groups that has already emerged. As of this writing, 150 leaders in the faith community in New York have committed to turning out their congregations. Although labor and enviros have their occasional differences, 20 labor unions have already pledged to put boots on the ground. I …more
(0) Comments
Industry lobbying boils over in bid to block labeling of genetically engineered food
Companies and organizations opposed to labeling foods that contain genetically engineered ingredients disclosed $9 million in lobbying expenditures that made reference to GE labeling in the first quarter of 2014 – nearly as much as they spent in all of 2013.
The burst of lobbying by food and biotechnology companies was partly designed to muster Congressional support for legislation that would block states from requiring GE labeling on food packages. That bill, dubbed the Deny Americans the Right to Know (DARK) Act by advocates of GE labeling, was introduced on April 9 by Rep. Mike Pompeo (R-Kan.).
In May, Vermont became the first state to enact legislation to require GE labeling, although industry has filed suit in an effort to block it. Connecticut and Maine have passed GE labeling laws that would go into effect if other northeastern states pass similar legislation.
Oregon and Colorado voters will consider GE labeling ballot initiatives this fall, and labeling bills have been introduced in 30 other states in 2013 and 2014.
Food and biotechnology companies and organizations disclosed $9.3 million in lobbying expenditures in 2013 that made reference to GE labeling and $9 million in the first quarter of 2014 alone. The forms cite lobbying on GE labeling as well as other policy issues.
In particular, the Grocery Manufacturers Association disclosed $1.2 million in lobbying expenditures that made reference to GE labeling in the first quarter of 2014. The Association's member organizations separately disclosed another $4.3 million in lobbying expenditures that made reference to GE labeling in the first quarter, including $3.9 million by beverage giants Coca-Cola and Pepsi.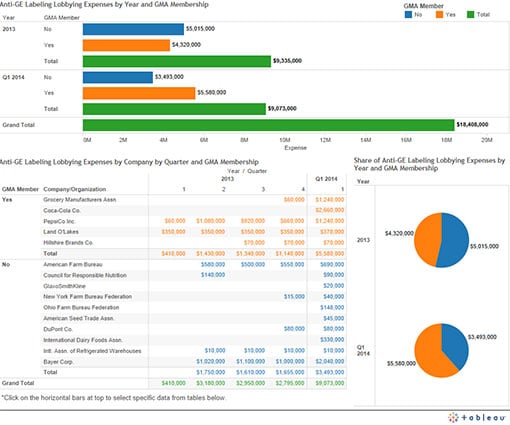 Food industry lobbying in Congress dwarfed that of supporters of GE labeling, who disclosed $1.6 million in lobbying expenditures that made reference to GE labeling in 2013 and just over $400,000 in the first quarter of this year – just one-eighth as much as the opponents. Advocates of GE labeling are supporting legislation introduced by Rep. Peter DeFazio (D-Ore.) and Sen. Barbara Boxer (D-Calif.) that would require GE labeling nationwide.
Several companies that produce genetically engineered seeds and herbicides – including Monsanto, Syngenta and Dow AgroSciences – did not report lobbying specifically on either piece of legislation on their 2013 disclosure forms or in the first quarter of 2014. Instead, their reports …more
(0) Comments
Starting this fall, nuclear power could once again be part of Japan's long-term energy mix
For most of the three-and-a-half years since the accident at Japan's Fukushima Daiichi Nuclear Power Plant forced over 150,000 people from their homes and overturned the broader population's faith in the "myth of nuclear safety," the country's 48 nuclear reactors have stood idle. This is not a sign that Japan has taken a fundamental turn away from nuclear power, as Germany has. Rather, the past several years have been a kind of probation period, during which both government and industry have scrambled to apply the "lessons of Fukushima" well enough to restart at least some reactors with renewed assurances of safety. Now, that is on the verge of happening.
Photo courtesy IAEA ImagebankKyushu Electric, the operator of the Sendai nuclear power plan, claims it has made enough changes to meet new safety standards implemented after the Fukushima disaster.
Earlier this month, Japan's Nuclear Regulatory Authority (NRA) gave a preliminary nod of approval to the restart of the Sendai Nuclear Power Plant in Kagoshima Prefecture, on Kyushu island about 600 miles southwest of Tokyo. The draft decision is in response to an application from Kyushu Electric, the plant operator, claiming it has made enough changes to meet new safety standards implemented after the Fukushima disaster. However, several steps remain before Sendai's two reactors can be turned back on: a month-long public comment period, final approval from the NRA, and agreement from local politicians. All this looks likely to proceed smoothly – which means that by this fall, nuclear power could once again be part of the country's long-term energy mix.
The critical question, of course, is whether Japan has truly grasped the lessons of Fukushima. Is the Sendai plant safe? If an accident does happen, will the local population be able to escape unharmed? Has the government made the institutional changes necessary to even answer those questions competently? Long-time anti-nuclear activist Aileen Mioko Smith argues the answer is "no" on all counts.
"The NRA is not following its own guidelines, and in other areas it hasn't put into place proper regulations. The decision-making process to assure safety is very vague, and who takes final responsibility is completely vague," says Smith, who directs the citizen's organization Green Action Japan. Indeed, NRA chairman Shunichi Tanaka has repeatedly emphasized that his organization's role is not to ensure safety, but merely to …more
(0) Comments
Communities in southeast and southwest Alaska face the highest risk, says NOOA-led report
Keeping Alaska's fisheries wild and sustainable is going to be a serious challenge in the years ahead as our oceans become more acidic, and that in turn, is going put many Alaskans' subsistence way of life at risk, says a new report.
Many of the nutritionally and economically valuable marine fisheries in the state are located in waters that are already experiencing ocean acidification, says the report, "Ocean Acidification Risk Assessment for Alaska's Fishery Sector" that was published online today in the journal Progress in Oceanography.
Photo by Meg J/FlickThe Bering Sea crab fisheries are among the most at risk from ocean acidification.
"How bad is it? The short answer is, we don't know," says National Oceanic and Atmospheric Administration oceanographer Jeremy Mathis, one of the lead writers of the report, which was coauthored by researchers from the University of Alaska and the Woods Hole Oceanographic Institution.
Alaska has one of the most productive commercial fishing economies in the world. The state's fishing industry supports more than 100,000 jobs and brings in roughly $5 billion a year in revenue. Think: pollock, Bristol Bay's famous sockeye salmon, and crab from the Bering Sea. Apart from that, about 17 percent of Alaskans (around 120,000 people) rely on subsistence fishing for most, if not all, of their dietary protein. Fishery-related tourism also brings in $300 million annually.
The state's fisheries management model — with its focus on sustained yields and public participation in the regulatory process — is widely recognized as an example of successful natural resource stewardship. But now climate change is posing new and unknown challenges to this model.
The impact of ocean acidification is far worse in Alaska's waters because the coastal waters here are cold, and cold water can absorb more carbon dioxide, Mathis told the Earth Island Journal. Also, unique ocean circulation patterns in the region bring naturally acidic deep ocean waters to the surface here. The study focused on assessing the impact on Alaska Native communities because "the fisheries really are the lifelines of these communities," Mathis says. "We want to start thinking about the implications and help them figure out what they can do to prepare for what's coming."
The researchers say that red king crab and tanner crab — two important Alaskan fisheries — grow more slowly and don't survive as well in …more
(0) Comments