Go Back: Home > Earth Island Journal > Latest News
Latest News
In Fiji, saving coral reefs is a community affair
When coral ecologist Victor Bonito dove into the warm waters just off Fiji's Coral Coast on a Thursday morning in early February, he noticed some bleaching on a previously healthy patch of reef, but didn't think much of it. The next day, however, he started getting phone calls from several residents of the villages dotting the coast. Dead fish were washing ashore. By Monday, Bonito's phone was ringing like crazy. He went down to a beach near his office in the village of Votua. The sand was lost beneath a blanket of fish – some dead, some still gasping. "I couldn't get into scientist mode," Bonito said, "because everyone was calling, asking if it was okay to eat the fish."
Photo by Victor BonitoVictor Bonito (right) and crew member Mosese Tuiloruma plant live coral grafts in an underwater coral nursery. Traditional fishing practices – like breaking apart coral to flush out fish, or poisoning, or dynamiting – has caused extensive damage to Fiji's extensive coral reef ecosystem.

Over the following days, Bonito and a group of young Votua villagers – who Bonito is teaching to identify, cultivate, and protect the corals in a no-take marine protected area (MPA) – did some dives to assess the extent of the bleaching and die-off. "We had never seen anything like it," Bonito said. He downloaded the latest temperature readings from a digital thermometer he keeps on the reef. In the days leading up to the die-off, temperatures had not dipped below 80 degrees Fahrenheit, a threshold beyond which the health of the Coral Coast's nearshore marine ecosystem would be threatened. But on the day of the die-off, the water temperature reached nearly100 degrees.
El Niño was the culprit. At that moment, sea surface temperatures throughout the tropical Pacific were breaking records. February's Coral Coast bleaching was just a small part of a global pattern that had begun in October 2015. The event, which is still going on, has now become the longest bleaching event since scientists first started monitoring the phenomenon in 1998, when an El Niño-driven marine heatwave killed 16 percent of the world's corals. Researchers are still assessing the extent of this bleaching – and scientists from NOAA have warned that the crisis may actually continue into 2017.
Fiji's coral reef ecosystem is the most extensive in the South Pacific, and the Coral Coast's fringing reef is one …more
(0) Comments
New report finds 200 million people exposed to toxic drinking water
In the 2000 biographical film about a legal clerk who brings a major utility company to its knees for poisoning residents of Hinkley, California, Erin Brockovich ended on a Hollywood high note with a $333m settlement from PG&E. But chromium-6 contamination of America's drinking water is an ongoing battle the US Environmental Protection Agency (EPA) is losing.
Photo by Katherine JohnsonIn their analysis of the EPA's own data collected for the first nationwide test of chromium-6 contamination in US drinking water, the Environmental Working Group report found that 12,000 Americans are at risk of getting cancer.
Nearly 200 million Americans across all 50 states are exposed to unsafe levels of chromium-6 or hexavalent chromium, a heavy metal known to cause cancer in animals and humans, according to a new report released Tuesday by the nonprofit research and advocacy organization Environmental Working Group (EWG).
Today, Brockovich says Hinkley wasn't an isolated event.
"The water system in this country is overwhelmed and we aren't putting enough resources towards this essential resource," Brockovich wrote in an email to the Guardian. "We simply can't continue to survive with toxic drinking water."
In their analysis of the EPA's own data collected for the first nationwide test of chromium-6 contamination in US drinking water, the report's co-authors Dr David Andrews and Bill Walker, senior scientist and managing editor of EWG, found that 12,000 Americans are at risk of getting cancer.
Drinking water in Phoenix, Arizona, has the highest concentration of chromium-6 contamination. Of the 80 water samples taken across the city — water that serves 1.5 million people — 79 showed average concentrations of 7.853 ppb. California scientists have recommended a public health goal of 0.02 ppb, but industry pressure led to the adoption in 2014 of a legal safe limit of 10 ppb.
"More than two-thirds of Americans' drinking water supply has more chromium than the level that California scientists say is safe — a number that's been confirmed by scientists in both New Jersey and North Carolina," according to Walker.
"Despite this widespread contamination, the US currently has no national drinking water standard for chromium-6."
Dr Andrews said: "Part of the reason behind writing this report is really highlighting how our regulatory system is broken — in its ability to incorporate new science, and its ability to publish and update drinking water standards."
Hexavalent chromium is used in a variety of processes: leather tanning, chrome-plating and small …more
(0) Comments
Docs Show Vallejo City Council Members met in Secret to Craft Port, Cement Plant Plan
When Nathan Stout moved to Vallejo, by the San Francisco Bay, he wanted to get involved in the community. So he joined the citizens' commission the city had formed to work on a new general plan. He was inspired by the project's principles — resident involvement in planning, focus on the needs of South Vallejo, the city's poorest neighborhood, and a beautiful, iconic waterfront.
Photo by Patrick NouhaillerInitial plans for the city of Vallejo's new general plan included a proposal to create green promenade along the waterfront in the city's poorest neighborhood.
The citizens' commission presented its vision at a meeting late last year. "We wanted to have open space on the waterfront — a green walkway, a promenade," Stout said. But to the group's surprise, "The city attorney told us we couldn't do that because there was a pending project, so the industrial sites needed to remain industrial."
The members of the General Plan Working Group — and pretty much everyone else in Vallejo — had been kept ignorant of a parallel planning process. Three city council members had been meeting in secret with local business leaders since April 2014 with the aim of getting the US Army Corps of Engineers to dredge a shipping channel between Vallejo and Mare Island, site of a former Navy shipyard. In its first few months, this Mare Island Straits Economic Development Committee embraced a proposal for a massive project to build a deep-water port — Vallejo Marine Terminal (VMT) — and a cement processing plant on the city's south shore.
A toxic project
Residents first got wind of the project when the city quietly issued a draft Environmental Impact Report (DEIR) last September. Longtime Vallejo resident Boudicca Todi recalled, "I read the whole thing and I just started crying. It was so obvious they were targeting this community to put in a toxic project." Meanwhile fellow Vallejo resident Peter Brooks and a few friends got together to read over the report and discuss it. They immediately decided to form Fresh Air Vallejo to fight the project.
There were problems with the cement plant, Todi said, "but VMT is scarier." The VMT proposal lists examples of bulk products the port might handle, such as feed grains, lumber, and steel. "'Such as,'" Todi emphasized. "That should scare anyone!" Vallejo residents were acutely aware that farther down the Bay, residents of Oakland were engaged in a massive battle to prevent their city from becoming a …more
(1) Comments
In Review: When Two Worlds Collide (Documentary)
As members of the Standing Rock Sioux and other tribes confront the Dakota Access pipeline, don't miss Heidi Brandenburg and Mathew Orzel's hard-hitting film about a more violent resistance by Indigenous people south of the border against would-be developers and exploiters.
Photo by Jack Weisman/Yachaywasi FilmsA scene from the documentary showing Peru's Indigenous Amazonian people protesting to save their rainforest.
When Two Worlds Collide is an eye-opening documentary about Peru's Amazonian tribes' struggle to protect their ancestral homeland in the rainforest against the destruction and deforestation wreaked by oil, logging, and other extractive industries acting in cahoots with the government of President Alan Garcia. Their efforts put Peru's indigenous peoples on the frontlines of international eco-activism and puts them on a collision course with the iron heel of the state.
At the heart of this struggle is the aboriginal tribes' campaign to rollback laws passed by the federal government in Lima that overturn Indigenous people's rights to collective ownership of land and water and their resources in favor of exploitation by for-profit private developers. Amazonian activists contend up to 102 laws in Peru are unconstitutional and demand that they be repealed — in particular the despised forestry law, number 1090. Ignored by the legislature, where tricky parliamentary maneuvers are pulled to outfox opposition party representatives and negotiations lead to a road going nowhere, Native freedom fighters resort to roadblocks, occupations, and other civil obedience tactics.
At the vortex of this mass movement is Alberto Pizango, a Peruvian Indian who attended university, became a teacher and then leader of Native rights' groups, including the Interethnic Association for the Development of the Peruvian Rainforest (AIDESEP). As the film's protagonist Pizango makes a compelling character study. In some ways Collide harkens back to the early Soviet revolutionary cinema of VI Pudovkin, that depicted the dynamic interplay between individuals and causes, as in Pudovkin's 1928 Storm Over Asia (which also dealt with Native people fighting outsiders).
The Amazonian cauldron boils over in June 2009 when militarized Special Forces Police wearing helmets (look for cinematic metallic reflections) and camouflage uniforms, riding in armored vehicles and choppers, clash with demonstrators. All hell breaks loose as protesters are shot and policemen killed (some by spears). Perhaps in retaliation, at a Petroperú(the state-owned petroleum company) pumping station, up to 38 outnumbered law enforcers are taken hostage and then executed.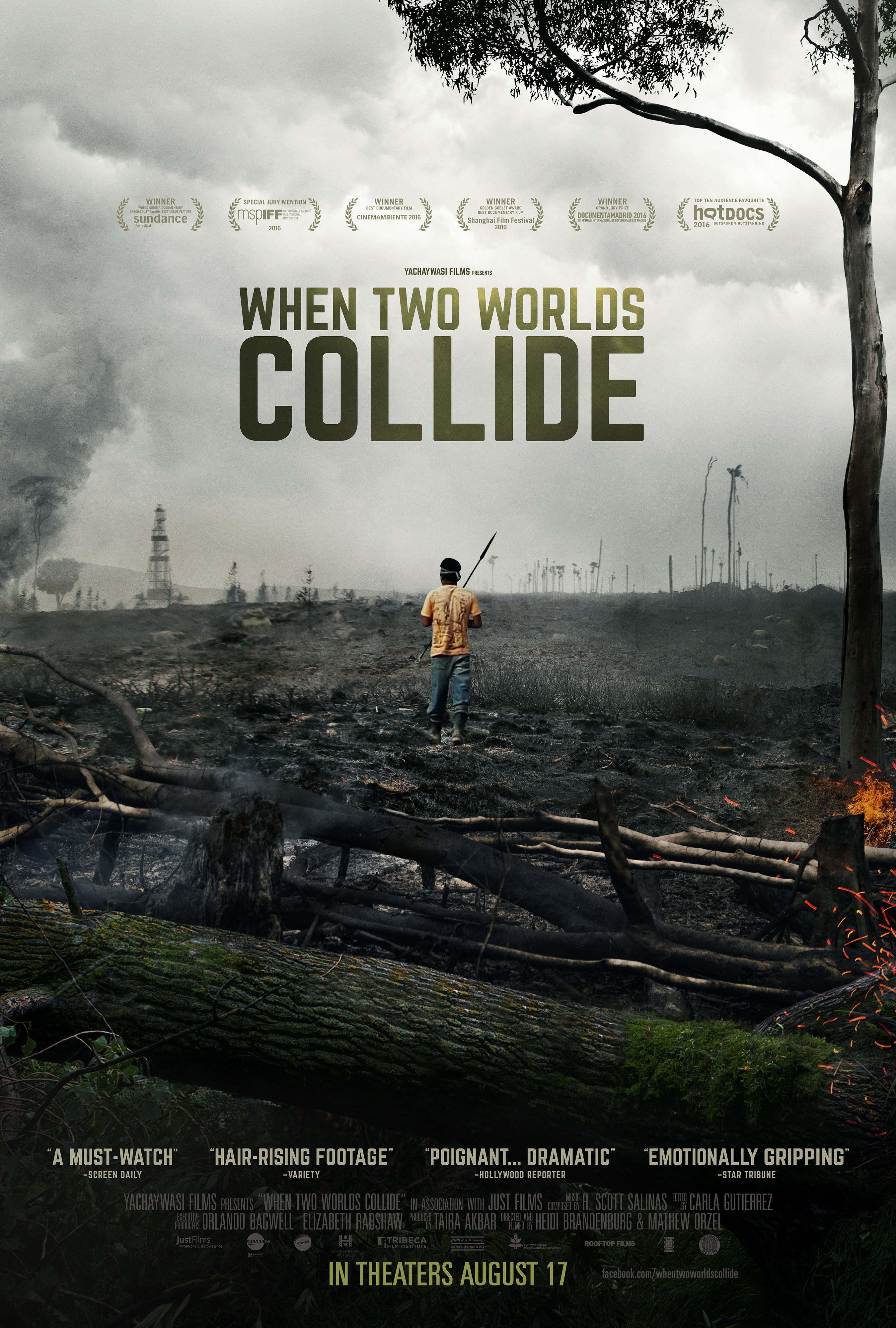 Presumably Bandenburg and Orzel had access to TV …more
(0) Comments
State's 800,000 farmworkers will be eligible for time-and-a-half pay after 40 hours of work a week phased in over four years
Farmworkers in California are celebrating this week after governor Jerry Brown signed a new law on Monday entitling them to the same overtime pay as most other hourly workers in the state.
Photo by Bob NIchols/USDAMigrant workers harvest corn on Uesugi Farms in Gilroy. California is the first state to introduce overtime pay for farmworkers. It's unlikely that the rest of the country will rush to implement similar legislation.
California, the largest producer of agricultural goods in the country, is the first state to introduce time-and-a-half pay for farmworkers after eight hours of work a day, or 40 hours a week.
But while it's a landmark decision in California, it's unlikely that the rest of the country will rush to implement similar legislation since most other states don't have any overtime laws in place pertaining to farmworkers, said Ross Pifer, director of Pennsylvania State University's agricultural law center.
"Agriculture will be watching this and will take note of it," he said. "But if they didn't follow California in implementing those overtime limits, I'm not sure they're going to be following them now."
However, it's possible the new law could affect neighboring states that have similar agriculture to California, Pifer added.
"Arizona, for example, has extensive fruit and vegetable production and relies heavily on farmworkers to produce these labor-intensive crops," he said.
A few other states including Hawaii, Maryland and Minnesota do offer overtime protection to farmworkers, but not after eight hours of work, said Veronica Wilson, partnerships director at the UCLA Labor Center. Most other states and federal law don't cover overtime pay.
"When you're talking about raising the wage and hour protections floor, it's an uphill battle, but we just won in the biggest farmworker state in the country, and that bodes well for workers across the nation," said Wilson.
California's more than 800,000 farmworkers are currently entitled to overtime pay after working 10 hours in a day, or 60 hours a week. The new rules will be phased in over a four-year period starting in 2019. They will be in full effect for the majority of businesses by 2022, and by 2025 for companies with 25 or fewer employees.
A similar proposal in June fell short of the three votes it needed to pass.
"It's a truly historic change for farmworkers in California," Arturo Rodriguez, president of the United Farms Workers, the union that sponsored the bill, told the …more
(0) Comments
A local university is leading the charge in transforming the food system in Washington DC
"Nature will be just fine. The question is whether it'll be just fine with us or without us. Nature might just decide to jettison us." So says Sabine O'Hara, dean of the College of Agriculture, Urban Sustainability and Environmental Sciences (CAUSES) at the University of the District of Columbia (UDC) to a class of eager area residents who have come to learn about sustainable urban farming. Through CAUSES, O'Hara is working to transform every aspect of the food system in Washington, D.C. – from cultivation, preparation, and distribution to food waste management – in a way that provides food security for city residents but does not compromise Earth's systems or the ability of our species to survive. As impossible as this sounds, CAUSES may just offer a model for creating sustainable urban food systems in the constrained future ahead.
Photo by Erik Assadourian. Swiss chard growing in UDC's rooftop farm.
Cultivating a New Urban Food Path
While cultivation is just one component of the food cycle, it is perhaps the most visible one, and CAUSES has experimented with a wide variety of techniques to get as much food as possible out of the high-priced landscape of the nation's capital. As O'Hara explains, "We are not a city like Baltimore or Detroit where urban agriculture is the new big thing. D.C. is not emptying out, like it is there. D.C. is growing by a rate of 1,500 per month."
Right on campus is the largest rooftop farm in the city – 20,000 square feet – growing plump Cherokee Purple heirloom tomatoes and crisp red-stemmed Swiss Chard along the edges (areas of the roof that have the structural integrity to handle larger crops) as well as greens, flowers, and sedum in the interior sections (for insulation and water capture benefits). Much of this rooftop produce – grown mostly by volunteers – gets distributed to UDC's faculty and staff through a community-supported agriculture program and to D.C. food banks as donations.
Photo by Erik Assadourian. Hoop house at UDC's Firebird Farm.
Sustainable Agri-experiments
Beyond the campus, at the end of the Green Metro Line, is the 143-acre Firebird Farm. Here UDC is experimenting with a wide selection of crops and techniques to sustainably provide food for a growing city: 1.5 acres of sweet potatoes, an Asian pear orchard, a more-sustainable dryland rice variety, a cluster of half-acre allotment gardens available to entrepreneurial D.C. residents. There's even a …more
(0) Comments
Standing Rock water protectors on what they are standing up for
Over the past month, members of more than 100 tribal nations from across the continent have gathered at the edge of the Standing Rock Indian Reservation in North Dakota in opposition to the Dakota Access Pipeline. Over 1,000 people are now camped a few miles south of where the proposed pipeline will cross the Missouri River, the main source of water for the reservation.
Photo by Devin CurrensThe flags of the American Indian Movement (AIM) and Standing Rock Reservation fly high as protectors march along the highway.
The $3.8 billion Dakota Access Pipeline will bring fracked oil from the Bakken shale deposits across four states to Patoka, IL, where it will connect with existing pipeline infrastructure. The proposed route for the pipeline is roughly seven miles shorter than that of the infamous Keystone XL pipeline that Obama rejected last year.
On September 3, a private security company hired by the company behind the pipeline (Energy Transfers Partners) used pepper spray and attack dogs on those attempting to non-violently halt the destruction of documented burial grounds and sacred sites. Six people were bitten by dogs, including a young girl and a pregnant woman.
On September 9, a federal judge rejected the tribe's request for an injunction that would halt construction. Minutes later however, the Department of Justice, Army Corps of Engineers and Department of Interior released a joint statement temporarily barring construction under the Missouri River and requesting that "pipeline company voluntarily pause all construction activity" in the immediate area, while the Army Corps reconsiders its previously issued permits.
The struggle against this pipeline is far from over.
Native people and allies continue to arrive at the camps where the Cannonball River meets the Missouri. They remain committed to non-violent direct action.
Photo by Devin CurrensYouth playing football on the edge of camp. The Missouri River is in the distance.
Ladonna Tamakawastewin Allard,
Cannonball, North Dakota
I am the owner of Sacred Stone camp. I own the land here, this is my family's land.
In 2014, I was invited to a meeting where Dakota Access came to the tribe to tell them about a proposed pipeline. They had a big map, and I noticed I'm the closest land owner. Nobody told me they were going to build a pipeline outside my home.
At the end of the meeting I remember one of these ladies from Dakota Access — I walked …more
(0) Comments