Go Back: Home > Earth Island Journal > Latest News
Latest News
Communing with nature high up in a redwood canopy
I grew up among the redwoods. My parents' house is nestled in a unique Bay Area neighborhood built among these giant trees. Redwood roots burst through the concrete roads and sidewalks, and branches shade the narrow streets that have been paved around their trunks.
Photo by Steve LillegrenUp in the redwood canopy.
Yet for all the time I've spent among these bold, towering trees, the idea of scaling up to the top of one never crossed my mind. That changed a few weeks ago when I found myself climbing a 200-plus foot redwood in the Santa Cruz mountains, and now I can't help but wonder when I'll have a chance to climb another one.
I made my ascent with Tree Climbing Planet, an Oregon-based company that offers tree-climbing courses to beginners and experienced climbers alike. Tim Kovar, founder and master climbing instructor, had his own dramatic introduction to recreational tree climbing, though it didn't involve redwoods.
Working as an arborist back in the '90s, Kovar was invited to a tree climb hosted by Tree Climbers International, the world's first school and organization for recreational tree climbers. Prior to the climb, he "wasn't aware of people out there climbing trees for fun." When he arrived, he found people of all different ages and backgrounds eager to get into the trees. In particular, he was struck by two older women joining the climb. "I'm in awe," he says, referring to that day. "They are tapping into their inner child… They hadn't climbed a tree in 60 years, and had assumed they wouldn't climb a tree again in their life."
He was also touched by the quick connections people made with one another, as they shared their stories about climbing trees as children. "I'm on the ground," he explains, "and internally I'm in tears, because I've never seen this type of camaraderie." From then on, Kovar was hooked.
Photo by Steve LillegrenKovar leads a group of climbers as they begin their ascent in an adjacent tree.
Kovar's passion for tree climbing came across as we prepared for the climb in the yard of a private residence in the hills. And his calm demeanor undoubtedly helped the rest of …more
(0) Comments
More than 45,000 people support bill restricting use of rodenticides that have harmed people and animals
A coalition of 57 conservation, public-health, research and wildlife-rehabilitation groups, the city of Malibu, Mayor of Richmond, Marin County, and more than 45,000 people have called for prohibitions on the most toxic rat and mouse poisons because of the unnecessary risk to wildlife, pets and children.
Photo by Diana JacobsA coalition of conservation groups and municipalities have called for prohibitions on the most toxic rodenticides.
The coalition will hold a rally this afternoon at the state Capitol in Sacramento urging support for Assembly Bill 2596, introduced by California Assemblymember Richard Bloom (D-Santa Monica), and calling for an end to the misuse of toxic rodenticides. The bill would restrict use of the most dangerous rodenticides that have been linked to the poisoning of people and animals in cities and communities across California.
"I am very aware that too many of our native wildlife, especially bobcats and mountain lions, have become severely ill and in many cases died after eating smaller animals in the food chain that were needlessly poisoned by rodenticides," said Senator Fran Pavley (D-Agoura Hills), chair of the California Senate Natural Resources and Water Committee and supporter of the bill. "Toxic-free alternatives are available. We can do better through the adoption of better management practices, elimination of the sale of rodenticides and the marketing of safer alternatives."
Anticoagulant rodenticides interfere with blood clotting, resulting in uncontrollable bleeding that leads to death. Second-generation anticoagulants — including brodifacoum, bromadiolone, difethialone and difenacoum — are especially hazardous and persistent in body tissues. These slow-acting poisons are often eaten for several days by rats and mice, causing the toxins to accumulate at many times the lethal dose in their tissues, which subsequently results in the poisoning of non-target animals that feed on their carcasses. Although California consumers can no longer use second-generation poisons, the pest control industry uses them widely.
Steps taken by the state of California and the US Environmental Protection Agency in recent years to place greater restrictions on consumer use of dangerous rodenticides have not been effective in curbing wildlife poisoning. At least 26 California cities and counties have also passed resolutions urging the public and pest-control operators to avoid the most harmful rodent poisons, including San Francisco, Richmond, Malibu, Simi Valley, Thousand Oaks, …more
(1) Comments
Meanwhile, chemical industry's own research indicates that "safer substitutes" are also potentially hazardous
New information emerged last month about toxic contamination from chemicals used to manufacture Teflon pots and pans and many other consumer, military, and industrial products. Water tests in several states have revealed a growing number of sites where the groundwater is polluted by the most well studied of these chemicals — C8 or PFOA — prompting calls from a group of state governors for federal action.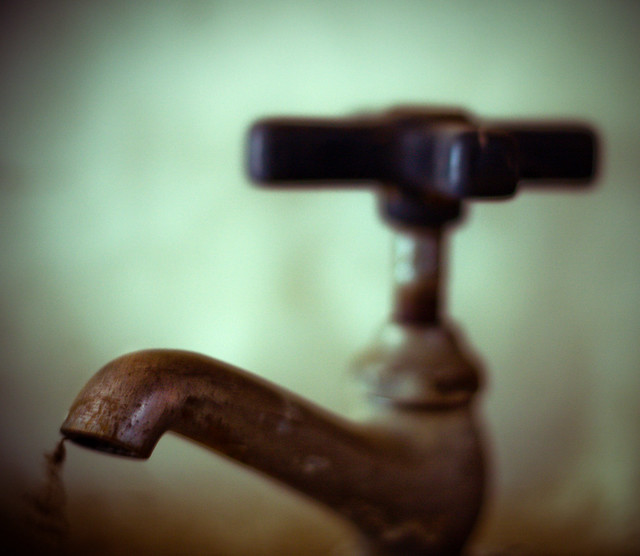 Photo by Rick HarrisState officials want the Environmental Protection Agency to issue federal guidelines on how to understand the hazards of PFCs and how best to respond when water pollution is discovered.
Meanwhile there are new indications that another perfluorinated chemical (PFC), heavily promoted by chemical manufacturers as a safer substitute for C8, is also toxic and just as persistent in the environment as C8, raising questions about the adequacy of a voluntary C8 phase-out agreement promoted for the past decade by the Environmental Protection Agency.
First created in a lab in 1947, C8 has managed to spread extraordinarily far and wide. Built from one of the strongest bonds in organic chemistry, the tie between carbon and fluorine atoms, the chemical that acts as a surfactant was, until recently, used not just in Teflon cookware, but in hundreds of other consumer products including fast food wrappers, waterproof clothing, electrical cables, and pizza boxes.
As with many other PFCs, C8 is impervious to breaking down or biodegrading. It can also accumulate in the human body over time and has been linked to at least six serious health conditions, including kidney cancer, ulcerative colitis, and thyroid diseases. According to the Centers for Disease Control, the chemical can now be found in trace amounts in the blood of roughly 98 percent of Americans.
Ongoing legal battles surrounding C8 contamination by a former DuPont plant in West Virginia have drawn renewed attention to the risks associated with the chemical. (Read "Teflon's Toxic Legacy," our in-depth report on how DuPont hid information that C8 was making people sick.) And now this toxic chemical is being found at potentially hazardous levels in places ranging from small New Hampshire towns to the lead-laced waters of Flint, Michigan.
In New York's Hoosick Falls, where in 2014 local authorities refused to conduct tests until one …more
(0) Comments
Massive infrastructure project would starve bay of fresh water, harm wildlife
Should local salmon be pushed to extinction? Should some Bay Area residents pay much higher water bills? Should San Francisco Bay be contaminated with toxic pollutants?
Photo by Vlad Butsky The proposed water tunnels would harm San Francisco Bay's birds, fish, and the entire bay ecosystem.
My guess is that Bay Area residents would answer these questions with a resounding "no," but these scenarios will become reality if the two 30-mile water tunnels proposed by Governor Jerry Brown are built.
The tunnels have a new name since they were first proposed in in 2012: the California Water Fix. These massive tunnels would divert more fresh water from the Sacramento River for transport to the Central Valley and southern California, mostly to be used to grow crops for export. But even under the new name, they would still cause major harm to the San Francisco Bay, and to the recreation, jobs, and wildlife that depend on a healthy bay.
The Sacramento and San Joaquin Rivers both flow to the delta. The delta, in turn, flows to San Francisco Bay. The mix of fresh water with ocean water that flows in from the Golden Gate makes the bay ecosystem a rich environment for birds, fish, seals, sea lions, and other wildlife.
The fresh water that San Francisco Bay receives is critical to maintain the delicate balance of the bay's ecosystem. But for decades, massive amounts of fresh water have been pumped from the delta for use locally and farther south in the state. So much fresh water is already being taken that there's not enough to protect the bay ecosystem and the wildlife that depends on it.
The proposed tunnels would further starve the bay and delta of fresh water. The proposal would cause an increase in toxic algae that can be lethal to wildlife. Concentrations of pollutants like mercury and selenium in the bay, which are already high enough that people are warned not to eat certain fish caught in bay waters, would rise even higher. Scientists predict that several species of native fish would go extinct.
Local jobs would also disappear. According to the Pacific Coast Federation of Fishermen's Associations, local salmon would face extinction, threatening thousands of jobs that depend on healthy salmon runs.
Global climate change could make …more
(1) Comments
Like everywhere else, fighting oil and gas in Florida now means taking on big pipeline projects
The national fight to stop the frack attack has brought people together from California to Pennsylvania, New York to Texas, and Michigan to Maryland. Now, in the throes of a highly divisive presidential election, the national energy debate is raging like never before.
Photo by NPSFlorida's Big Cyprus National Preserve, where Burnett oil company is pushing for expanded oil and gas exploration.
As a perennially contested swing state, Florida's decision on whether to pursue more oil and gas development — or instead prioritize protection of land, water, air, and wildlife — is reverberating far and wide.
Florida only has about a dozen active oil and gas fields and ranks very low among oil and gas producing states. But drillers have set their sights on using new technologies to access more resources and develop new ones.
In response, activists have organized to call for drilling restrictions and a fracking ban. They scored a big victory on March 1, when Florida's state legislators abandoned an effort to pass Senate Bill 318 that would have led to new regulations on hydraulic fracturing and possibly acidizing techniques. It would have opened the door to drilling statewide, even in the internationally significant Everglades National Park and other fragile and unique natural environments. It also would have effectively prohibited municipalities and counties from banning fracking (an attempt to follow the lead of Texas and Oklahoma).
In January, a coalition of environmental groups, including Earthworks, continued the fight against the Burnett oil company's proposal to use seismic testing to explore for more oil and gas in Big Cypress National Preserve. Big Cypress is home to the endangered Florida panther and many other unique, at-risk animals and a critical water supply for the Everglades.
We submitted detailed, comprehensive comments demonstrating that the company had barely considered impacts on animals, plants, and water or provided sufficient, credible information to back up their "no risk" claims. This view was echoed by thousands of people across Florida and nationwide who told the National Park Service that a full environmental impact statement (EIS) is necessary. In late January, US Senator Bill Nelson of Florida also called on the Interior Department to conduct a full EIS.
Like everywhere …more
(0) Comments
Nanticoke Solar is a joint venture by First Nations business leaders and renewable energy companies
One would be hard-pressed to find a more symbolic victory for clean energy than a solar farm taking up residence inside the former home of one of the largest coal-fired power plants in North America. That's what is happening, on the shores of Lake Erie in Ontario, Canada.
Photo by JasonParisThe Nanticoke Generating Station, which is being converted to a solar farm.
At one time, the Nanticoke generating station was producing a staggering 4,000 megawatts of energy and was one of the country's largest greenhouse gas emitters. The plant was officially decommissioned in 2013, part of a long process to shutter all coal-fired plants in the province — a goal that was accomplished in 2014.
Now, in a move that unites local First Nations business leaders and renewable energy companies, the mothballed site will soon be home to a solar farm called Nanticoke Solar. The new project is a joint venture of Sun Edison Canadian Construction and the Six Nations of the Grand River Development Corporation.
The facility — located in Haldimand County on four separate parcels of land including a former coal pile — is expected to generate 44 megawatts and utilize the transmission wires already in place. The plant's capacity, is just a little over one percent of the some 4,000 megawatts the former coal plant used to generate, but it's part of Ontario's larger effort to replace coal with renewable energy sources.
Currently, the province of Ontario meets the majority of its energy needs through nuclear and hydroelectric generation. Clean energy sources — wind, solar and bioenergy — provide just six per cent of the province's energy demand. Unlike most Canadian provinces, Ontario's emissions are on the way down — already at six per cent below 1990 levels. The long-term goal of the province's climate change strategy is an 80 per cent reduction in 1990 emission levels by 2050.
Nanticoke Solar is one of 16 new renewable energy projects announced by Ontario's Independent Electricity System Operator that in total could generate 455.885 megawatts of renewable energy including five wind, seven solar and four hydroelectric contracts. Of the new projects announced, 13 involve participation from Aboriginal communities.
"Six Nations has been involved in renewable energy for quite some time," says Matt Jamieson, the president …more
(0) Comments
Nearly a trillion dollars may be wasted on supporting the dying coal industry, says new report
Nearly a trillion dollars — $981 billion to be exact. According to a report released today, that is the estimated amount that could be spent on the global coal plant pipeline. It is also more than one-and-a-half times the cost to end energy poverty according to the International Energy Agency's (IEA) Energy for All Case.
photo by Gavin Fordham, on FlickrMajuba Power Station in South Africa. Constructing all proposed coal plants would cost $981 billion, more than 1.5 times the amount need to end energy poverty for 1.2 billion people.
But instead of solving a global crisis, those trillion dollars may go down the drain, supporting potentially stranded assets in the dying coal industry.
Today's report, released by the Sierra Club, CoalSwarm, and Greenpeace, is an update to last year's report on new and proposed coal plants worldwide. Last year, we found an industry in peril, with two proposed plants shelved or canceled for every one completed. The news isn't any better for the industry this year.
Worldwide coal use has dropped for the past two years, but the industry continues to ignore this trend and build new coal plants. This is not surprising, given that no industry wants to admit it is obsolete, but the staggering lack of foresight will only accelerate the collapse of coal. Nowhere is this more evident than in China, which is still building new plants even while use of its existing fleet has fallen below 50 percent. And China is not unique. We are seeing utilization rates fall among big coal consumers, including the European Union, the United States, and India.
Graph from page five of this year's report
Coal generation was previously tied closely to coal capacity, and knowing how much power could be generated from coal used to be a good way to estimate how much energy would be generated from coal. Not anymore. With utilization rates plunging, investments in new capacity could quickly turn into stranded assets – and investors know it.
Big banks like JPMorgan Chase, Bank of America, Citigroup and Morgan Stanley are backing away from coal. In Indonesia, the world's largest exporter of coal, mining companies are asking for public subsidies and a …more
(0) Comments