Go Back: Home > Earth Island Journal > Latest News
Latest News
Study first to show that harmful chemicals from natural gas operations are contaminating bodies of Pavillion, Wyoming residents
Many of the toxic chemicals escaping from fracking and natural gas processing sites and storage facilities may be present in much higher concentrations in the bodies of people living or working near such sites, new research has shown.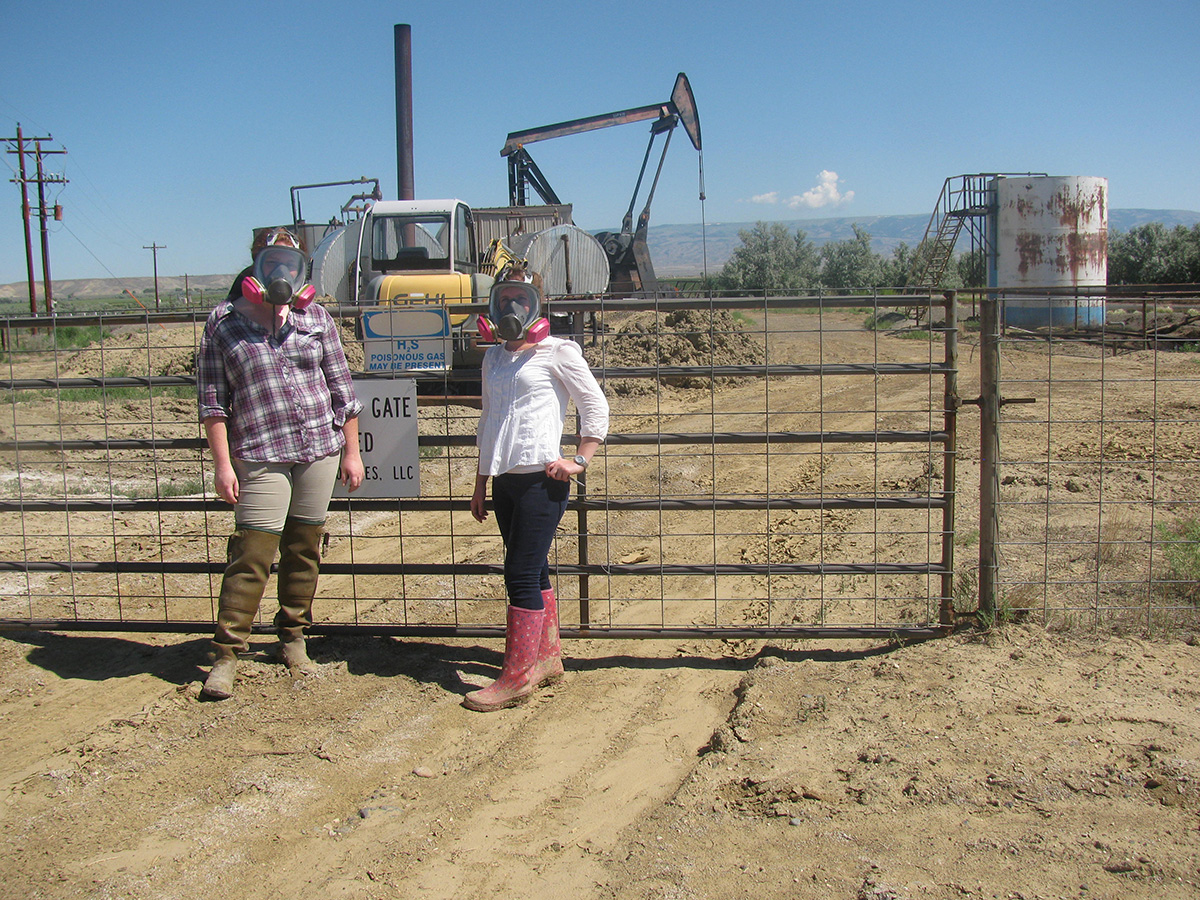 Photo by courtesy of Coming CleanThe study found traces of volatile organic compounds such as benzene and toluene are linked to chronic diseases like cancer and reproductive and developmental disorders.
In a first-of-its-kind study combining air-monitoring methods with new biomonitoring techniques, researchers detected volatile organic compounds (VOCs) released from natural gas operations in Pavillion, Wyoming in the bodies of nearby residents at levels that were as much as 10 times that of the national averages.
Some of these VOCs such as benzene and toluene are linked to chronic diseases like cancer and reproductive and developmental disorders. Others are associated with respiratory problems, headaches, nosebleeds, and skin rashes.
"Many of those chemicals were present in the participants' bodies at concentrations far exceeding background averages in the US population," notes the study, titled "When the Wind Blows: Tracking Toxic Chemicals in Gas Fields and Impacted Communities," which was released last week.
Some residents of Pavillion have for years been concerned about the rise in health issues that they suspected were connected to emissions from the gas production activities. This tiny town of less than 250 people has been at the center of the growing debate on fracking since 2008 when locals began complaining that their drinking water had acquired a foul taste and odor back in 2008.
In 2014, air monitoring data showed some toxic chemical emissions at oil and gas sites in Wyoming were up to 7,000 times the "safe" levels set by US federal environmental and health agencies. In March of this year, Stanford University researchers found evidence that fracking operations near Pavillion were contaminating the local groundwater.
Now this new study, conducted by researchers with the national environmental health organization Coming Clean, establishes clearly that at least some of these harmful chemicals are making their way into the bodies of nearby residents.
The study focused on measuring ambient levels of a specific family of VOCs named BTEX chemicals — which include benzene, toluene, ethylbenzene, and xylenes — because these chemicals are known to be hazardous to human health even at low levels. Researchers then used new biomonitoring methods to detect these chemicals in 11 local residents who volunteered to …more
(0) Comments
First update in 40 years to key law regulating chemicals in the US greeted with cautious optimism
At a White House ceremony yesterday, President Obama signed into law legislation updating the United States' main chemical safety law for the first time in 40 years. The new law revises the Toxics Substances Control Act (TSCA), which gives the Environmental Protection Agency (EPA) authority to regulate the tens of thousands of chemicals used commercially in the US.
Photo by soikkoratamo/FlickrThe new Toxic Substances Control Act will not interfere with state-level chemical regulations or actions that were in place as of April 22, 2016, inclding laws in Massachusetts and New York state laws that have been instrumental in limiting hazardous chemicals in toys.
The Frank R. Lautenberg Chemical Safety for the 21st Century Act – as the new TSCA law is formally called to honor the late Senator Frank Lautenberg who championed its cause — was years in the making and is designed to enable the EPA to better protect Americans from exposure to hazardous chemicals – including many used in consumer products.
"So this is a really significant piece of business," Obama said at the signing ceremony.
"Here in America, folks should have the confidence to know that the laundry detergent we buy isn't going to make us sick, the mattresses our babies sleep on aren't going to harm them." He pointed out that the law would "make it easier for the EPA to review chemicals already on the market, as well as the new chemicals our scientists and our businesses design."
Approved overwhelmingly by Congress and with bipartisan support, (there were only 12 nay votes – about half of those from Democrats who wanted a stronger bill) the bill is being welcomed by the chemical industry and environmental groups alike. While a number of environmental advocates are withholding full support — citing their wish for a bill more protective of public health — even they consider this an important step forward.
Yet questions remain about how effectively the EPA will actually be able to act under the reformed TSCA, particularly given the enormous number of chemicals already out there that lack safety data.
What the old TSCA didn't do
When it was passed and signed into law in 1976 by President Gerald Ford, TSCA was seen — along with the other landmark environment laws passed in the 1970s — as a significant step toward reducing Americans' exposure to toxic chemicals. …more
(0) Comments
National trails enrich our relationship with national parks
Our collective love for National Parks — "America's best idea" — has unfolded over many generations and touched millions of hearts. This summer's centennial of the National Park Service has invited us all to look back with gratitude and to envision the next 100 years. Looking ahead, we should expand opportunities for everyone to have direct contact with our parks. With that in mind, we'd like to introduce a powerful idea — that linking our national parks and national trails can allow for an even deeper experience of our beloved public lands.
America's trails elevate the experience of visiting our parks to something beyond just driving through a gate and taking in the views. Our parks contain countless special places that naturally evoke elation, awe, and solace in visitors. Trails are the fundamental medium to explore these places with intimacy, thus deepening our relationship with parks.
Photo by Asaf antman/FlickrThe Pacific Crest Trail travels through six different national parks during its 2,650-mile journey from Mexico to the Canadian border. Whether it's a thru-hiker's multi-month sojourn or a day-hiker's afternoon of peace, insight, and delight, trails connect us all to the land.
Our first 100 years with national parks was about building a vast inventory and establishing our collective affection for them. The next 100 years must be about expanding and deepening our relationship with national parks and all manner of public lands.
In 1917, the National Park Service's first full year of operation, 101 million people lived in the United States. In that same year, national park visitors totaled less than half a million, or 0.45 percent of the country's population. Our relationship to our parks unfolded slowly at first, but during the 20s and 30s a colorful courtship emerged. Aesthetic champions like Ansel Adams and the iconic illustrated posters of western parks, beckoned us to "See America".
By World War II, the percentage of us visiting National Parks had increased over thirty-fold, reaching 15 percent of the national population. Our desire for national park experiences was but whetted.
For 40 consecutive years, national park visitation increased virtually uninterrupted. From 1946 to 1986, visitation swelled from 15 percent of the American population to 17 percent more than the national population. Our relationship with our parks thrived. The intensity of the honeymoon peaked in 1987 when we reached a crest of 119 percent …more
(0) Comments
185 killings, 40 percent of those murdered were from indigenous groups, says Global Witness report
I recently received an email alert that the life of Indigenous environmental and human rights defender Gloria Ushigua was at risk. The report outlined the "escalating intimidation of and harassment against" Ushigua, the coordinator of the Sápara women's organization, Ashiñwaka, who has been defending her community's land against against private and state-owned companies seeking to exploit oil deposits in Sápara territory in the Ecuadorian Amazon.
Photo courtesy of Associacion LupunaAn outspoken opposer of oil drilling in the Ecuadorian Amazon, Indigenous Sápara activist Gloria Ushigua's life is under extreme threat.
"On 31 May 2016, five men sat outside Gloria Ushigua's home throughout the night, in what appeared to be an act of intimidation against the human rights defender," read the June 9 message from the watchdog group Frontline Defenders. "This follows another act of intimidation against her niece on 26 May 2016 and the killing of the human rights defender's sister-in-law, Anacleta Dahua Cují, on 2 May 2016." The Dublin-based group that works to protect frontline activists at risk thinks that the real target for the murder was Ushigua and that the assailants killed Dahua Cují by mistake.
Ushigua, as we know, isn't the only environmental activist whose life is on the line. Across the world, environmental activists defending their land, forests, and rivers against large dams, mining, logging, oil drilling, industrial agriculture, and other extractive industries are increasingly faced with the specter of death on a daily basis.
According to "On Dangerous Ground," a new report released by Global Witness yesterday, 2015 was the deadliest year on record for frontline environmental defenders. The watchdog group that exposes the economic drivers behind environmental destruction, documented 185 killings across 16 countries last year — a grim increase of nearly 60 percent from just a year earlier and an average death rate of more than three people per week.
The worst hit countries in 2015 were Brazil,with 50 murders, followed by the Philippines where 33 activists were killed, and Colombia, which witnessed 26 killings. Conflicts over mining were the number one cause of killings in 2015, with agribusiness, hydroelectric dams, and logging also key drivers of violence.
More often than not the victims of this violence are grassroots activists and Indigenous leaders like Ushigua, who are fighting to save the only homes they know. The report says that in 2015, nearly 40 percent of those killed were from indigenous groups.
Isídio Antonio, one of the latest victims in Brazil's Amazon, …more
(0) Comments
Funding tensions, water pollution slow down the most ambitious ecosystem restoration plan in the world
The Everglades is a stunning tropical wetland ecosystem in southern Florida that once stretched nearly 3 million acres from just below the city of Orlando all the way down south to the Florida Bay. It is also, however, one of the most threatened ecosystems in the world, the only UNESCO World Heritage site in the United States that is listed as in danger. In recognition of the immense impact the continued degradation of the Everglades would have on humans and wildlife, the region is now also the focus of one of the most ambitious ecosystem restoration plans the world has ever seen.
Photo by Chauncey Davis The Everglades is under severe stress due to the diversion of much of its original freshwater flow.
The Everglades supports wildlife and humans alike. Fifty-six threatened or endangered species, including the Florida panther, the West Indian manatee, the snail kite, and the wood stork, depend on it for survival, and it's the main source of drinking water for more than 7.7 million South Florida residents. Twenty percent of the original Everglades ecosystem has been protected within Everglades National Park.
But the Everglades is under severe stress due to the diversion of much of its original freshwater flow. This freshwater comes from the Kissimmee River, just outside Orlando which discharges into Lake Okeechobee, a vast and shallow lake that overflows during the wet season forming a 60 mile wide and 100 mile long slow-moving river dominated by sawgrass marsh that flows into the Florida Bay.
In the early 1900s, the Army Corps of Engineers began building a network of water control structures to divert millions of gallons of freshwater from the Everglades, in part to save small towns in the region from flooding during the wet season. Local towns and municipalities, too, dug canals and built levees in order to dry out the marshlands, allowing agricultural and land development interests to appropriate large areas of the Everglades for their own needs.
The diversions — which interrupted the natural flow of the freshwater and forced it to flow directly to coastal towns and cities instead of passing through the Everglades — caused several areas of this unique ecosystem to dry out. As a result, the Everglades is now less than half its original size. 1,800 miles of canals and dams break it up. Meanwhile, nutrient pollution from agricultural runoff and drainage from human habitations, the proliferation of exotic species like Burmese pythons and the Australian …more
(10) Comments
Proposal to rewild cats across England and Scotland moves forward in the British Isles
A wildlife group in the UK is putting forward a case for bringing wild cats back to the British countryside as part of a long-term rewilding proposal, igniting a debate about the merits, and risks, of reintroduction.
The nonprofit Lynx UK Trust has led the charge for reintroduction of the Eurasian lynx, which disappeared from the UK more than 1,000 years ago due to hunting, trapping, and deforestation. The trust has proposed reintroduction of 18 lynx, and is examining potential locations in Aberdeenshire, Argyll, Northumberland, Cumbria and Norfolk counties. Under the trust's proposal — which will be submitted to environmental agencies in both England and Scotland — lynx could be released as early as next year. They would be observed and monitored for their social, economic, and environmental impacts throughout the five-year trial.
Photo by Tambako The JaguarLynx have been absent from the UK countryside for more than 1,000 years, but if the Lynx UK Trust is successful in its efforts, they may soon be reintroduced.
The Lynx UK Trust has launched its own public consultation process surrounding the rewilding project, and has relied on research by AECOM, an infrastructure and environmental services company, to assess the benefits of reintroduction.
The trust believes that reintroduction will improve ecosystem health. In particular, lynx would prey on deer which would help control deer populations and decrease overgrazing. Reduced overgrazing would, in turn, allow for forest regeneration and improved habitat for other wildlife.
AECOM's research also indicates that reintroduction would increase eco-tourism in the British countryside, and would result in hundreds of new jobs during the trial reintroduction period, and tens of millions of pounds in eco-tourism revenue over a 25-year period. AECOM estimates that for every £1 spent on the reintroduction scheme, £47 will be returned to the UK economy. Some expect that the increased interest in eco-tourism, in turn, will have an impact on local attitudes toward the environment more generally, as residents will become more aware of how their actions alter their surroundings and the habitat of lynx.
But the project is motivated by more than just economic incentives. Jonny Hughs, chief executive of the Scottish Wildlife Trust, which supports the reintroduction project, has suggested that rewilding efforts are closely related to the heart of the conservation movement more generally. "Many, but not all, humans have an empathy with nature — they inherently feel a sense of responsibility to care for other …more
(0) Comments
An artist uses her creativity to fight the construction of natural gas pipelines
In June 2015, ecological artist Aviva Rahmani installed an unusual work of art in a forest in Peekskill, New York. She and several dozen volunteers used non-toxic paint to create blue sine waves, the symbol for sound waves, on trees that stood in the pathway of a proposed natural gas pipeline. It would pass within 105 feet of the Indian Point nuclear power plant and carry the fuel under the Hudson River to within 30 feet of New York City. Each painted tree signified a different note. When strung together, they became the overture of a symphonic score by Rahmani named Blued Trees.
Photo by Jack Baran.Volunteers painting one of several 1/3 mile Blued Trees measures, in Rensselaer County, New York.
"When I looked at [maps of] the proposed pipeline, the first thing I thought of was musical lines," Rahmani says. "I've had a great interest in music my whole life." The 70-year-old, however, hoped that her creation—installed on private land with the owner's permission—would do more than just expose people to her art. She and a group of anti-fracking activists thought they could fight the future pipeline's very existence. They hoped that by copyrighting the work, they might legally supersede the ability of Spectra Energy to take the land by eminent domain law (which allows the U.S. government to acquire private land for projects that benefit the public) and install the pipeline.
Rahmani and the other activists are opposed to fracking for the potential environmental impacts such as methane leaks, earthquakes, and groundwater contamination. They want the U.S. government to move away from fossil fuels and invest instead in clean and sustainable energy such as wind and solar power. "I have been intensely frustrated by the lack of regulatory programs against fossil fuel companies and the creeping horror of climate change," Rahmani says when asked why she decided to join the activists.
Photographer: Aviva Rahmani The Algonquin (AIM) pipeline that was the subject of the Blued Trees Symphony Overture was conceptualized as iterated measures of the score from the Blue Mountain Reservation to the infrastructure for the Indian Point nuclear facility, indicated in red to the left of the image, within 105' of the pipeline.
The Seed of an Idea
The copyright idea came from Canadian artist Peter van Tiesenhausen, who owns 800 acres in Demmitt, Alberta, through which an oil company planned to run a pipeline. In Canada, oil and gas …more
(0) Comments