Go Back: Home > Earth Island Journal > Latest News
Latest News
Reckitt Benckiser sues California over ban on rat poison that kills wildlife
Last week I wrote about California's new plans to ban over-the-counter sales of certain anticoagulant rodenticides that are taking a huge toll on the state's wildlife (Read the report here). But no sooner had the Department of Pesticide Regulation announced the ban, to begin on July 1, than the biggest manufacturer, Reckitt Benckiser, fired back with a lawsuit.
Photo by Dave HarperThe magnificent golden eagle is another species that has been poisoned by anti-
coagulent rodenticides.It is not just California's groundbreaking new rules the maker
of d-Con is fighting. Reckitt Benckiser has been fighting the US Environmental
Protection Agency for years.
Anticoagulant rodenticides are killing birds of prey — hawks, owls, falcons, golden eagles, even turkey vultures. These products are also killing endangered kit foxes and Pacific fishers, and people's pets. They cause secondary poisoning when the predator animal consumes a poisoned rodent, or, as has happened with dogs, eats the bait directly.
Reckitt Benckiser, the maker of d-Con, claims that the state overstepped its authority and failed to do an analysis of the impacts of its ban under the California Environmental Quality Act. I find that claim just a bit ironic considering the impacts of their product on the environment — on birds of prey, wildlife, the entire food chain.
While the state's proposed new rules are not strong enough to prevent all poisonings of wildlife and pets — the pest control industry is exempted from the ban — it would have removed products that are currently poisoning an estimated 10,000 children per year in addition to the pet and wildlife victims.
The California Department of Fish and Wildlife's 800 pages of over 350 incidents of wildlife poisonings probably represent just the tip of the iceberg. The state says its records are far from comprehensive—they include only the animals that have been found and turned in to their agency. Wildlife biologists believe that many poison victims are never found or are eaten by other animals, probably continuing the chain of poison. WildCare, a wildlife rehab facility in San Rafael, found that over 76 percent of the animals it tested for rat poison in 2013 were contaminated. Many wildlife rehab facilities are receiving animals with the symptoms of rodenticide poisoning but cannot afford to test them (each test costs over $100 and most rehab facilities are operating on …more
(0) Comments
Climate researcher set out to raise alarm about a warming world, but it was his understanding of the world's problems that changed the most
I stopped pedaling and looked anxiously at the frontier. In front of me was the California-Mexico border, marked by a white tollbooth-like structure and a large sign that read Mexico in metal letters beneath the country's coat of arms: a large eagle perched on a cactus with a snake in its talons. It was an hour after sunrise on a Sunday in early December, and the light angled through the cool desert air, illuminating the quiet, dusty town of Tecate just beyond the tollbooth.
Biking through the Peruvian Andes. While biking, no windshield protects you from the rain, heat, or wind, and there's no wall between you and the people along the road.
If I was trying to be inconspicuous, I was failing. Clad in arm and leg warmers, I essentially wore full-body spandex, and I stood over six feet tall. My bike helmet had a large brim on the front and a cloth attached at the rear, both futile attempts to guard my pale skin from the sun. Between my outfit and my black touring bike with four red panniers, I wasn't going to blend in south of the border.
But, although I was conspicuous on the road, once I left it I was invisible. Unlike traveling by car, with a bike you can disappear off the highway at any point and set up camp, even just a hundred feet off the road, without a soul knowing where you've gone. Thieves can't rob you if they don't know you're there. It's the greatest sense of freedom; the world was my campground, my living room, my highway. The night before, five miles north of Tecate, I'd easily found a place to sleep, as numerous foot trails led away from the highway, and a patch of desert ground had already been cleared – likely by people also wishing to keep hidden. I wondered how many illegal immigrants, how many of the people I saw working in California during my eight years in the state, had slept on similar patches of ground, staring at the stars.
At twenty-six years old, I was on the adventure I had dreamed of since I was twenty: Starting from my home in California, I planned to ride south …more
(1) Comments
Oil and gas giant say climate policies are highly unlikely to stop it digging up fossil fuels. So what are we going to do about it?
Monday saw the release of the latest climate report from the planet's scientists. Predictions of famine, flood, and so on – mostly what we already knew, in even more striking language.
Photo © Copyright Richard Webb/ Licensed for reuse under this Creative CommonsExxon Mobil said that government restrictions that would force it to keep its reserves in the
ground were "highly unlikely," and that they would not only dig them all up and burn them,
but would continue to search for more gas and oil.
But Monday also saw the release of another document somewhat less expected, and probably at least as important in the ongoing battle over the future of the atmosphere and hence all of us who live in its narrow envelope.
Here's the backstory. For 18 months now some of us have been campaigning for colleges, churches, cities and the like to sell their shares in fossil fuel companies, on the grounds that their business plans call for burning far more carbon than scientists believe the planet can safely handle. It's become the fastest growing divestment movement in history — but some have tried to reach out to the industry and reach a middle ground instead, hoping to reform them instead of simply trying to break their power.
Profound thanks are due, then, to those shareholder activists who urged "constructive engagement" with the oil, gas and coal barons.
Because those organizations, groups like As You Sow, CERES, and the Interfaith Center on Corporate Responsibility, managed in very short order to get Exxon Mobil, the leader of the fossil fuel industry, to show its cards. In fact, in a truly historic moment, Exxon Mobil turned over the whole deck — and to its credit it showed it has nothing up its sleeve, no tricky rhetoric or sleight of hand. Just endless amounts of oil and gas.
On Monday the company issued two reports, in formal response to a shareholder resolution that demanded they disclose their carbon risk and talk about how they planned to deal with the fact that they and other oil giants have many times more carbon in their collective reserves than scientists say we can safely burn.
The company said that government restrictions that would force it to keep its reserves in the ground were "highly unlikely," and that …more
(0) Comments
The consensus text does not track the bleeding edge of anxiety
There are two things to keep in mind if you would know the climate future. The first is that, as scientific statesman John Holdren likes to say, it will come to us as a mixture of mitigation, adaptation, and suffering. The second is that the suffering will be disproportionally visited upon the poor and the innocent.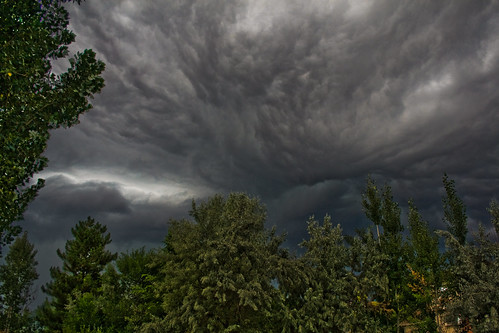 Photo by Tal AtlasWhere once there was constant recourse to "this storm/drought/surge is consistent with global warming," we're now increasingly likely to hear "this storm/ drought/surge would not have happened without global warming."
Hold these thoughts when considering the massive tome just issued by the IPCC's Working Group II. (The much briefer Summary for Policymakers, or SPM, is here). Working Group II (or "WG2" for short) is the part of the International Panel on Climate Change – the largest, most sustained, and arguably most important peer-reviewed scientific enterprise in history – which is focused on understanding climate-change related "impacts, adaptation, and vulnerability." Its report, released on Monday, comes halfway though the year-long rollout of the three volume set that together make up the IPCC's "Firth Assessment Report."
Volume I is focused on climate science in itself – the "physical science basis" of the crisis. It was released in September and can be found here. Volume III, due out later this month, is focused on mitigation – that is, on what the nations of the world can do to slow and then, hopefully, stop greenhouse gas emissions.
Since the release of WG1's report in late 2013 has perhaps faded from memory, it's useful to recall it and to pause to appreciate that WG1 did its job well. In fact, it's not too much to say that the first volume, coming at a time when climate denialism was already sagging, gave us a fine marker of its now accelerating decline. It did so by stepping past the contrived denialist shitstorm that was "Climategate" with a decisive summary and restatement of our increasingly firm – and increasingly grim – understandings.
The scientists are still far too timid in their unwillingness to draw conclusions, but they are getting more forthright. This was evident last fall when, late in the WG1 drafting process, the IPPC quietly took the monumental step of laying out official numbers for the remaining global carbon budgets. (This is a long and …more
(0) Comments
EPA action and bipartisan opposition could permanently block proposed mine at the headwaters of Alaska's Bristol Bay
If you've eaten wild salmon, chances are good it was caught in Alaska's Bristol Bay. That's because Bristol Bay and its watershed is the largest remaining wild sockeye salmon fishery in the world.
Photo by Emma ForsbergBristol Bay's salmon fishery is the economic lifeblood of the region.
For many thousands of years the fishery has supported the ecosystem – including subsistence Native Alaskan communities – that grew around it. But it's not just wildlife and Native Alaskans that rely on the Bristol Bay salmon fishery. It's also the economic lifeblood of the region. Salmon-dependent commercial fishermen, recreational fishermen, and tourism combine to account for 14,000+ jobs. A peer reviewed Environmental Protection Agency study estimates those jobs and other economic benefits from the fishery annually generate $480 million.
And because salmon – properly managed as they are now – are an annually renewing resource, that's 14,000 jobs and $480 million each year, forever.
Unfortunately this global treasure is under threat.
Northern Dynasty, a junior Canadian mining company wants to dig what would be North America's largest open pit mine – the Pebble gold/copper/molybdenum mine – in the headwaters of the Bristol Bay watershed. Basically, Northern Dynasty wants to mine, and dump toxic mining waste, on top of a good portion of the waters where Bristol Bay's salmon return every year to spawn.
If the Pebble Mine sounds like a colossally bad idea, that's because:
The EPA identified up to 94 stream miles that would be destroyed by the mine.
According to Northern Dynasty, the mine could generate more than 10 billion tons of mine waste (tailings).
Tailings would be stored forever behind some of the largest earthen dams ever built (more than 700 feet tall).
These earthen dams would be built in a very seismically active area, where a magnitude 8 earthquake occurs every decade or so.
Because of sulfides in the ore, Pebble would generate acid and leach heavy metals, which would likely be released into the watershed.
The mine would generate these acids in perpetuity – long after the mine had closed.
The ore deposit is directly underneath salmon spawning habitat.
Salmon are highly sensitive to pollution. Exposure to even …more
(1) Comments
State wants renewables in the mix, but ultimately utilities will get to decide where most of the power will come from
Perched beside the Pacific Ocean between Los Angeles and San Diego, San Onofre Nuclear Generating Station (SONGS) cranked out power to Southern California for four decades until a small radiation leak discovered in January 2012 revealed bigger problems. The plant was taken offline and in June of 2013, officially shuttered.
Photo by Rian CastilloThe San Onofre Nuclear Generating Station (SONGS) cranked out power to Southern
California for four decades until a small radiation leak discovered in January 2012
revealed bigger problems. The plant closed down in June 2013.
At the end of its operational lifetime, SONGS was helping to power 1.4 million homes — greenhouse gas emissions free. The majority of the plant was owned by Southern California Edison, with San Diego Gas and Electric claiming 20 percent. How then would the companies go about replacing the loss of SONGS?
Environmental groups hoped the end of the nuclear era in Southern California would be marked by a strong commitment to clean energy or "preferred resources," which in utility-speak means a combination of renewable power, demand response (reducing demand at peak times), and energy efficiency. The decision of what to do next has been guided by months of review by the California Public Utilities Commission, with input from numerous stakeholders. Would the commission make strong mandates for renewables or leave the door open for more fossil fuel development like gas-fired power plants?
"I think it's important for people to realize what a critical juncture the Public Utilities Commission is at right now and what an opportunity they have here to replace a significant outage at a supply side nuclear generating station with clean, preferred energy resources," Sierra Martinez, the legal director of California Energy Projects at the Natural Resources Defense Council, said in January as groups awaited a decision from the public utilities commission.
But figuring out how to replace the power generated at SONGS is not a simple equation. While the power plant produced 2,200 megawatts, the commission needed to determine just how much energy the utilities actually need in coming years with efficiency measures reducing demand, but population growth adding more pressure. "We have to plan to meet energy needs for buildings that are not yet constructed," said Martinez.
The problem is further complicated by the fact that the SONGS replacement …more
(0) Comments
UN science panel's chairman, Rajendra Pachauri, says report on impacts of rising temperatures should push leaders to act
The head of the United Nations climate panel said he hoped its report on the rising threat of climate change would "jolt people into action".
Photo by Kris Krüg for PopTechRajendra Pachauri, who has headed the IPCC for 12 years, said he hoped the new report would
push government leaders to deal with climate change before it is too late.
The report, released on Monday, is a 2,600-page catalogue of the risks to life and livelihood from climate change – now and in the future.
Rajendra Pachauri, who has headed the IPCC for 12 years, said he hoped it would push government leaders to deal with climate change before it is too late.
"I hope these facts will - for want of a better word - jolt people into action," he said.
The US Secretary of State, John Kerry, took a similar line.
"Read this report and you can't deny the reality: Unless we act dramatically and quickly, science tells us our climate and our way of life are literally in jeopardy," Kerry said in a statement. "Let's make our political system wake up and let's make the world respond."
The report was built on the work of more than 300 scientists drawing from 12,000 scholarly articles to produce the most comprehensive picture of climate risks to date. Pachauri said the report provided all that governments could need for coming up with a strategy for cutting greenhouse gas emissions and protecting populations from climate change.
The volume of scientific literature on the effects of climate change has doubled since the last report in 2007, and the findings make an increasingly detailed picture of how climate change – in tandem with existing fault lines such as poverty and inequality – poses a much more direct threat to life and livelihoods.
This was reflected in the language. The summary mentioned the word "risk" more than 230 times, compared to just over 40 mentions seven years ago, according to a count by the Red Cross.
"On the basis of this report they should be able to formulate a very clear plan of action," Pachauri said.
The report found the strongest evidence of climate change in the thawing permafrost in the Arctic and in the destruction of coral reefs. It found many freshwater and marine species had shifted their geographical range …more
(0) Comments