On the Yukon River, a Troubling Salmon Decline
Overfishing, industrial bycatch, and climate change combine to reduce salmon numbers
Eagle, Alaska, is perched on a bend in the Yukon River, just eight miles west of the US-Canada border. What Eagle lacks in population – it claimed just 86 residents in the 2010 Census – it makes up in international fisheries importance. Every year, thousands of Chinook salmon swim past Eagle en route to their Canadian spawning grounds, some as far away as Teslin, Yukon, nearly 2,000 miles from the ocean.
photo by CaliforniaDFW, on FlickrChinook salmon
Before the salmon reach Eagle, they're American fish; once they've passed the town, they effectively become Canadian. And while the salmon may not understand the distinction, the humans who fish for them certainly do.
This year, Eagle's sonar station counted just over 30,000 returners – the lowest total in 13 years, and far below the minimum of 42,500 fish that Canada is supposed to receive under the terms of an international treaty. While this year's run, described by one biologist as "dismal," represents a new low, it's just the latest bad summer in a 15-year downward spiral for the Yukon's Chinooks, fish whose large size and superior flavor have earned them the nickname "kings." Annual runs, which averaged about 300,000 fish less than two decades ago, have been cut in half, and the slump is only worsening.
There's no question that the Yukon's king salmon are dwindling. What's less clear is why.
In a second-story office in Whitehorse, Yukon, less than a block from the surging, white-flecked river, Dennis Zimmerman, executive director of the Yukon Salmon Subcommittee, shares his take. While Zimmerman says that the reasons for the decline are varied and complex, the most injurious cause may also be the simplest: the fish, roughly half of which spawn in Canadian waters, are getting caught before they reach the border.
"When you live at the mouth of the river [in Alaska], you still see plenty of fish go by, and you still have the opportunity to catch them," he says. "Upriver communities in Canada, at the end of the run, are bearing the brunt of overfishing."
While a treaty called the Yukon River Salmon Agreement is supposed to manage the fish as a shared resource between the two nations, Zimmerman says that, in practice, Canadian communities tend to lose out. For example, both Canada and Alaska allow for the subsistence harvest of Yukon salmon – but while the Canadian subsistence fishery is strictly limited to members of First Nations, Alaska's subsistence fishery is open to all state residents. Last year, Alaskan subsistence fishermen took more than 26,000 fish; Canada's First Nations captured just 2,000.
"We've been sacrificing on the Yukon side for a very long time," Zimmerman says.
To resolve the crisis, Zimmerman and other members of the Yukon Salmon Subcommittee have been traveling to Alaska, trying to convince the state to allow more fish to continue upriver to Canada. Fisheries managers have responded, regulating the size of nets and protecting early pulses of salmon to help more fish reach the border. While Alaskans have faced hardships as a result of the closures and declining runs – the state's collapsing commercial Chinook fishery has been declared an economic disaster – Zimmerman says most people seem to understand the imperative of conservation.
"If we'd been implementing these measures for ten or fifteen years, we'd be in a much healthier position," he says. "But we're still not managing hard enough."
Overfishing on the Yukon River isn't the only reason for worry. The Bering Sea pollock fleet, among the world's largest fisheries, catches around 2.5 billion pounds of white, flaky pollock per year, much of it destined for McDonald's Filet-o-Fish sandwiches. In 2012, the pollock fishery took 11,350 Chinook salmon as bycatch, angering Alaskan and Canadian fishermen whose own catches had been restricted.
According to Becca Robbins Gisclair, senior fisheries advisor for the Yukon River Drainage Fisheries Association, such accidental takes may have a significant impact on future returns. "We're at a point where on the Yukon River, the stock is barely replacing itself," Gisclair told the North Pacific Fisheries Management Council (NPFMC) this spring. "And every single removal is critically important. One hundred fish makes a big difference."
The pollock fishery has, to be sure, submitted to bycatch reduction measures since a catastrophic 2007 season in which it took more than 120,000 Chinook. Every pollock vessel now carries two federal fisheries observers, and captains share information to avoid salmon bycatch hotspots. These and other steps earned the pollock fishery sustainable certification from the Marine Stewardship Council, whose label now adorns Filet-o-Fish boxes.
But Gisclair is quick to point out that the pollock fleet's declining bycatch may simply be a product of diminished salmon runs: fewer salmon overall means fewer salmon caught in pollock nets. What's more, Gisclair says, regulations set by the NPFMC allow the pollock fleet to catch up to 60,000 king salmon – a total that would likely prove disastrous to stocks.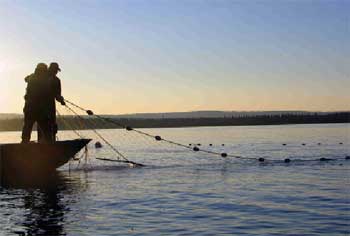 photo Alaska Department of Fish and Game
"Current bycatch is relatively low, but the possibility still exists that the pollock fishery could catch 60,000 kings, and that's far too high," says Gisclair, who represents Western Alaskan communities on the NPFMC's Advisory Panel. "We're advocating that the council take another look at its bycatch limits."
Still, according to a recent report published by the Arctic-Yukon-Kuskokwim Sustainable Salmon Initiative, pollock bycatch alone can't explain the dramatic rate of decline. Factors from disease to a deteroriating gene pool to climate change may also be at play; in Southeast Alaska this July, a heat wave killed 1,100 fish returning to a hatchery. "Bigger ecological changes certainly appear to be going on here," Gisclair says.
What's not mysterious is how the declines are affecting the lives of subsistence fishermen on both sides of the border. David Krause, a Yale University researcher who was working for the Fish and Wildlife Service on Yukon River tributaries when the runs began tapering off, has witnessed the special place that king salmon occupy in Yukon life – as well as what happens when they disappear.
"Salmon are absolutely a huge source of protein for remote communities," Krause says. "The anxiety and stress from these low numbers of fish was certainly visible, and you could see a whole host of related public health issues, like substance abuse, emerging from reduced subsistence and commercial fishing opportunities."
The greatest challenge that salmon advocates now face may be ensuring that the fish retain their centrality in Yukon River culture. Zimmerman spent a week at a First Nation fish camp this summer; while he was there, the entire fish camp caught a paltry eleven Chinooks. Commercial fishing for kings has all but died out in the Canadian Yukon, and recreational fishing may soon follow.
"We've had so few years where people are allowed to harvest that it's hard to maintain public awareness," he says. "We're walking that line between trying to preserve and conserve, and also trying to keep people connected to the fish."